If you grew up in the Philippines, you'll very much know how street foods make up a significant part of every Filipino's food experience. When you go to a marketplace, chances are, you'll walk past one cart after another and people just simply swarm because they want to get their hands on the famous 'tusok tusok' (fishball, kikiam, squidball) — an all-time favorite of street food lovers in the country. A lot of people eat street foods because they are affordable, tasty, and a great way to learn more about local Filipino dishes.
Now, to get you craving, let's explore some of the most popular Filipino street foods!
1. Balut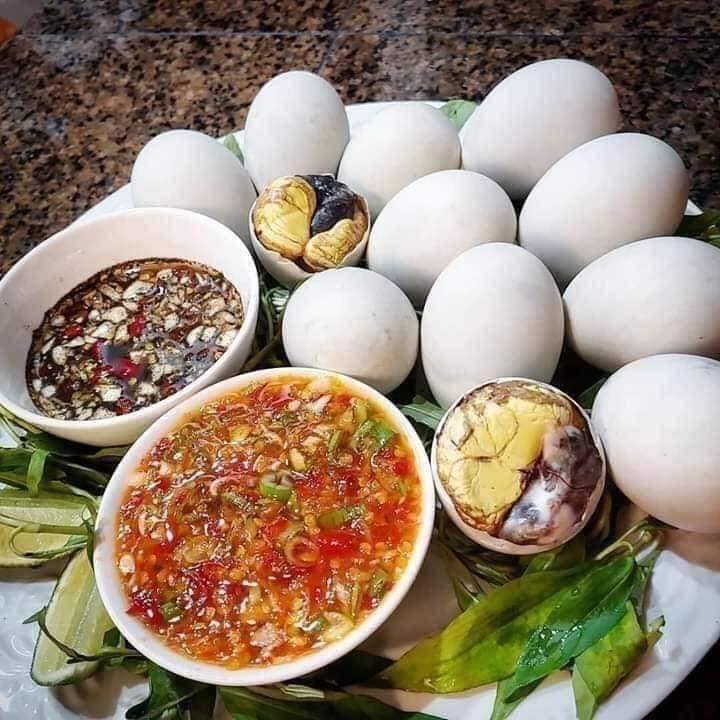 Balut is considered the most popular exotic Filipino food and is commonly known as a street food in the Philippines. It's a fertilized egg, usually a duck egg, that's been incubated for 14 to 21 days or 2 to 3 weeks, which leads to the partial formation of the developing embryo and is then boiled. Balut is typically sold at night and is eaten directly from the shell but some also remove the entire egg out of the shell and dip it in timpladong suka (seasoned vinegar) that's mixed with minced onions, red chili, garlic, salt, and sugar to balance the taste. You can also sprinkle some salt on top to go with the natural flavors of the egg.
For foreigners and tourists in the country, balut appears as a daring food, but for many Filipinos, it's a great pulutan (side dish when drinking alcohol) and at times, it can just be a quick snack to satisfy your midnight cravings. Uy, nag-crave ka rin ba?
2. Taho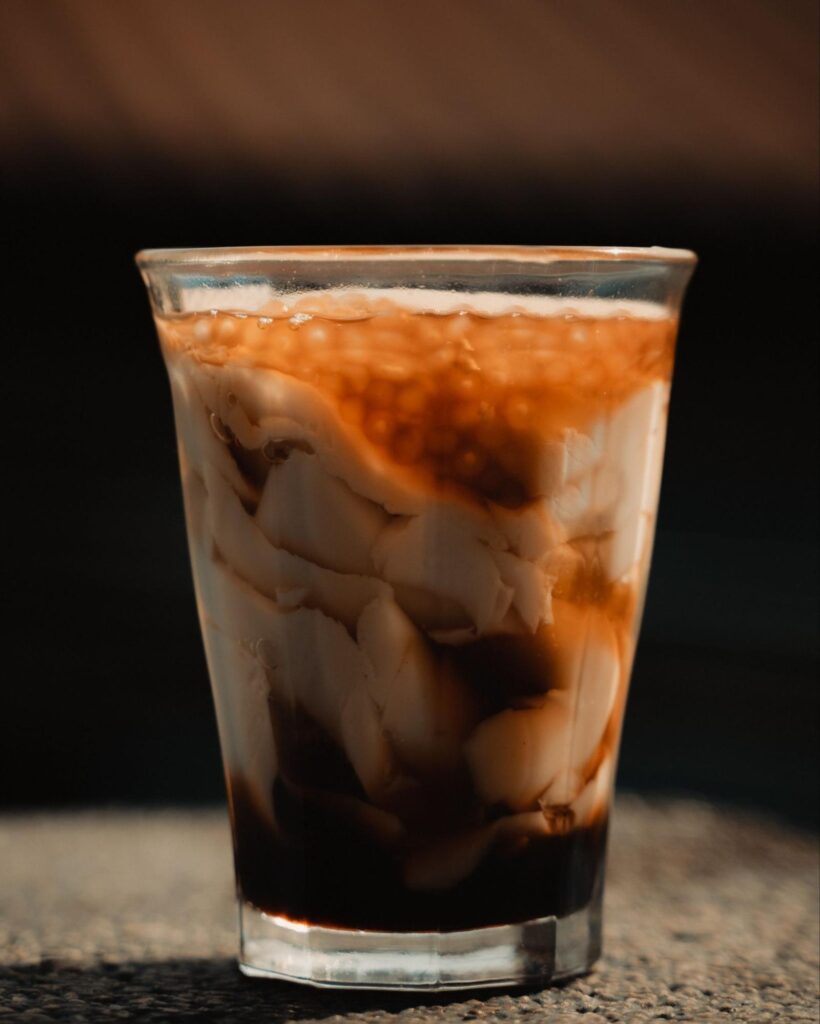 Taho is like a part of the childhood of most Filipino kids. If balut is sold at night, taho is sold early in the morning — and it's served warm and fresh. Many of us have probably tried screaming "tahooo" at the top of our lungs just to let the taho vendor know that you heard him and you're going to buy.
This Filipino street food is made of silken tofu, arnibal (brown sugar syrup), tapioca pearls, and sago pearls, which is an absolutely delicious comfort food even in today's time. It can serve as a snack or a light breakfast when you're on the go because it does help fill your tummy. There are already a lot of commercial food carts today in various malls that offer both hot and cold taho in different flavors, but can we all agree that nothing beats the experience of having to buy one the traditional way?
3. Kwek Kwek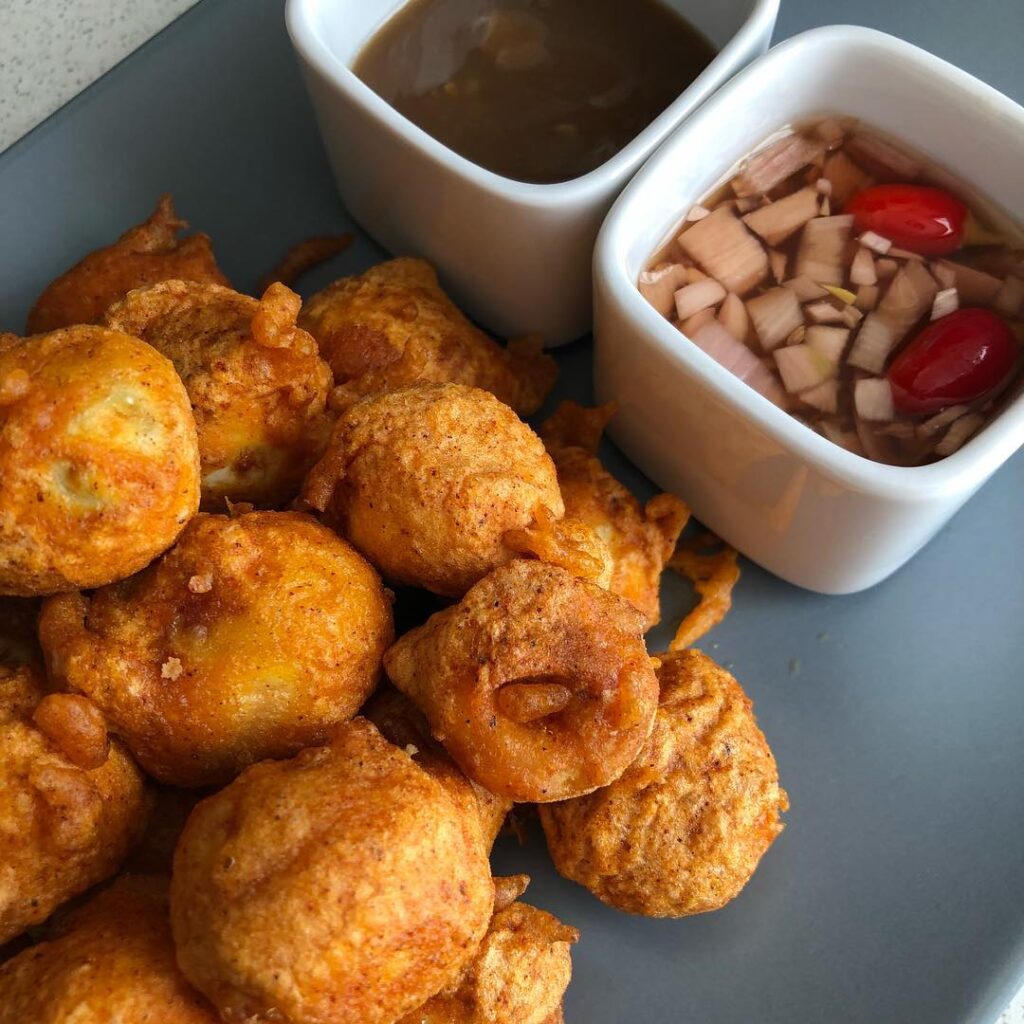 Kwek Kwek is probably one of the favorite go-tos of Filipinos when it comes to street foods. It's present in many food carts along the sidewalk and its taste is oddly satisfying, especially if you like eating street foods. Kwek Kwek, altogether, are hard boiled quail eggs that are peeled off their shells and dipped in an orange-colored batter, then deep fried. They are also partnered with sweet and sour sauce or timpladong suka (seasoned vinegar) with minced onions, cucumber, red chili (optional, if you like spicy), salt, and sugar.
4. Sorbetes or "Dirty Ice Cream"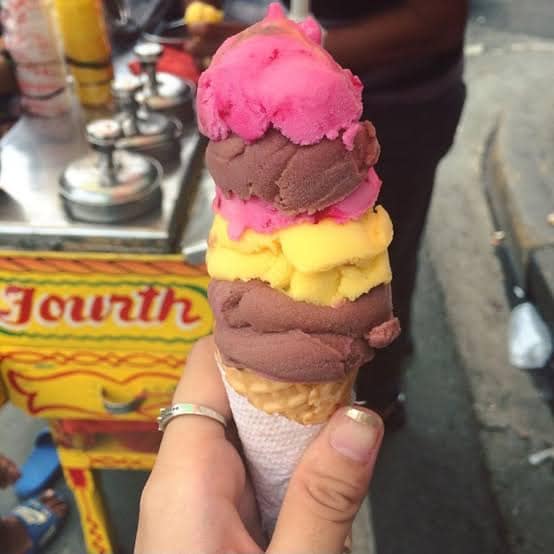 Many of us probably grew up eating this Filipino street food called Dirty Ice Cream. Well, it's not really dirty! It's just simple sorbetes, and was only widely known as Dirty Ice Cream in the country because of the influence of parents. Yup! It was the Filipino parents back then who penned this term whenever their kids would ask for money to buy ice cream from vendors who didn't wear gloves for scooping ice cream. But we all know that this street food is anything but dirty. In fact, this cold and creamy snack is highly satisfying and refreshing to the palate, especially in the summer months.
5. Halo-Halo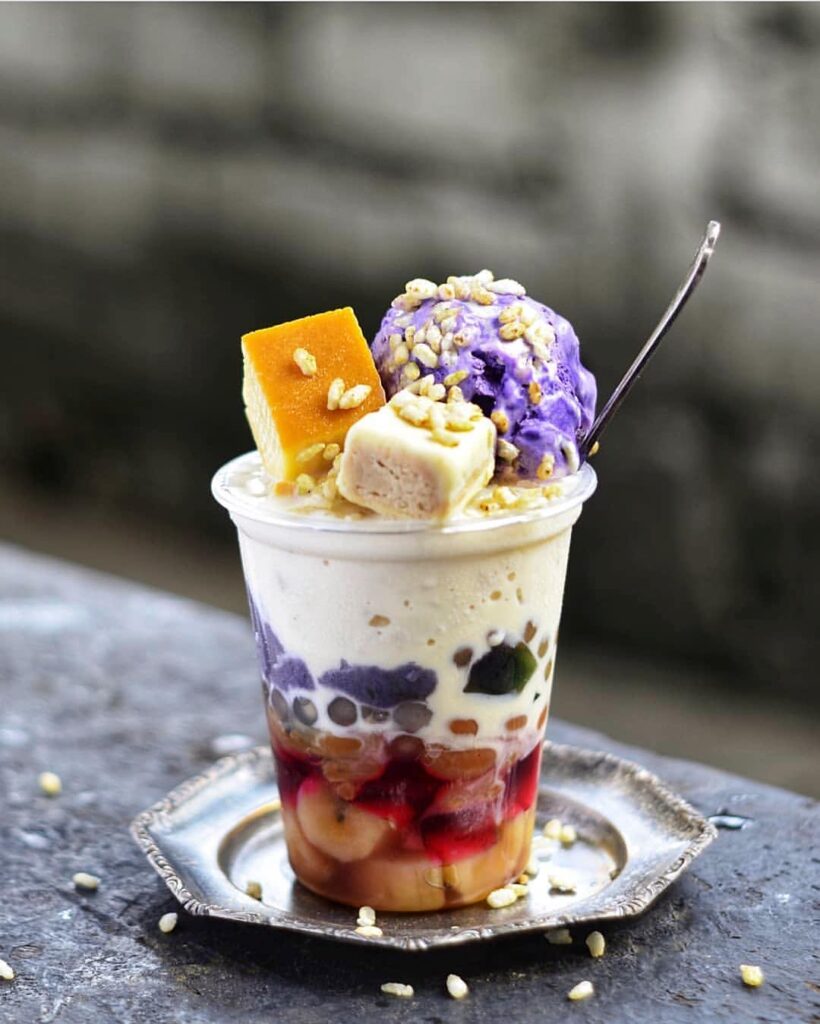 Halo-halo is a top-tier cold dessert that originated in the Philippines and is now recognized even by other countries because of its unique taste and colorful appearance. You'll know that it's summer in the Philippines when you see a lot of Halo-halo stands popping up. The term "halo-halo," when translated in English literally means "mix-mix" which essentially tells you that all the ingredients need to be mixed together.
This cold dessert is made up of shaved ice that's combined with a wide variety of other ingredients such as condensed milk, sweetened red and/or white mung beans, langka (jackfruit), tapioca pearls, ube halaya (purple yam pudding), leche flan (milk custard), and ube ice cream (purple yam ice cream). Mix them all together and you'll get a sweet and refreshing taste! Other restaurants that serve Filipino dishes in the country also have their own version of Halo-halo, so the ingredients may vary. And since we live in a tropical country, this treat is perfect not only in the summer months, but also all year round!
6. Ice Cream Sandwich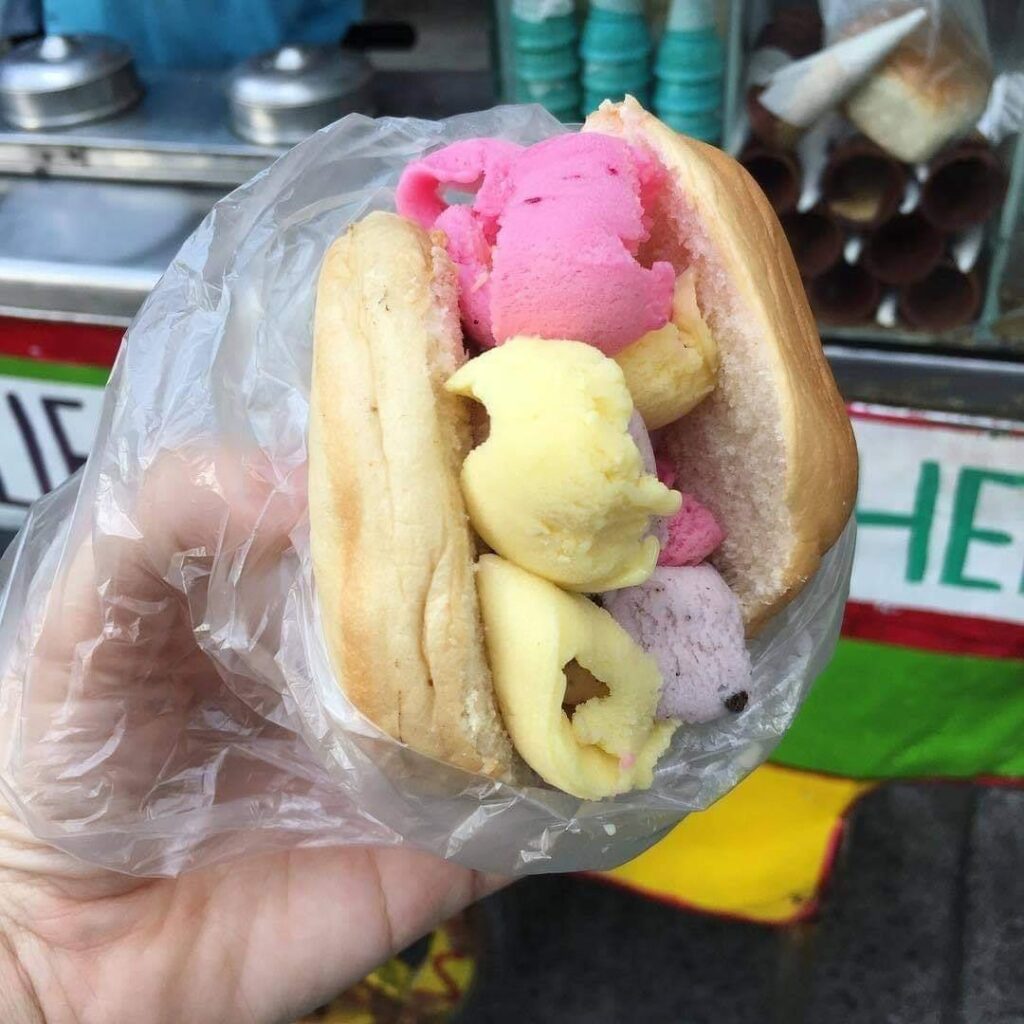 Avid Sorbetes or Dirty Ice Cream buyers would know that you're not limited to eating it on a cone. The Manong vendor sometimes asks "apa" (cone) o tinapay (bread)? This means that you have the option to choose between the cone or the bread — and if you choose the latter, you are in for a nice treat!
Unlike the usual Ice Cream Sandwiches some of us got used to buying from commercial brands, but this Ice Cream Sandwich version has a classic, more simple take as it's just made up of a bun that's sliced in the middle and is then filled with scoops of your chosen ice cream flavors. The softness of the bun meshes well with the cold and creamy texture of the sorbetes, making every bite delightful. Trust us when we say that it's a yummy snack that you can enjoy!
7. Banana Cue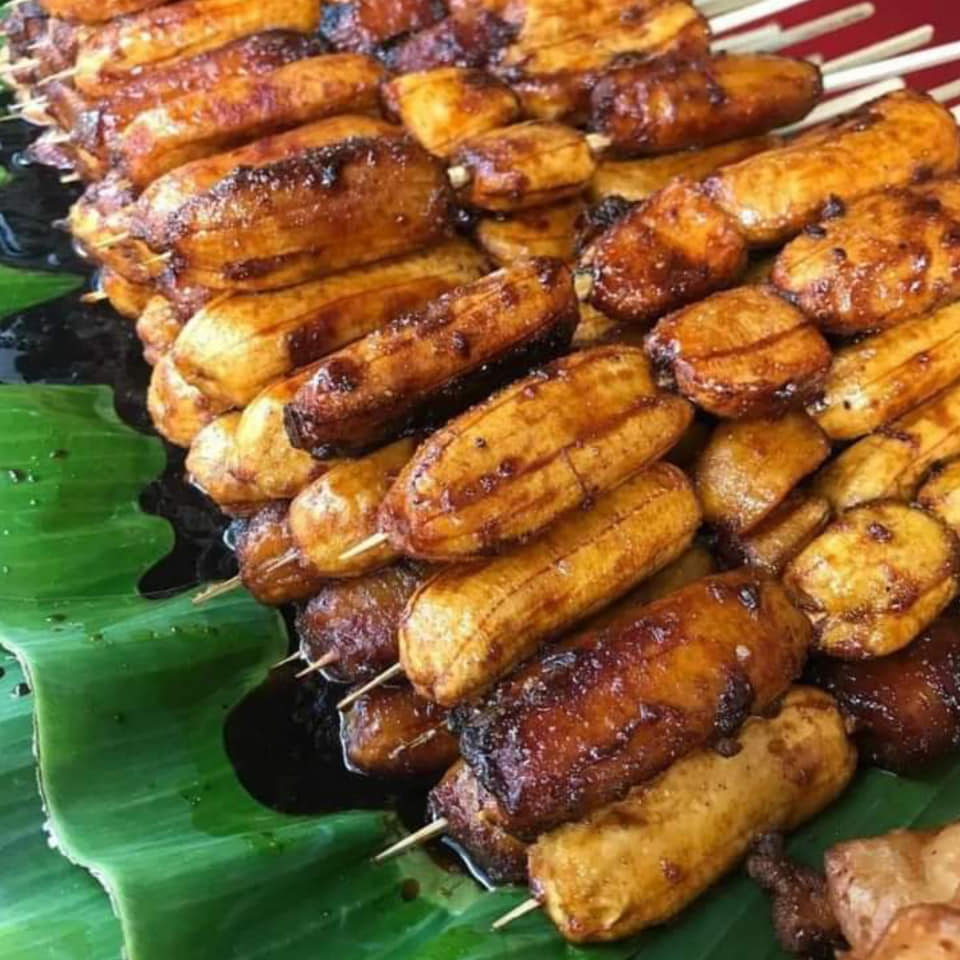 Banana Cue is a well-known Filipino street food and dessert. It's made using a saba banana that's coated in caramelized brown sugar, deep-fried, and skewered on a bamboo stick. Banana cue is also a play of words that relates to "barbecue," but in this sense, the banana is the one that's skewered instead of the usual meat in a barbecue. Another dish that's typically sold together with Banana Cue is Kamote Cue, which is caramelized sweet potato. They both have the same method of cooking.
8. Turon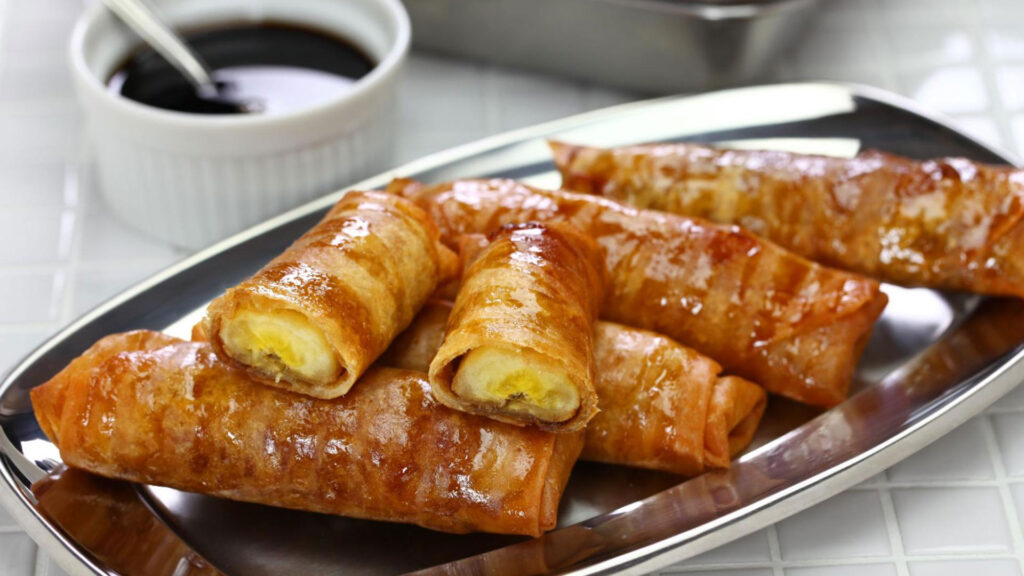 Since we've gone from a banana treat, let's head onto another popular banana dessert in the country — Turon. Turon is a caramelized banana that's wrapped in a spring roll wrapper (lumpia wrapper) sprinkled with a little bit more of brown sugar, and deep fried until it's golden brown. Some of the Turon sold in the streets or in commercial places also have langka (jackfruit), which adds to the fruity, sweet flavors.
10. Fish Ball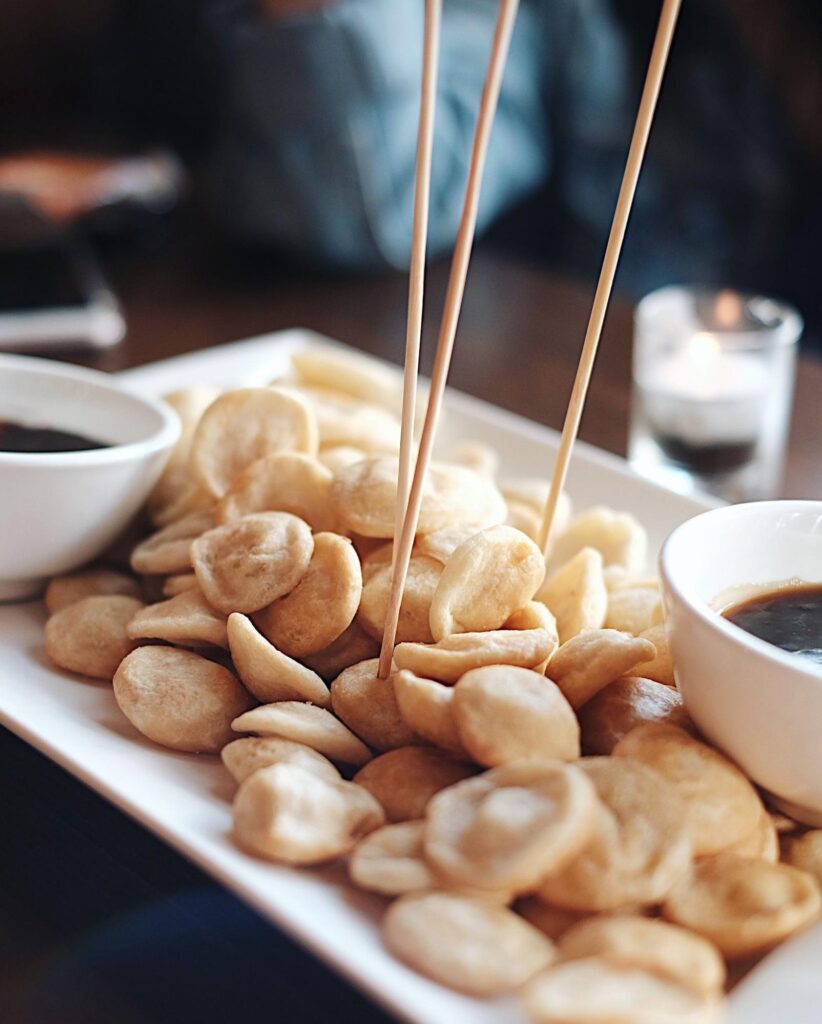 Fish ball is the most affordable street food in the Philippines. May mapupuntahan ang limang piso mo dito! The best part about fishball is that its price stays cheap even when all other street foods have raised their prices. This deliciously satisfying snack is made of fish (usually a cuttlefish or pollock) that's pounded, grounded, or shredded then is mixed with other ingredients such as corn starch, sugar, onion, and other spices. The corn starch serves as a binding agent that helps to keep the fish meat intact and create a light, bouncy texture for the fish ball.
Filipino fish balls sold in the streets are typically flattened unlike those that are sold in other Asian countries which are round. They are deep fried and are placed in skewers or in cups here for people who prefer not to dip their sticks in the sauce. To complement the flavors of the fishballs, you can dip it in a thick, brown sauce — either sweet or spicy. You can even choose to dip it only in timpladong suka (seasoned vinegar) OR be creative and combine all the sauces for the right balance of sweetness, spiciness, and sourness! A lot of Pinoys do that!
10. Kikiam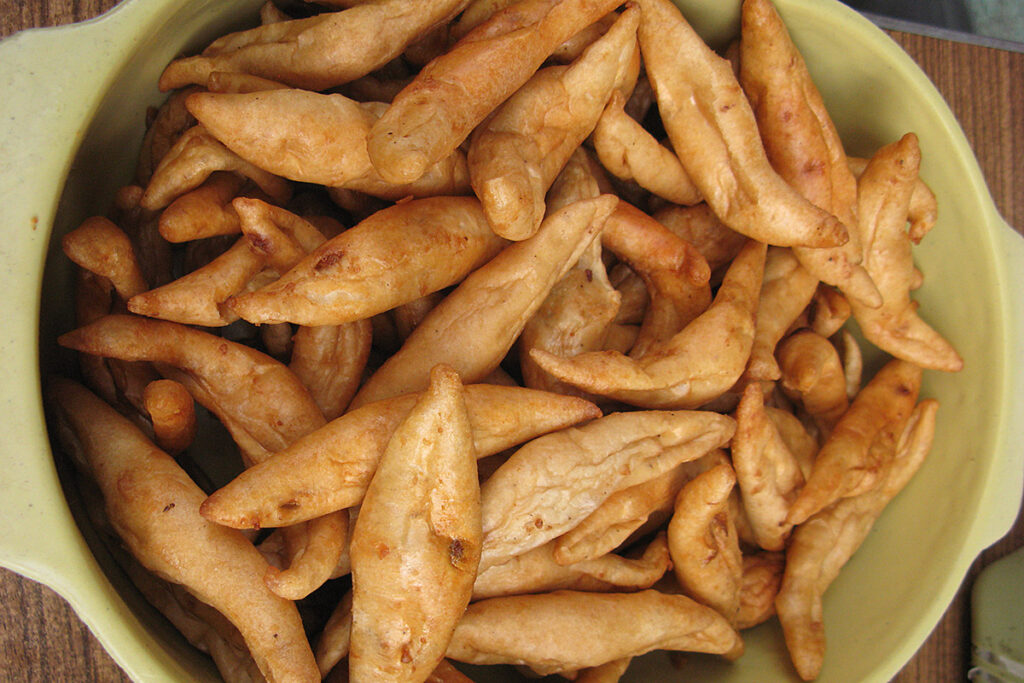 Of course, kikiam is on the list! In fact, this tasty street food is commonly sold together with fishball. The version of kikiam that's being sold on the streets in the Philippines is far different from the Chinese version which is Ngo Hiang. The original version (Ngo Hiang) is made of ground pork that's mixed with garlic, onions, spring onions, and other spices, while the Filipino version is made of fish and other fillers.
Did you know that aside from China (its place of origin) and the Philippines, kikiam has also been broadly adopted in other Asian countries such as Thailand, Malaysia, and Singapore? The Filipino version of kikiam may not be like the original version, but it's most certainly one of the crowd favorites. Kikiam has the same dipping sauce as fishball, so you can choose which of them suits your palate best.
11. Squid Ball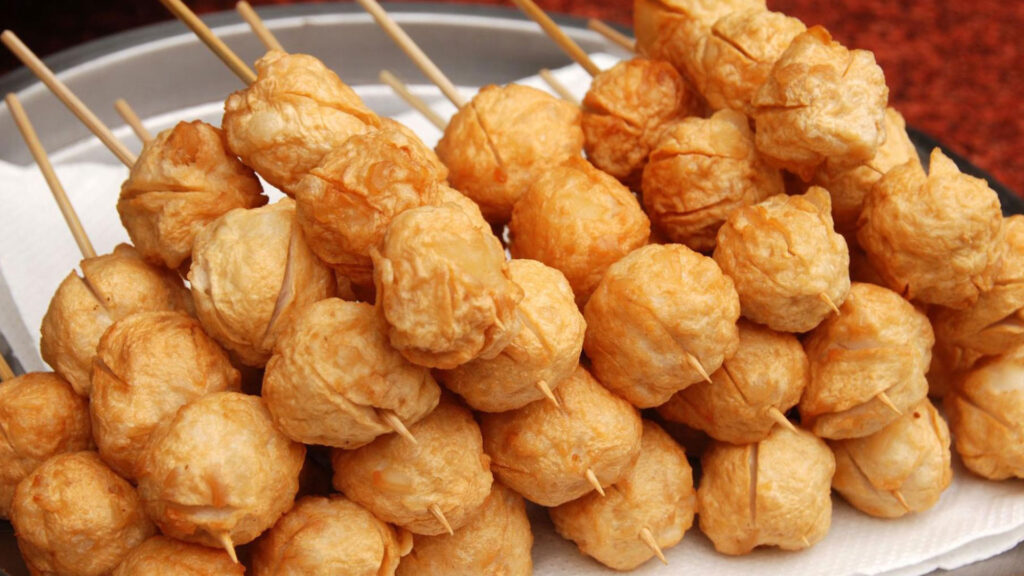 Squid ball is another treat that's sold with fishball and kikiam. Yup, you can say that squid ball is what completes the tusok tusok trio! It's kind of similar to fish balls as it is also light and bouncy, except that it's actually shaped like a small ball and is not flattened like fish balls.
Squidballs are absolutely palatable snacks and are one of the most loved street foods in the country, that's why we don't see them going away any time soon. These yummy balls are made of squid along with garlic, corn starch, flour, and other spices. Then they are skewered and served with a thick, brown sweet or spicy sauce as well as timpladong suka (seasoned vinegar) as its dipping sauce.
12. Pork BBQ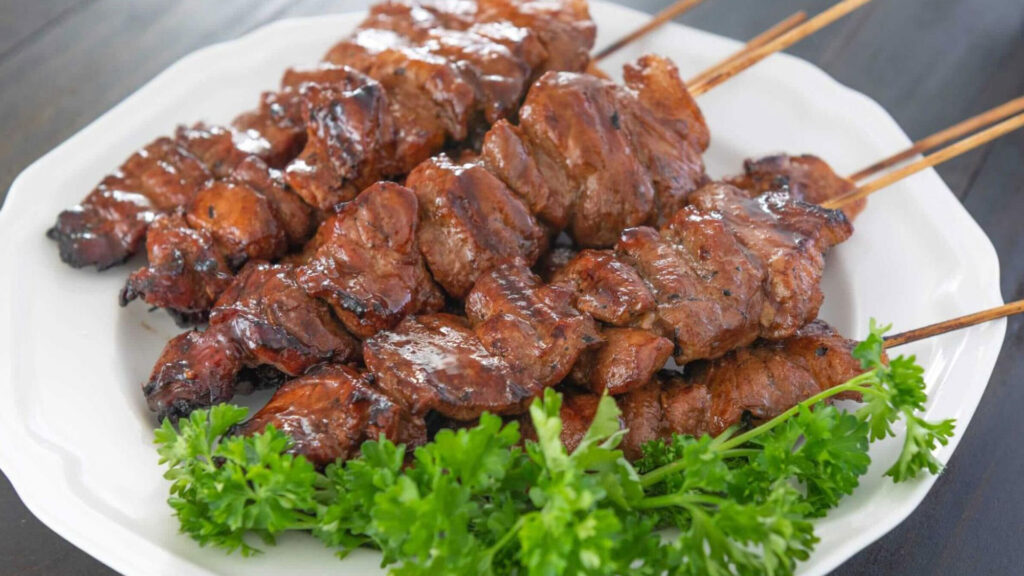 Pork BBQ is a crowd favorite when it comes to inihaw dishes in the country, may it be in restaurants, birthday parties, or just a random eat out along the streets. This skewered dish is made of marinated pork and is then grilled over coals, making the smokiness add to the flavor. Pork BBQ is also a common pulutan or a dish served when drinking beer and other alcoholic beverages.
The smokey, savory taste and light sweetness along with little chunks of fat that's slightly charred at the end of the skewer is what makes a lot of Pinoys love Pork BBQ even more. It's also common in many neighborhoods in the country because aside from the usual vendors that sell this dish on sidewalks, a lot of households put up a small stand outside their house and sell inihaw (grilled) dishes.
13. Isaw (Grilled Pork or Chicken Intestine)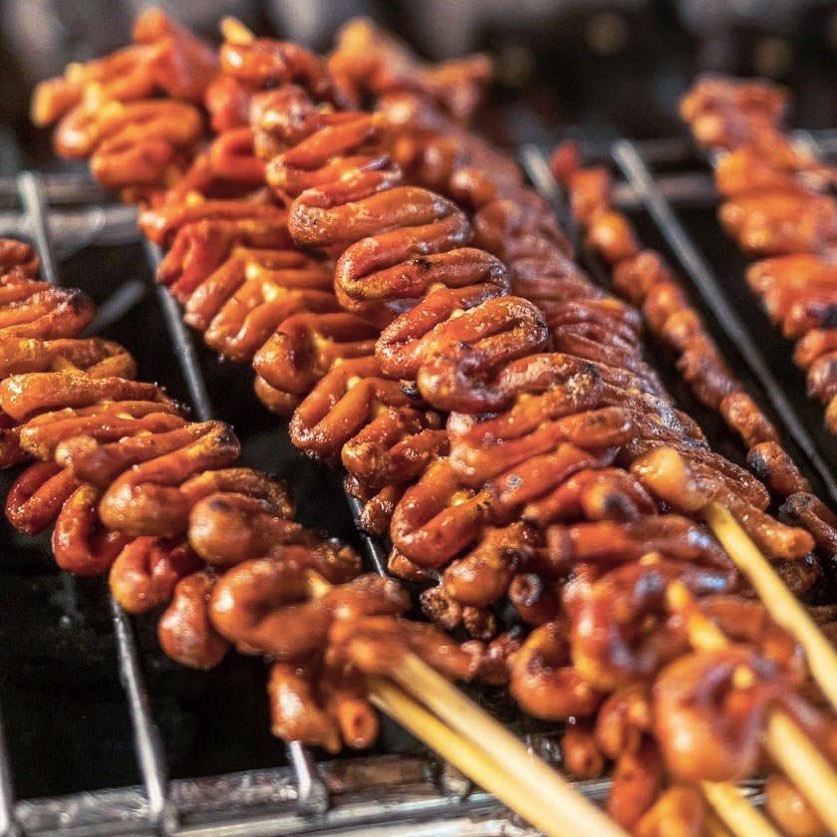 Isaw (intestine) is great to partner with Pork BBQ if you want to have a good splurge of grilled dishes. Eating intestines doesn't exactly sound all too appetizing compared to when you say you're eating pork belly, right? But it's different for Pinoys because many of the demographic eats Isaw.
This started decades ago when locals couldn't afford to buy expensive meat cuts — and street vendors, on the other hand, would sell pork and chicken scraps, which are cheaper. With intestines being part of the scraps that locals typically buy, it became a staple; hence, adopting ways to cook them in ways that Filipinos will love.
You have the option to choose either Pork or Chicken Isaw. They differ in terms of taste, texture, and shape. Pork Isaw is round, big, and is a bit rubbery while Chicken Isaw is thin, zig zag-shaped, and is easier to chew. They are cleaned several times before they are boiled and grilled to make sure that they are perfectly safe to eat and won't have any bitter taste. Dip it in spicy vinegar and you'll never go wrong with its taste!
14. Betamax (Grilled Blood)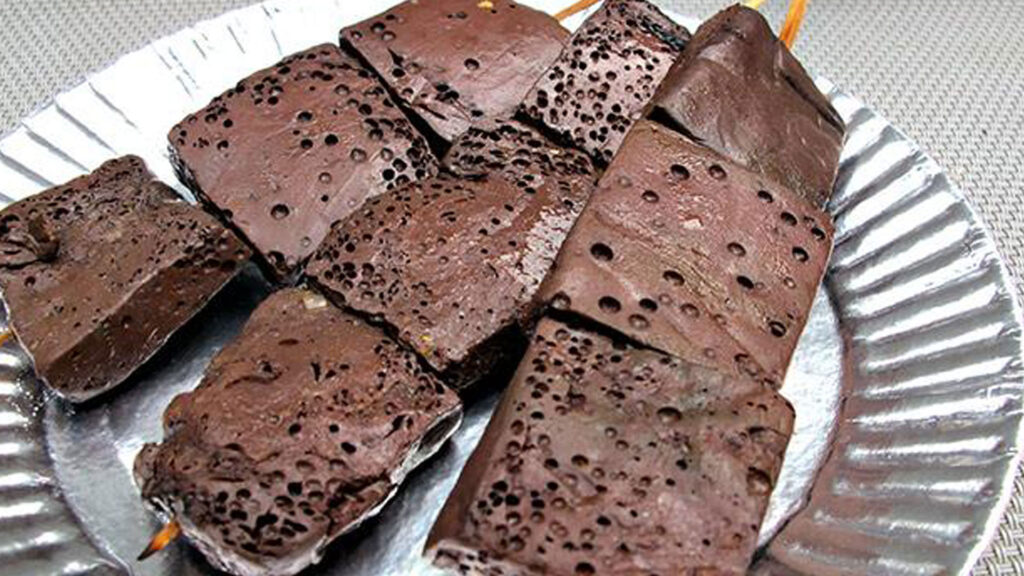 Betamax is one of the most popular inihaw street foods that you'll ever come across in the country. It's a solidified pig or chicken blood that's formed into squares and placed in skewers. Unlike what other people may think, Betamax doesn't have any bad or weird taste or smell that comes with it. And same as other grilled street foods, it's best dipped in timpladong suka.
15. Tenga (Grilled Pig Ears)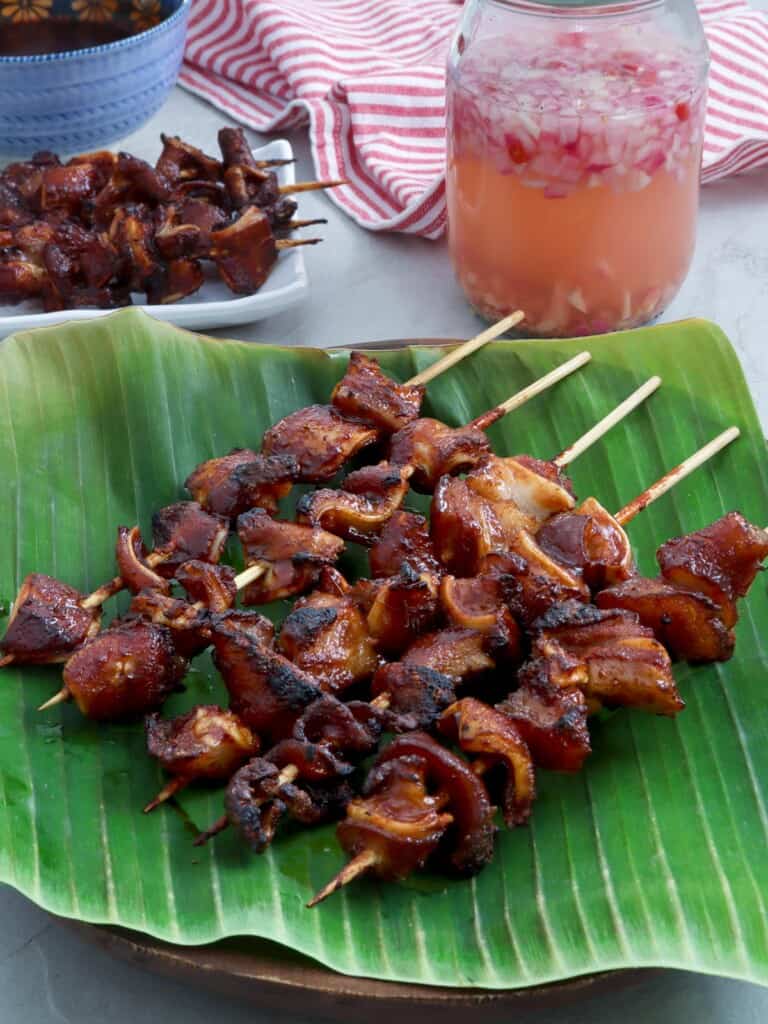 Tenga was once famously coined as Walkman in years back — referring to the portable listening device largely used in the 80s and 90s as part of Filipino pop culture. This succulent dish is made of pig ears that's chopped in bite-sized chunks, marinated, skewered, and grilled. In every bite of Tenga or pig ears, you can chew on a small portion of meat, cartilage, and skin which creates a juicy and oddly satisfying taste. Of course, it's always better when you dip it in vinegar!
16. Chicken Feet or "Adidas"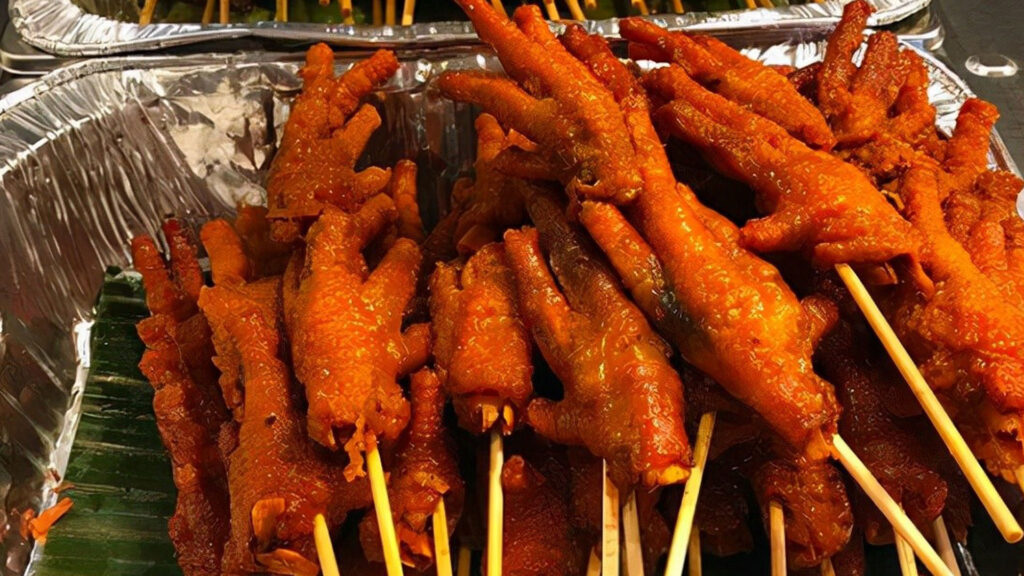 Seeing that it's chicken feet, you'll know why it's funnily called Adidas, a famous brand that manufactures shoes, clothing, and more. Chicken feet is a classic, well-loved dish not only in the Philippines, but also in other Asian countries such China, Korea, and Vietnam. For drinkers, Chicken Feet is a staple as its juicy, smoky flavors complements with beer.
17. Binatog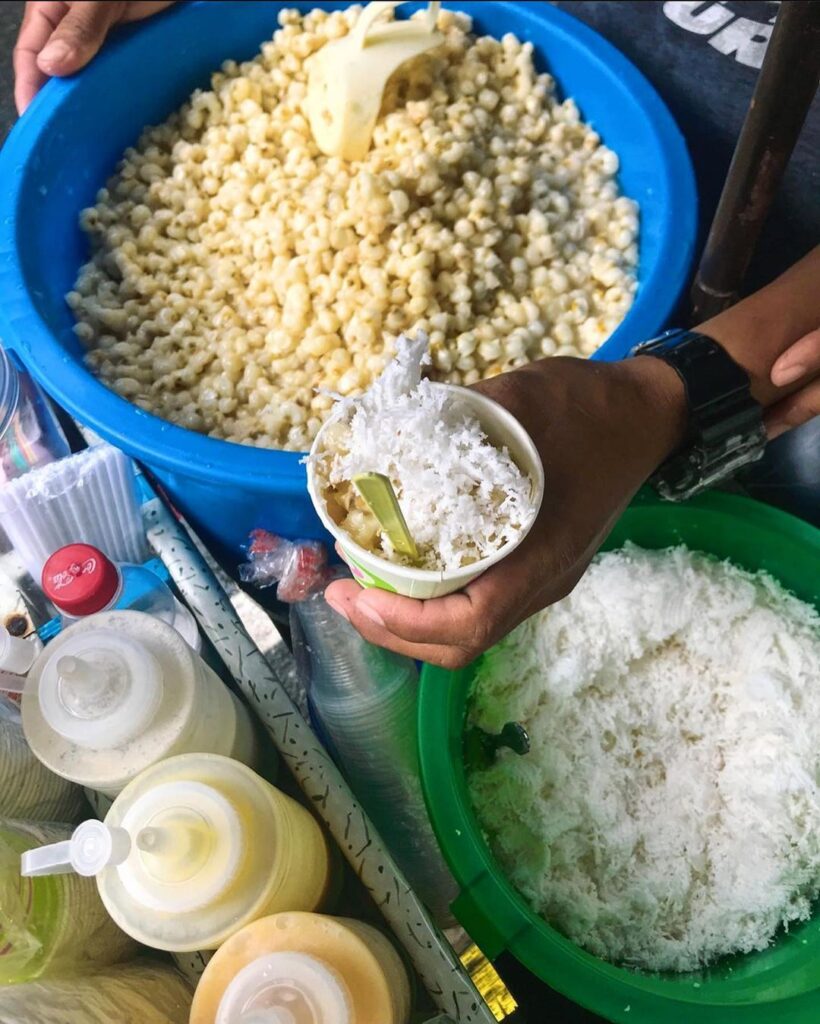 Have you tried Binatog or boiled white kernels? If not yet, then you're missing out! There aren't many vendors who sell this today compared to other street food variants, but it's definitely worth the try. Binatog vendors often ride a bike with a covered bucket at the back that contains boiled white kernels. You'll know when a Binatog vendor is passing by because the ring of their bell is distinctively louder and harder than Dirty Ice Cream vendors. This simple yet delectable dish consists of boiled corn kernels, salt or sugar, butter, and grated coconut while some even add condensed milk. Mix them together and voila, you got yourself a fine snack!
18. Sweet Cheese Corn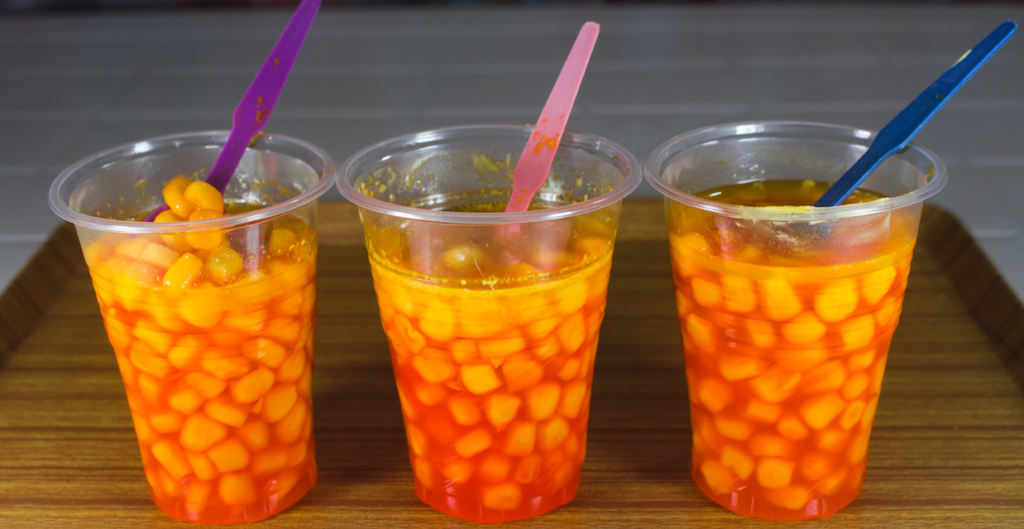 Here's another corn dish that's a really popular street food — and at times, we randomly crave this. Sweet Cheese Corn is usually sold in front or outside of schools and markets, making it a favorite of many kids because the flavor is sweet and friendly to the taste buds. On top of that, you don't have to struggle eating from the corn cob since it's in kernel form already, so you can just enjoy every bite of it.
Sweet Cheese Corn is made up of boiled corn kernels, margarine and cheese powder mixed with white sugar. Vendors normally add a little bit of the water from the boiled kernel into every serving of Sweet Cheese Corn to help mix all the ingredients together. It's a classic salty and sweet flavor that everyone loves!
19. Ice Scramble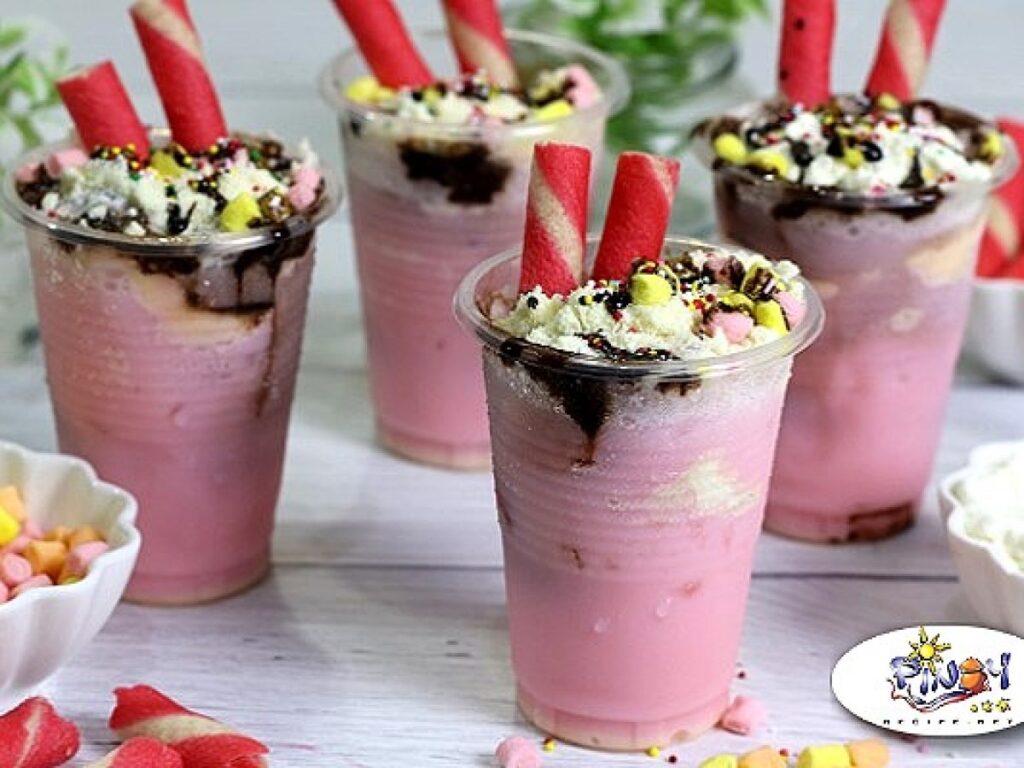 Aside from Dirty Ice Cream and Halo-Halo, Ice Scramble is also a known summer fave in the country. This pink treat is made of shaved ice that's mixed with evaporated milk and banana extract. Pink food color is also added to the mixture to make it look bright and enticing — in which, it is! The best part about Ice Scramble are the toppings because they are what completes the taste. It is often topped with powdered milk, chocolate syrup, marshmallows, pinipig, and sprinkles. But nowadays, other commercial sellers are getting craftier, so they are adding other toppings such as wafer sticks, cookies, and even fruits just to level up the visuals and taste.
20 Chicharon Bulaklak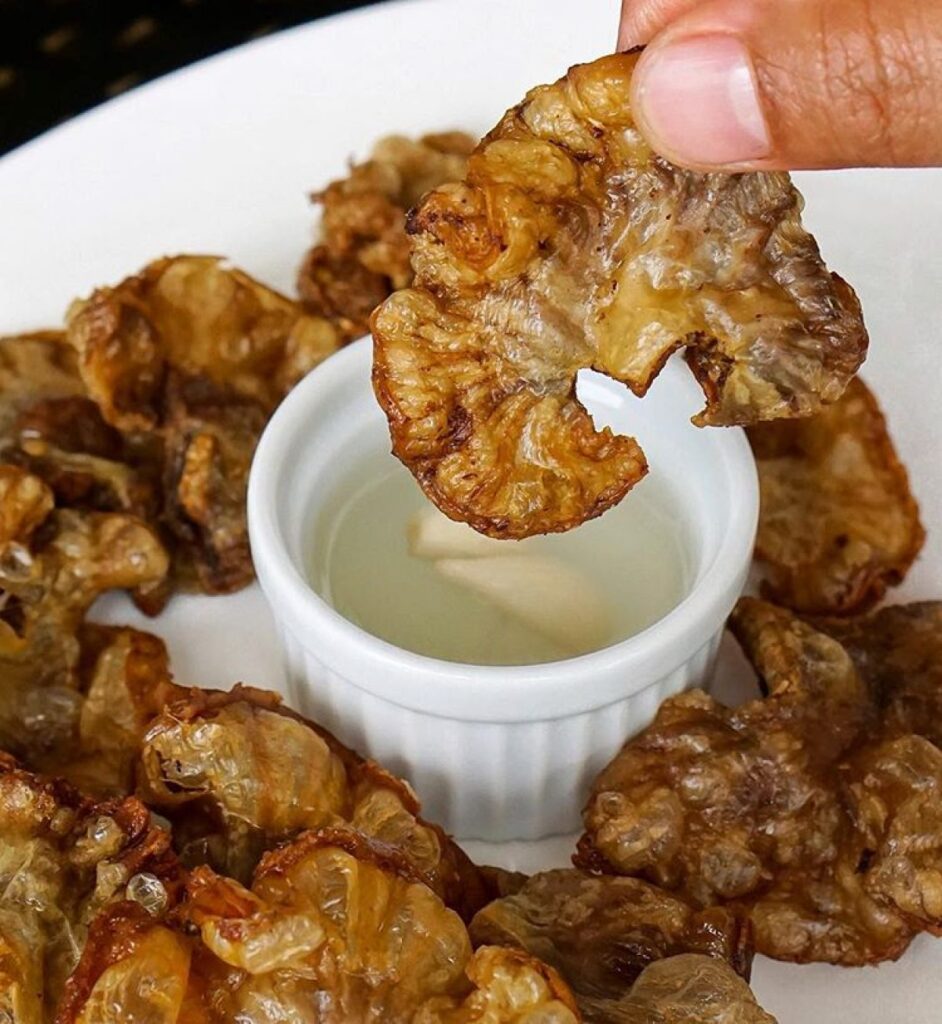 Chicharon Bulaklak is another interesting Filipino snack that's made up of pork intestines. If you liked Pork Isaw, then you'll surely appreciate this one! It's called chicharon "bulaklak" or flower in English because the intestines roll up like flowers once they are deep fried. This meaty, savory, and crunchy dish is also a good pulutan.
21. Chicken Skin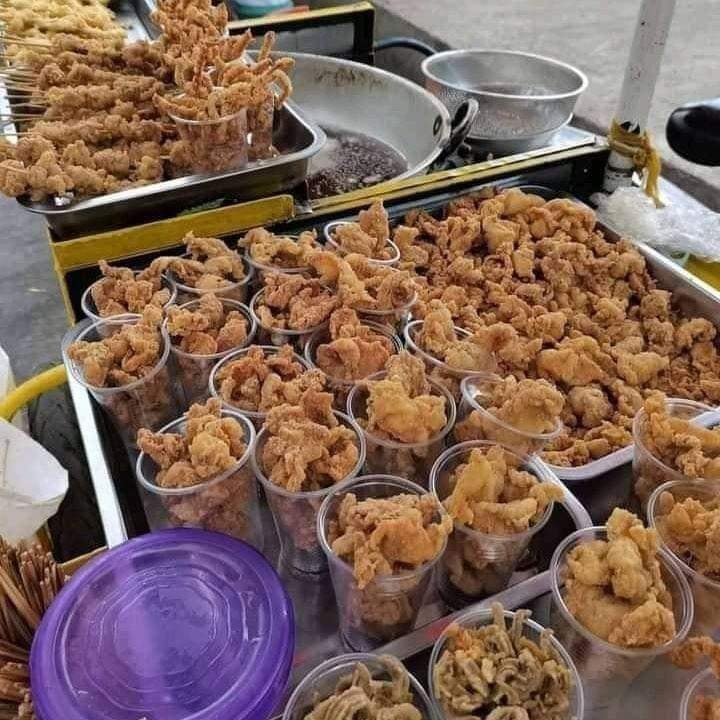 Guilty pleasure alert! Whether it's served as a street food or not, there's no denying that a lot of Pinoys love balat or Chicken Skin. It's purely chicken skin that's seasoned and deep fried to crispy, golden brown perfection, and served with vinegar to enhance the flavors and balance out its oiliness. This is a popular go-to snack for many students and even for passers-by along sidewalks because it's affordable and of course, delicious. BUT it's high in cholesterol, so you also have to watch out and not eat too much of it.
22. Cheese Sticks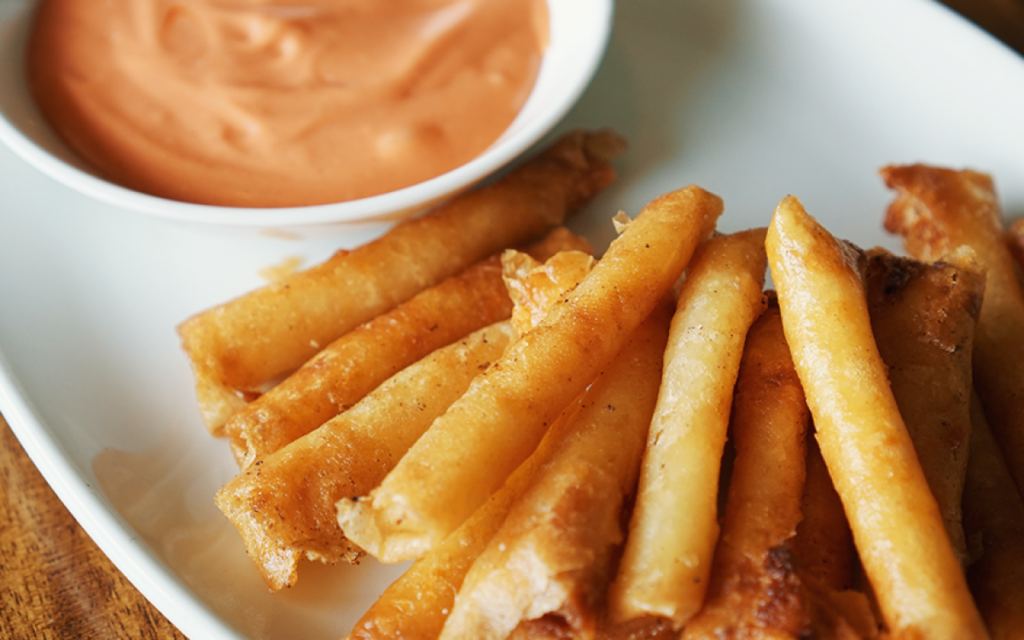 You can never have only one piece of Cheese Sticks because chances are, you'll munch on a few more of them because they're just yummy. Cheese Sticks is made using sliced cheddar cheese wrapped in a spring roll wrapper (lumpia wrapper), and is deep fried until it's golden brown. For its dip, vendors typically mix ketchup and mayonnaise to complement the crunchy texture and cheesy flavor.
Just like any other country, the food culture in the Philippines is rich, and there's no doubt that we bring mouthwatering and delectable dishes to the table. The best part is that the street foods that we all know of, shows so much of the culture we have in the country and what suits the palate of many Filipinos — and looking at the ones listed above, it not only makes you feel nostalgic, but it also makes you crave for these street foods all the more. So ano, food trip na ba 'to?