Are you a proud fur parent looking for the paw-fect city staycation experience in Metro Manila? Look no further! The bustling metropolis offers a plethora of hotel options for you and your furry companion to enjoy a memorable stay without leaving your four-legged friend behind.
Related: 7 Pet-Friendly Hotels & Resorts to Visit for Your Staycation Near Metro Manila
1. Sofitel Philippine Plaza Hotel Manila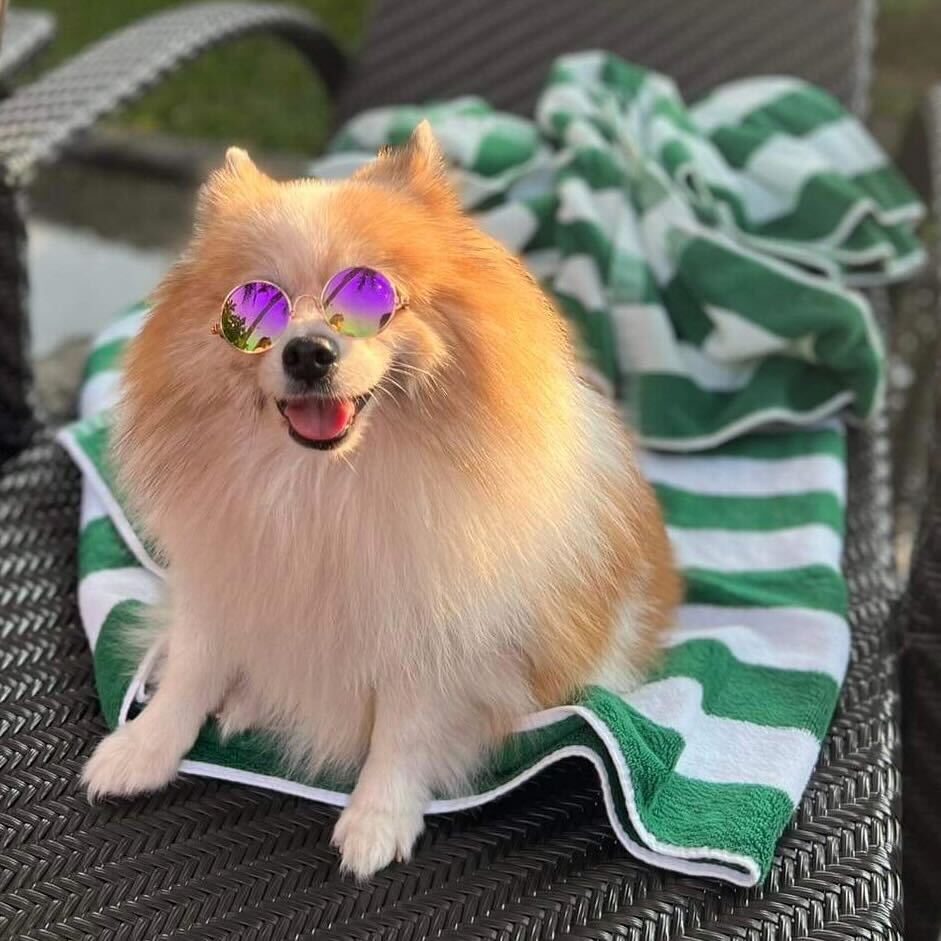 Photo Source: Sofitel Philippine Plaza Manila on Facebook
Turn your staycation into a pet-cation with your furbaby at Sofitel Philippine Plaza Hotel Manila! This 5-star luxury hotel allows cats and dogs, making it perfect for fur parents who will have their staycation here. Pets can freely walk in the lobby, hallways going to outdoor spaces, guestrooms, and outdoor areas such as Sunset Bar and La Veranda.
Photo Source: Sofitel Philippine Plaza Manila
However, it's worth noting that they allow only 1 pet per room and they are not allowed to enter indoor areas of restaurants and indoor function rooms, except for service animals. Sofitel also charges a fixed rate of P5,000 per room for deep-cleaning treatment. Additional fees will also be applied in the event that there will be damages and/or need of sanitation outside of the room.
2. New World Makati Hotel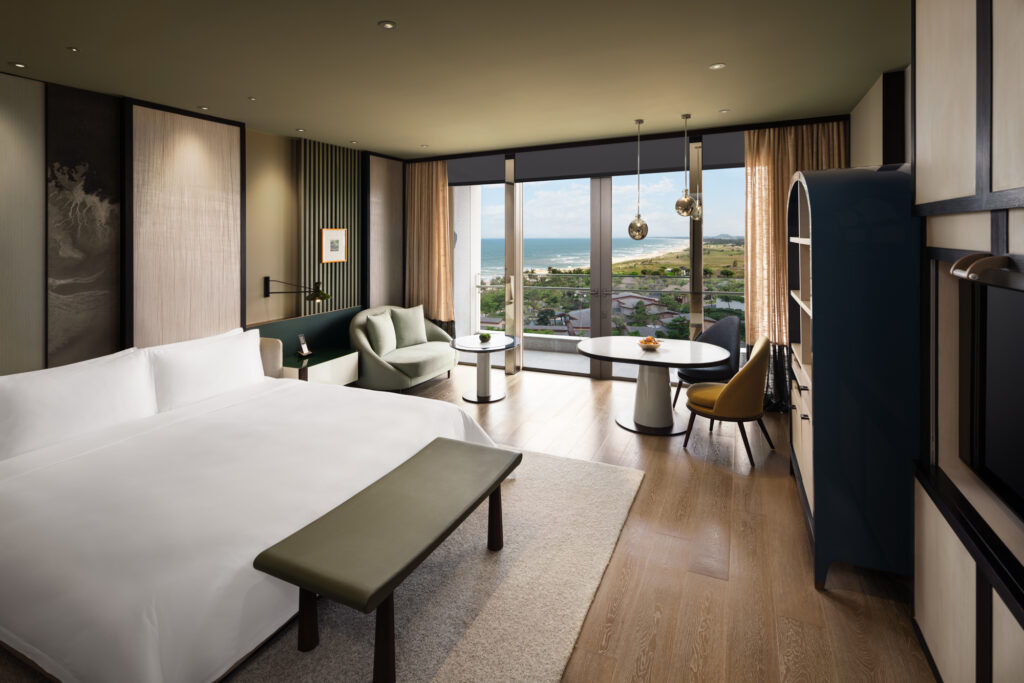 Let's head to another 5-star hotel — New World Makati Hotel! Located at the heart of Makati City, it's a hotel that's designed to provide every guest with convenience and the best experience possible, even while you're in the city.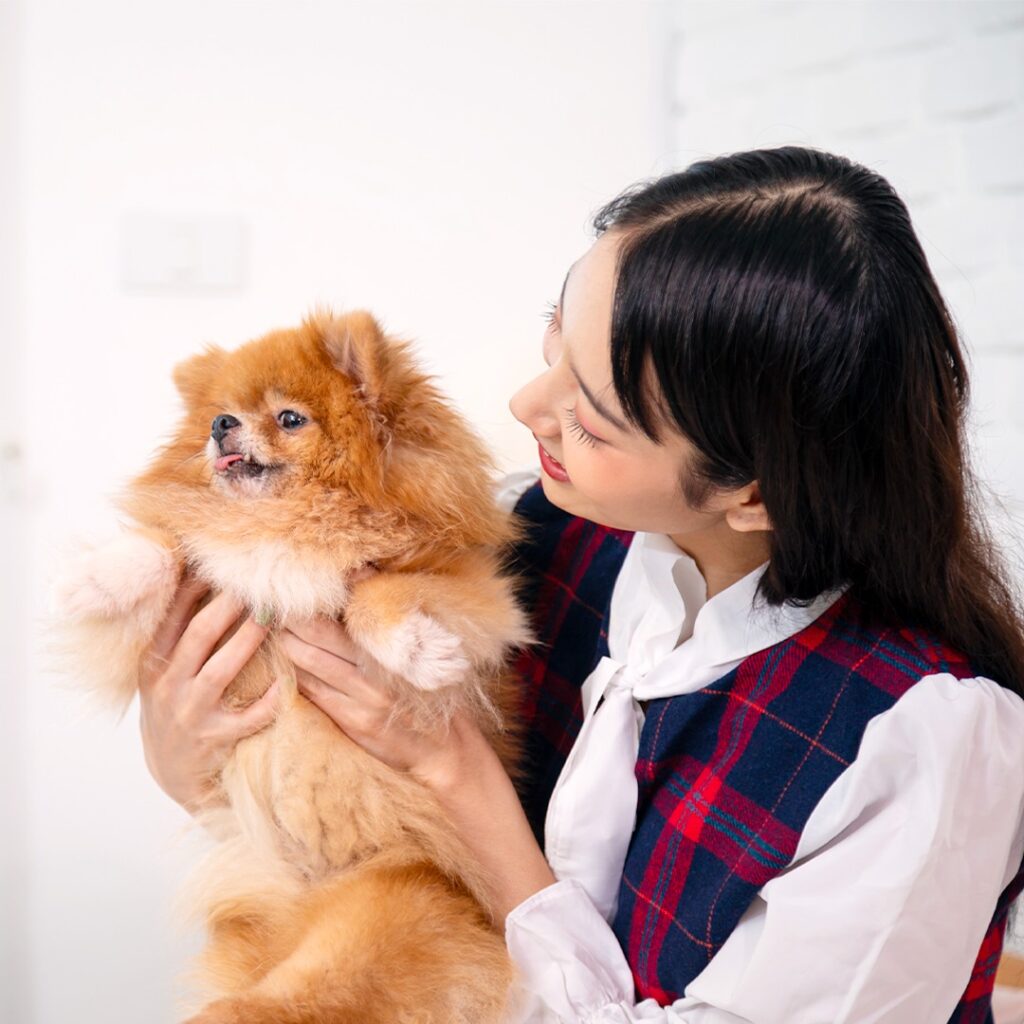 And yes, they do allow their guests to bring their dogs and cats, not exceeding 92 centimeters. In fact, a maximum of 2 pets are allowed per hotel room. Given of course that they are trained and are fully-vaccinated. New World Makati also has a Pet Package per room per stay, which consists of 1 bowl, 1 brush, 1 bed, 1 toy, and cleaning fee. Additional pets (exceeding a max of 2) will have added charges.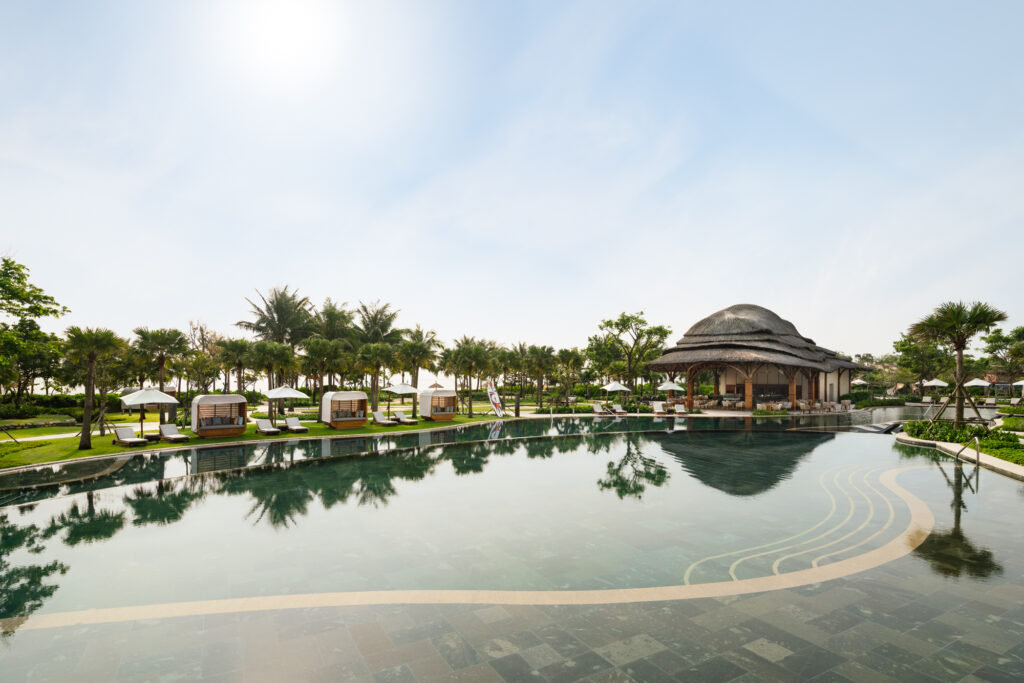 Photo Source: New World Makati Hotel
New World Makati is also keen on their Pet Policy to maintain the overall safety of guests, pets, and hotel associates, so they strictly implement pets to be kept on leash in all public areas. Pets are also not allowed to visit other indoor areas such as restaurants, sports facilities, and fitness centers. On a lighter note, pets can use the elevator and you can bring them in the al fresco area.
3. B hotel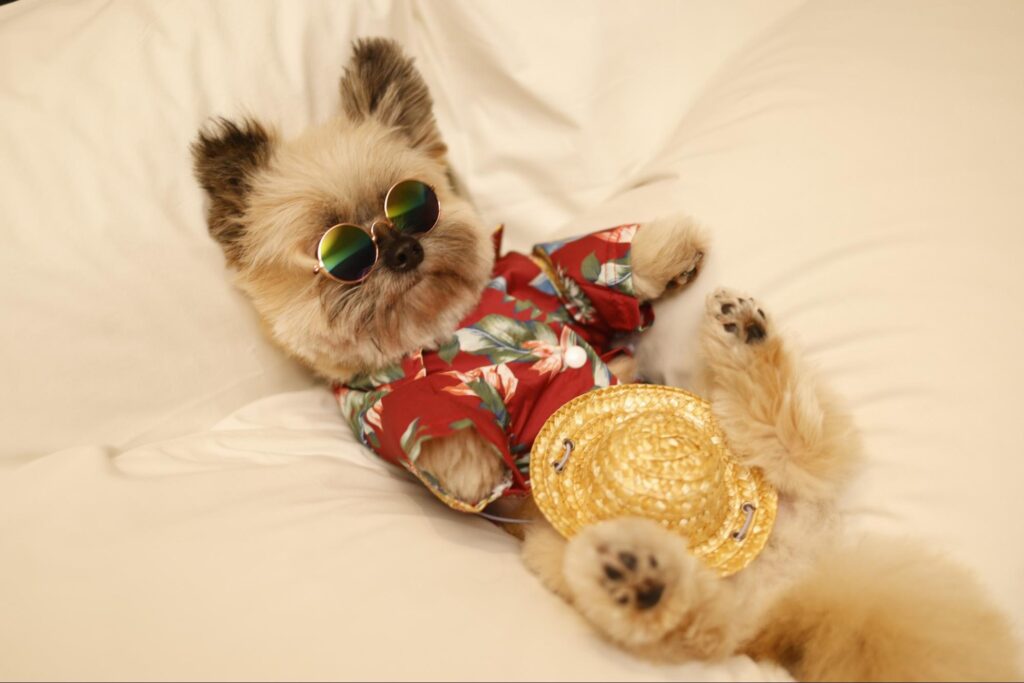 Photo Source: B Hotel Quezon City
If you're looking for a cozy staycation/pet-cation in Quezon City, B Hotel is a great choice for you! It's a 4-star hotel that's pet-friendly, allowing you to unwind and relax without missing your pet while you're away.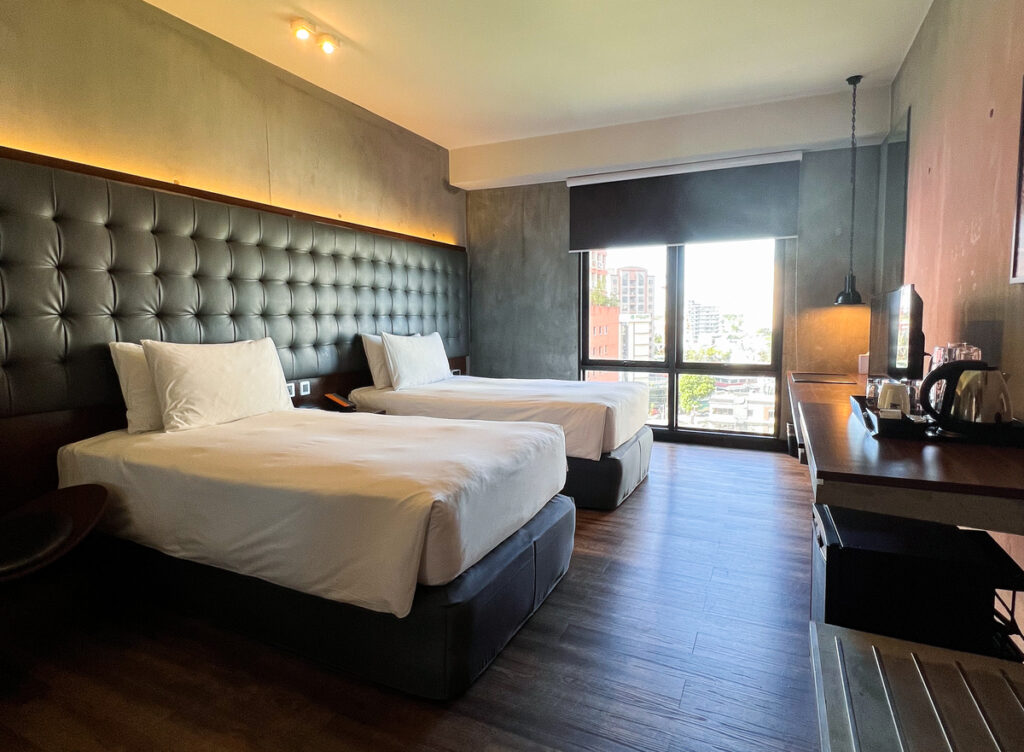 Guests who will be bringing their pet must first accomplish a Pet Agreement form 2 days before checking in, and are required to bring their fur babies' essentials. In addition to that, a P5,000 refundable security deposit and pet boarding fee (P1,000 to P2,000 depending on the room) will be required for guests with pets.
B Hotel also allows a maximum of 2 pets in one hotel room. However, do keep in mind that pets are not allowed inside dining and beverage areas.
4. Hilton Manila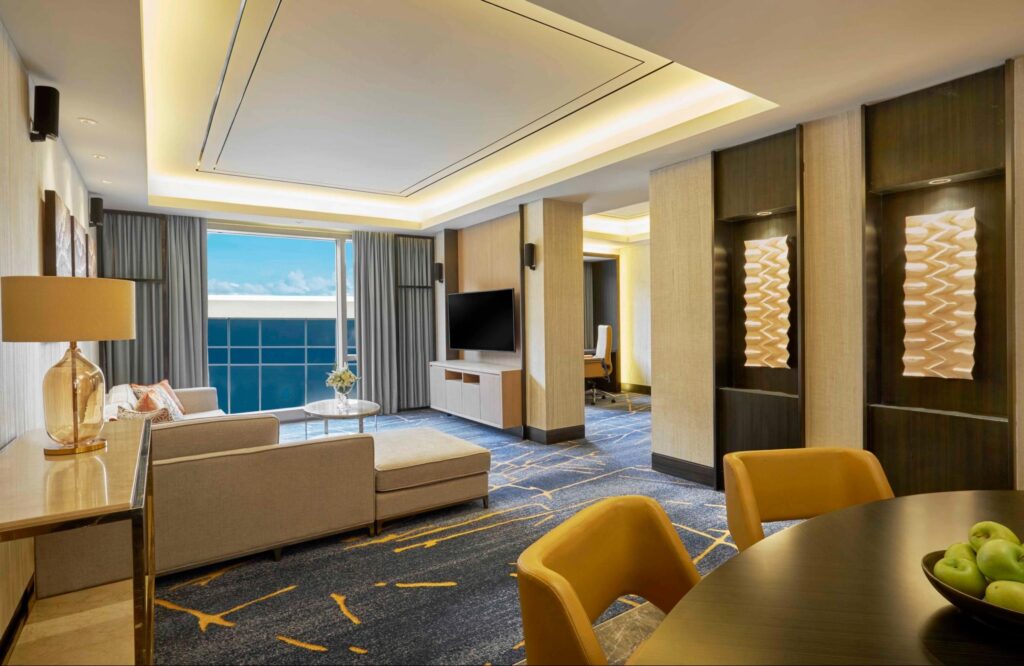 Located at Newport World Resorts in Pasay City, Hilton Manila is known as a luxurious 5-star hotel that provides excellent services and quality stay for their guests. To add to their guests' convenience, Hilton Manila is a pet-friendly hotel! Yes, you read that right. So you won't have to worry about leaving your pet behind even for just a day while you're on a cozy staycation.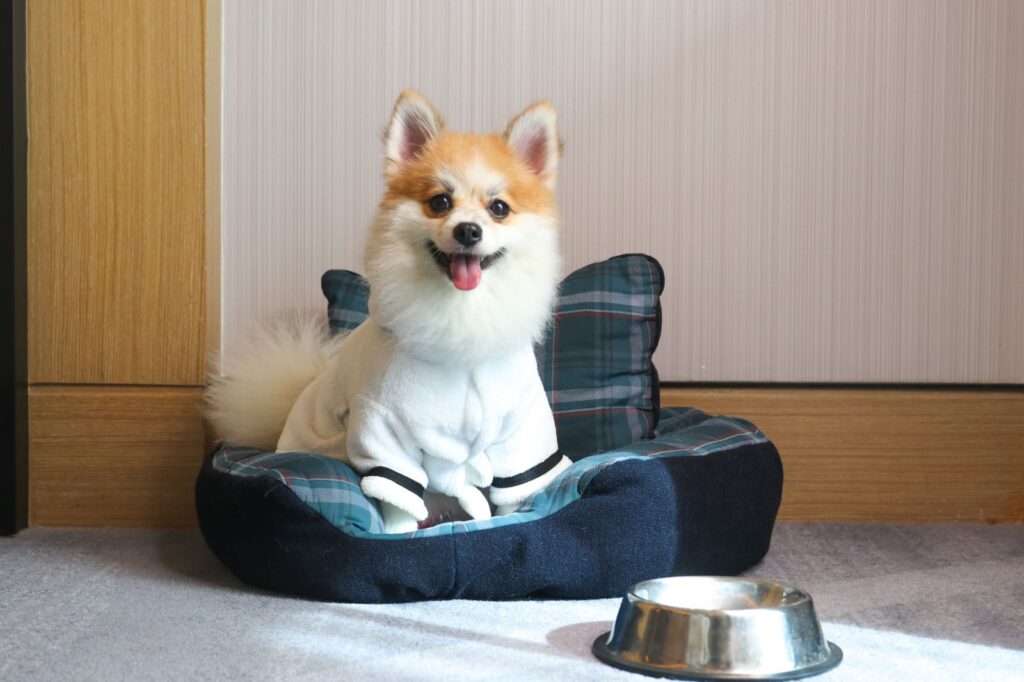 Photo Source: Hilton Manila
You'll be delighted to know that Hilton Manila's pet-friendly rooms include freebies for your cats or dogs, such as pee pad, sachet of premium dog/cat shampoo, treats for your dog/cat, 2 bottles of water, and a Bingo teddy bear stuffed toy. They also provide bowls and a bed for your fur babies that are to be returned after your stay at the hotel. For cat owners, Hilton provides a litter box that you can use during your stay.
If you will be staying here with your pet, it is important to know that they have pet requirements, allowing only small to medium breeds not exceeding 30 pounds. A maximum of 2 pets are allowed per room and a P7,500 pet fee is charged for the whole duration of the stay for executive rooms. While a P10,000 fee is required per pet when you stay in their suites.
5. Admiral Hotel Manila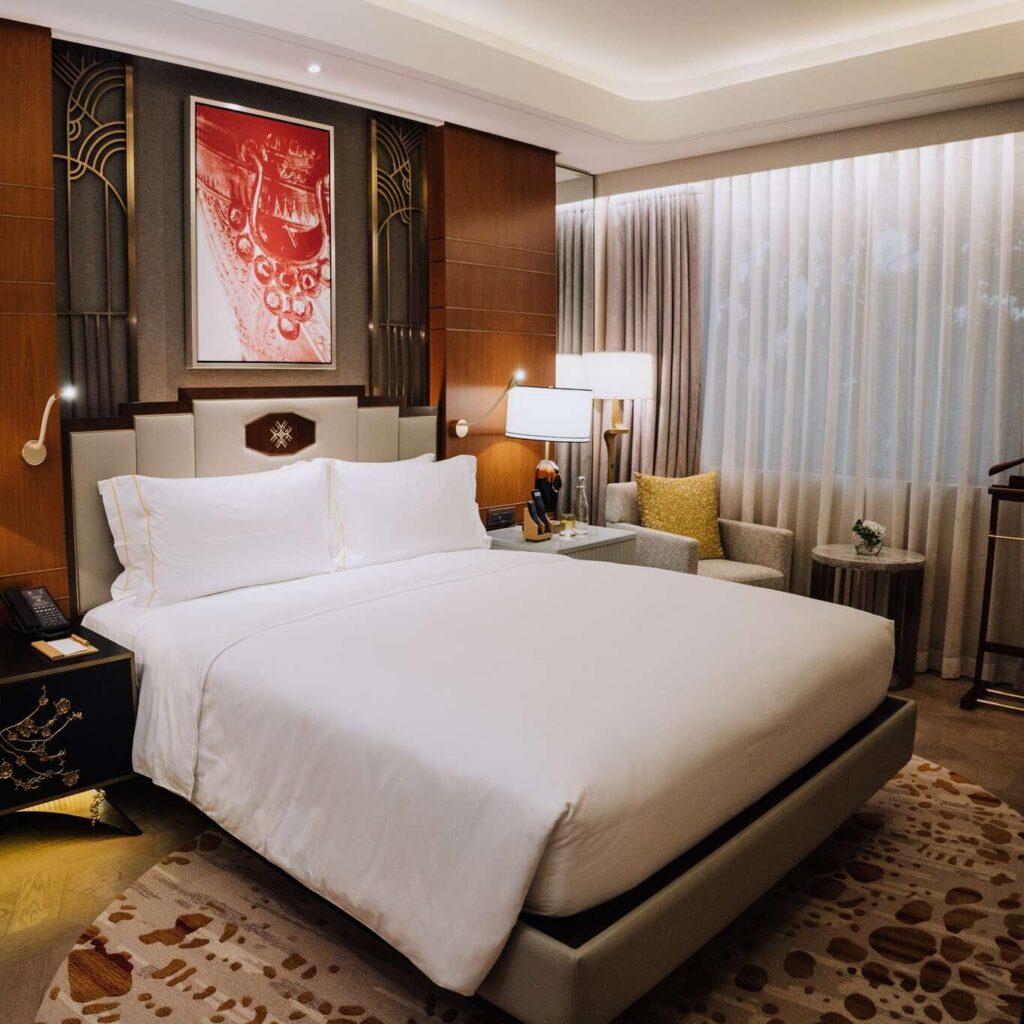 Admiral Hotel Manila is a stylish 5-star boutique hotel along Roxas Boulevard. Its interiors showcase a combination of classic and contemporary Filipino-Spanish designs, creating a cozy atmosphere for guests to enjoy. Admiral Hotel Manila is a good choice of destination for a quick staycation or romantic getaway around the city of Manila.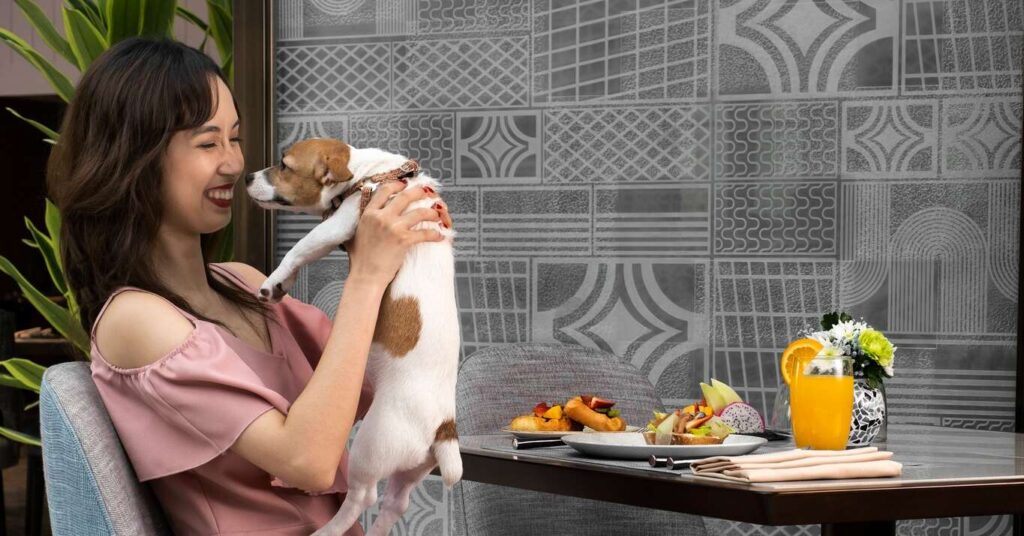 Photo Source: Admiral Hotel Manila
Adding to their charm is their pet-friendly space, welcoming both cats and dogs up to 2 feet and 30 lbs. With this also comes a guide that every fur parent must adhere to if they wish to bring their furry companions during their stay at Admiral Hotel Manila.
Upon check-in, a pet incidental deposit amounting to P5,000.00 per stay is necessary in addition to the total room charge and room incidental deposit. The deposit will be refunded when you check-out, provided that room has been inspected and is in good condition. Take note that they allow only 2 pets in suites and 1 pet in all other room categories. While for the housekeeping policy, a service fee also applies per stay, amounting to P2,900 nett.
EXCEPT FOR Ruby Wong's Godown, Admiral Spa, Gym, and Salon, ALL AREAS of the hotel warmly welcome pets. And of course, fur parents are advised to bring cover sheets, leashes, or a carrier for their pets to use within the hotel facilities.
6. The Bellevue Manila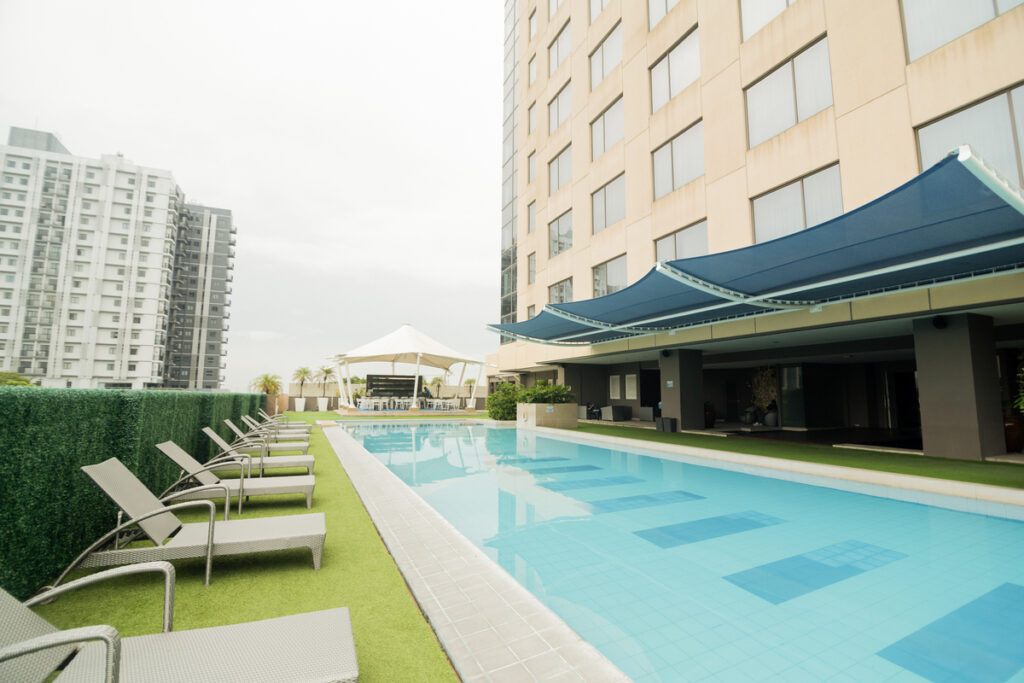 Next up on this list is The Bellevue Manila, a 5-star hotel located at the heart of Alabang. They offer spacious and comfortable rooms and first class facilities, as well as quality services. And with their guests' comfort and convenience in mind, they are now welcoming pets! This pet-friendly hotel doesn't only welcome dogs and cats, but also your pet fish! Isn't that great?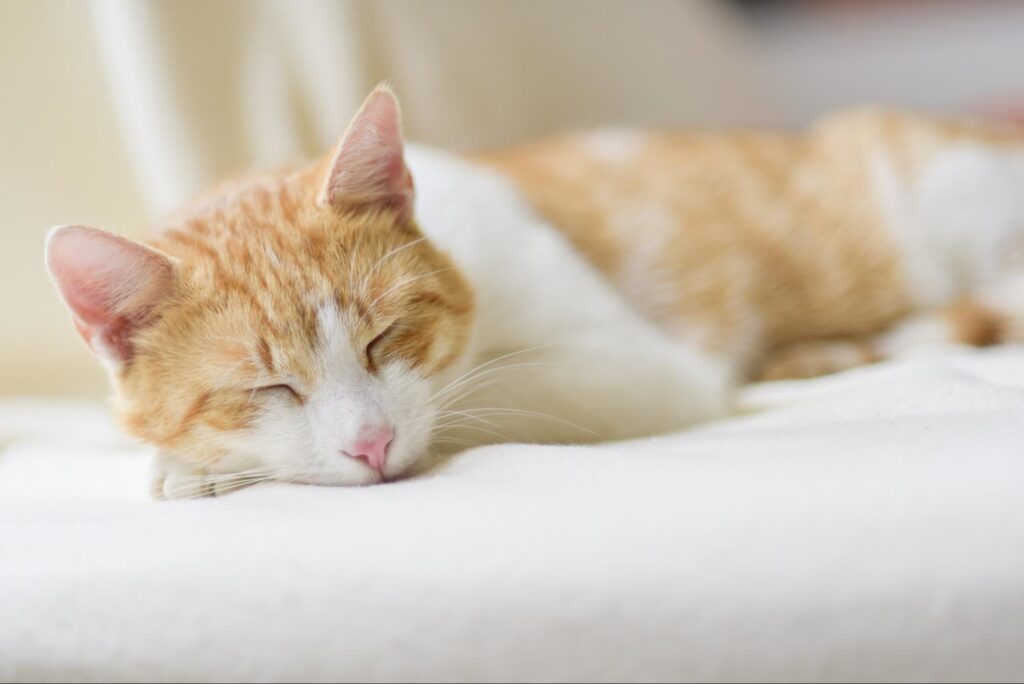 Photo Source: The Bellevue Manila
Guests who will bring their pets along with them during their stay are required to pay a one-time pet fee of P4,000 per pet for stays lasting up to 3 nights. Subsequent nights will incur an extra charge of P2,000 per night. Keep in mind that this pet fee is separate from the guest's nightly incidental deposit of P3,000.
Like any other pet-friendly accommodation, pet owners are advised to maintain cleanliness by cleaning up after their pets at all times. Furthermore, it's a must that owners take measures to prevent potential damage to the room they are staying in.
In terms of number of pets per room, The Bellevue Manila allows only one dog with a fully-grown weight of not more than 20 kg and maximum height of 2 feet per room. For guests with cats, a maximum of 2 cats are allowed to stay with you in the room.
While those with a combination of 1 small dog and 1 cat, or 2 small dogs may be allowed to stay together in the owner's room, but are subject to the management's evaluation and verification for the pet's size and weight. Please note that only pets categorized as small to medium-sized dogs are permissible.
If you have a pet fish with you, only those that are kept in a receptacle with water not exceeding 5 liters are allowed to enter the hotel. It's also important to remember that prior to check-in or registration, guests are required to declare their pets.
7. Seda Residences Makati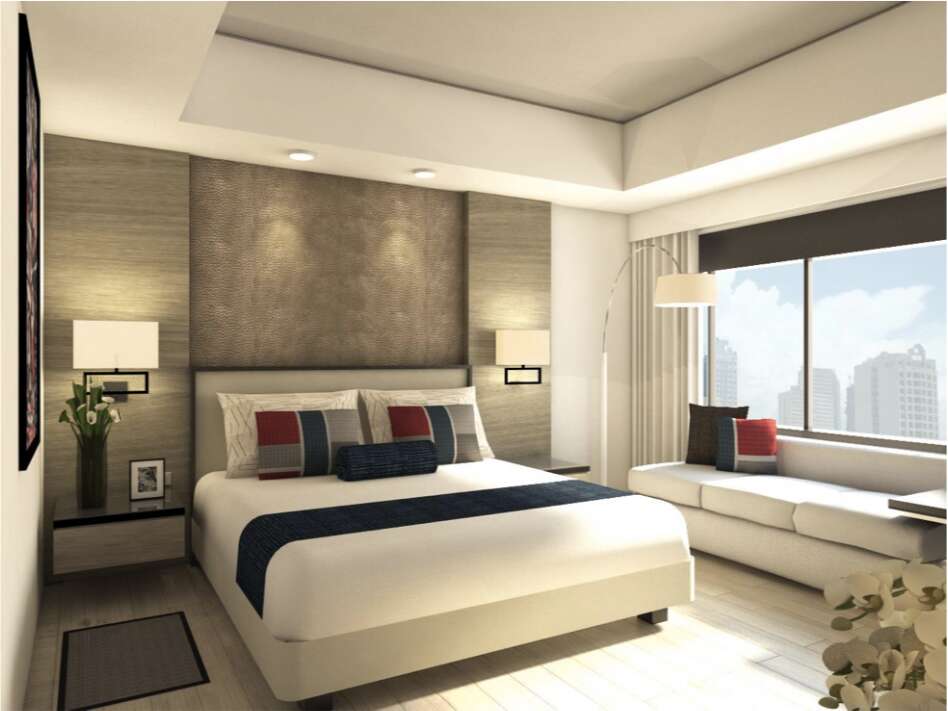 Looking for a hotel in the city where you can go for a long-term staycation with the family? Seda Residences Makati is a great choice for that. And yes, they are a pet-friendly hotel, so your furry companions can come with you on a relaxing staycation with a stunning view of the Makati skyline.
Both dogs and cats of all sizes are welcome in this hotel, and a maximum of 1 pet per room is allowed to stay with the guest. They have a Paw Package that you can avail for P1,000 nett per pet, per night. This package includes a pet bed, complimentary treats, toy, and bowl set up. Fees and restrictions also apply, so it's best to inquire with their management as to what other pet policies they have.
Meanwhile, service animals are allowed and are exempted from fees and restrictions.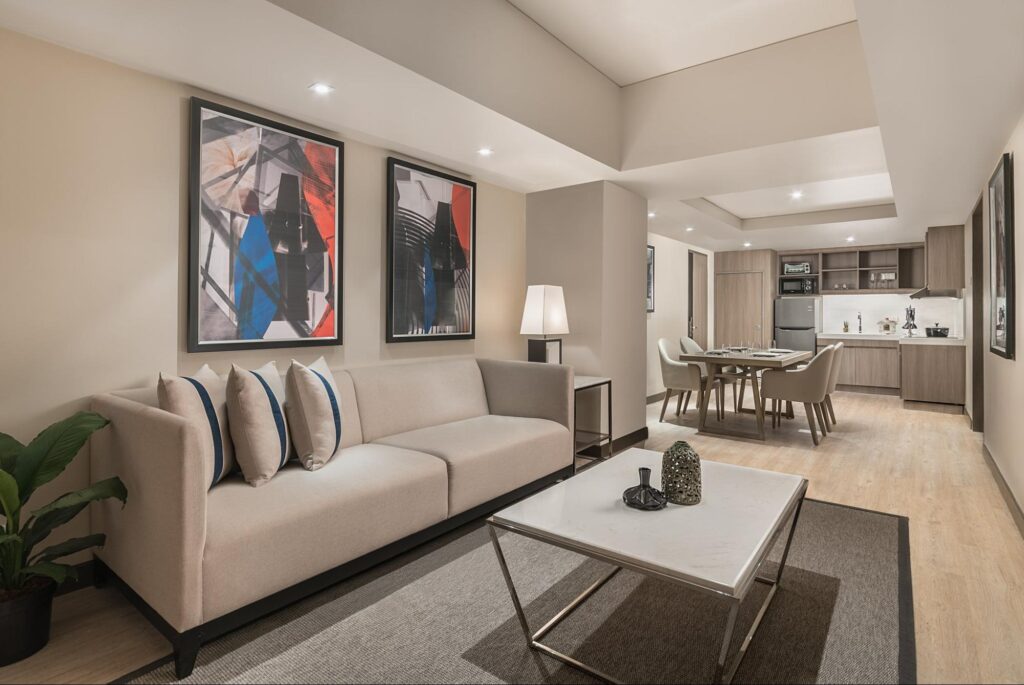 Photo Source: Seda Residences Makati
Since Seda Residences Makati accommodates guests who typically stay for a minimum of 1 week to a maximum of 1 year, you'll find that their rooms are not only fully furnished, but also equipped with essential utilities, making it feel more like a home for guests.
8. Ascott Bonifacio Global City Manila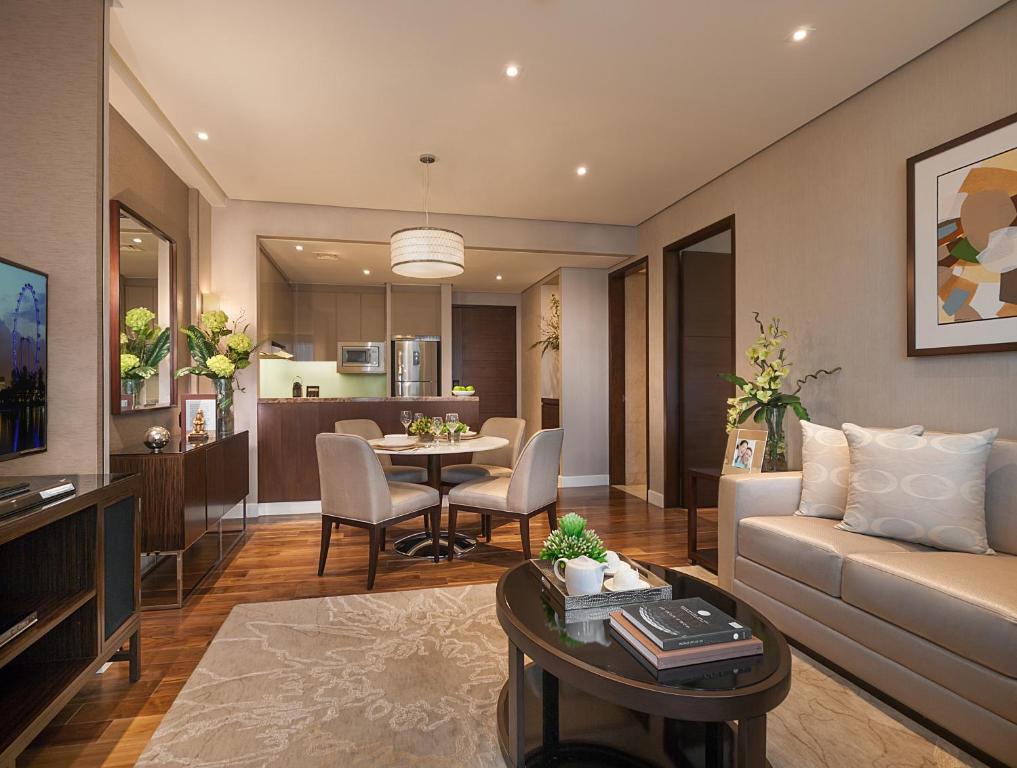 If you're looking for a relaxing and luxurious staycation around BGC that's pet-friendly, look no further than Ascott Bonifacio Global City Manila. It's a 5-star hotel with lavish modern interiors and spacious rooms complete with essential amenities to provide utmost comfort and convenience to the guests. Ascott BGC is perfect for guests who opt for extended stays.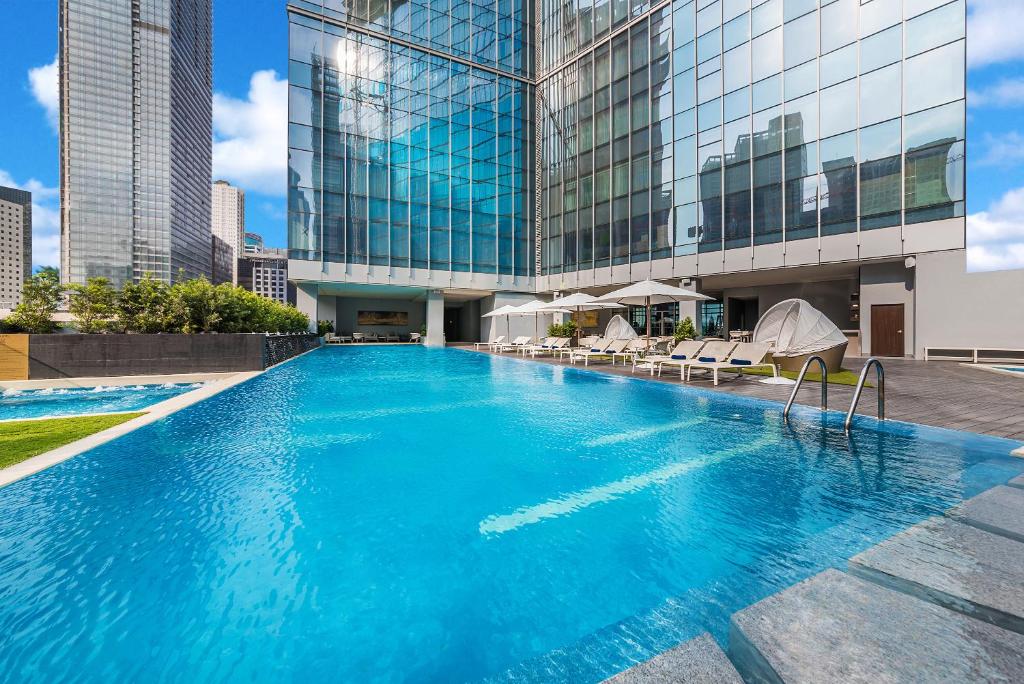 Photo Source: Ascott Bonifacio Global City Manila
Guests with pets will be required to pay a fee of P1,500 per pet, per night. Food and water bowls are also available. While for pet owners who will be staying on a longer period, there will be a P7,500 charge weekly and P15,000 monthly.
9. Citadines Bay City Manila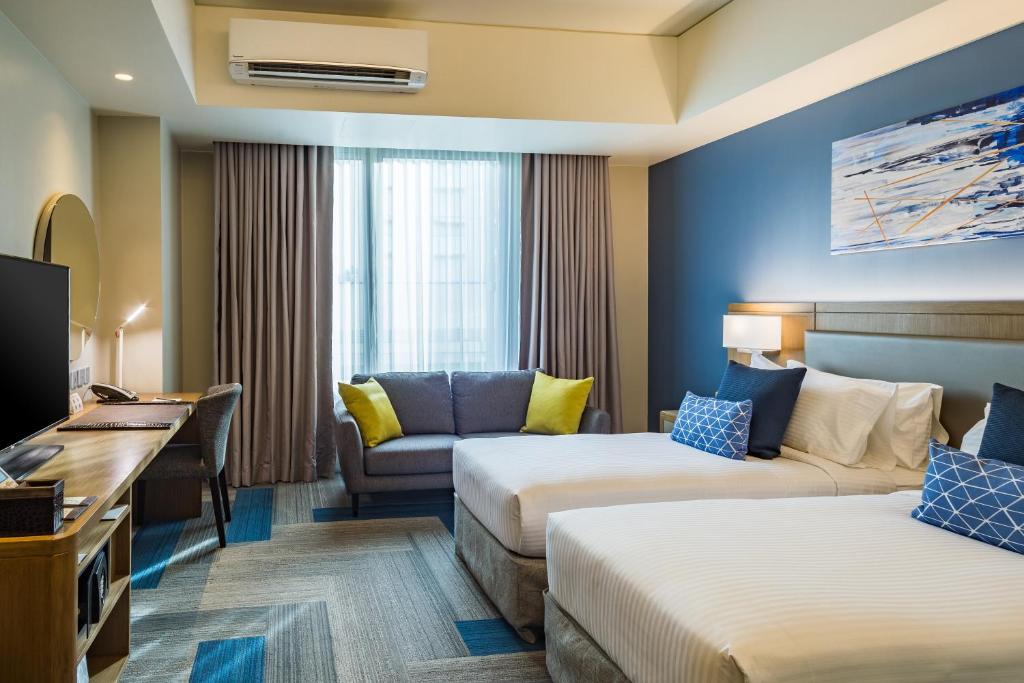 Photo Source: Citadines Bay City Manila
Citadines Bay City Manila is an apartment-style hotel that's located in Pasay City, near IKEA, SM Mall of Asia, and City of Dreams. You can treat this place as your "home away from home" in the city, as every room is equipped with essential amenities and a kitchen that you can use to cook food.
To top it off, this serviced-residence is a pet-friendly space! So you can bring your fur babies with you to recharge and relax while enjoying all that they have to offer. A pet fee of P2,000 per pet, per night will also be required for guests who will decide to bring their furry companions. For other pet policies, it's advisable to contact them for more details.
10. Somerset Central Salcedo Makati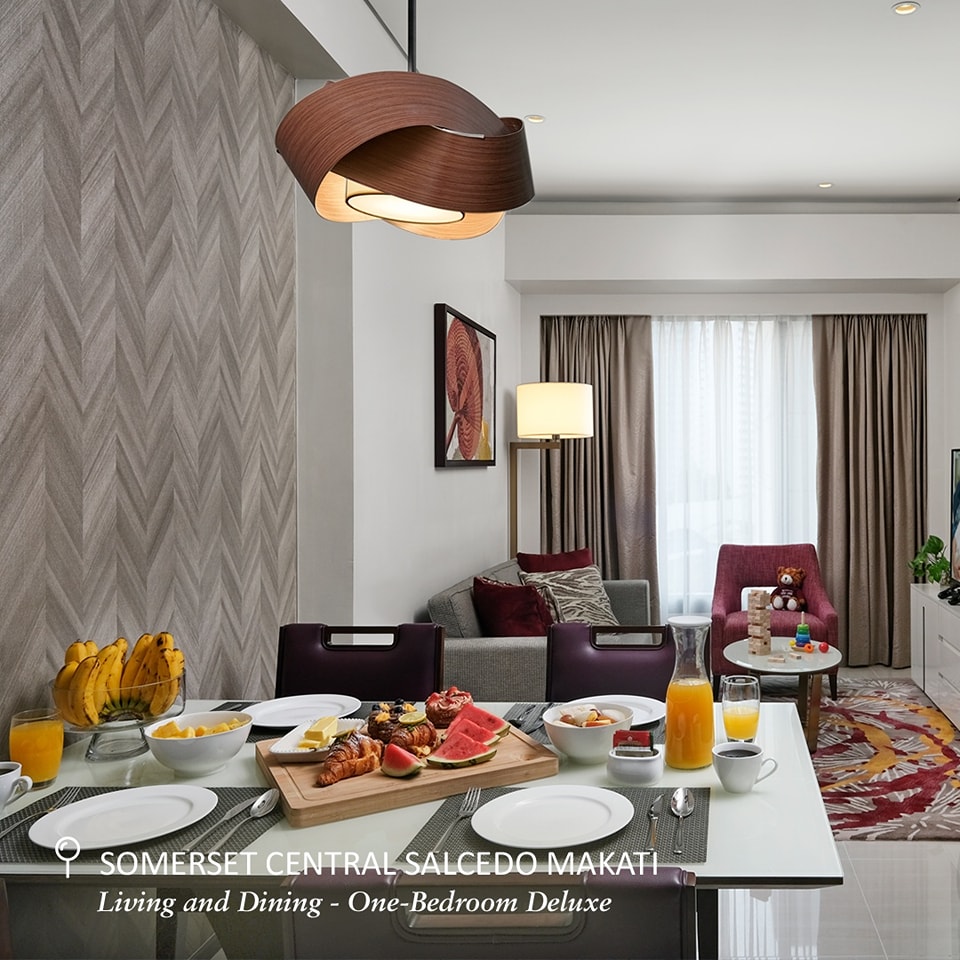 With Makati being the country's premier financial center, it's no surprise that you can also find a lot of hotels located in the area. That's why up next is Somerset Central Salcedo Makati, which offers guests with serviced apartments, ranging from Studio, Studio Premier, One-Bedroom Deluxe, Two-Bedroom Deluxe, and Three-Bedroom Deluxe units.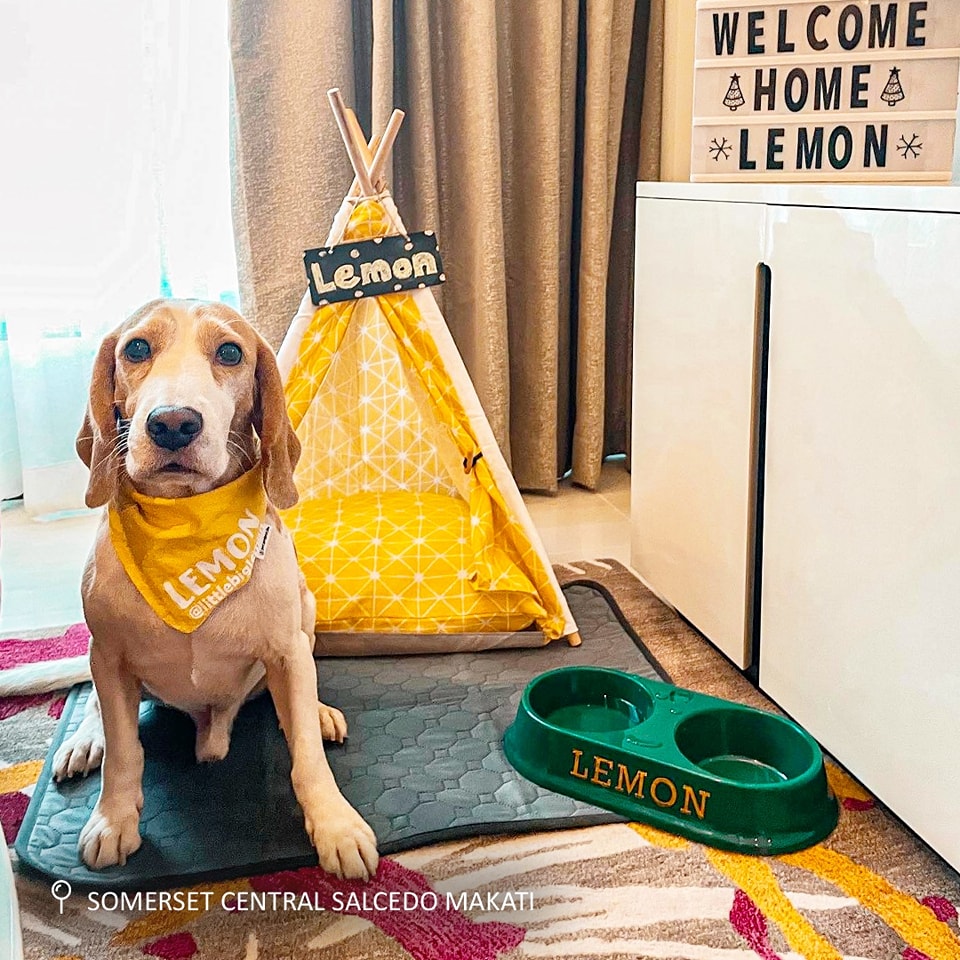 Photo Source: Discover ASR Philippines
And you can probably tell by now that it's also a pet-friendly place that you can go to for a staycation in the city. The best part is that they treat your pets like VIPs or Very Important Pets, so rest assured that your fur babies will also enjoy their stay at Somerset Central Salcedo Makati.
11. Spaces Hotel Makati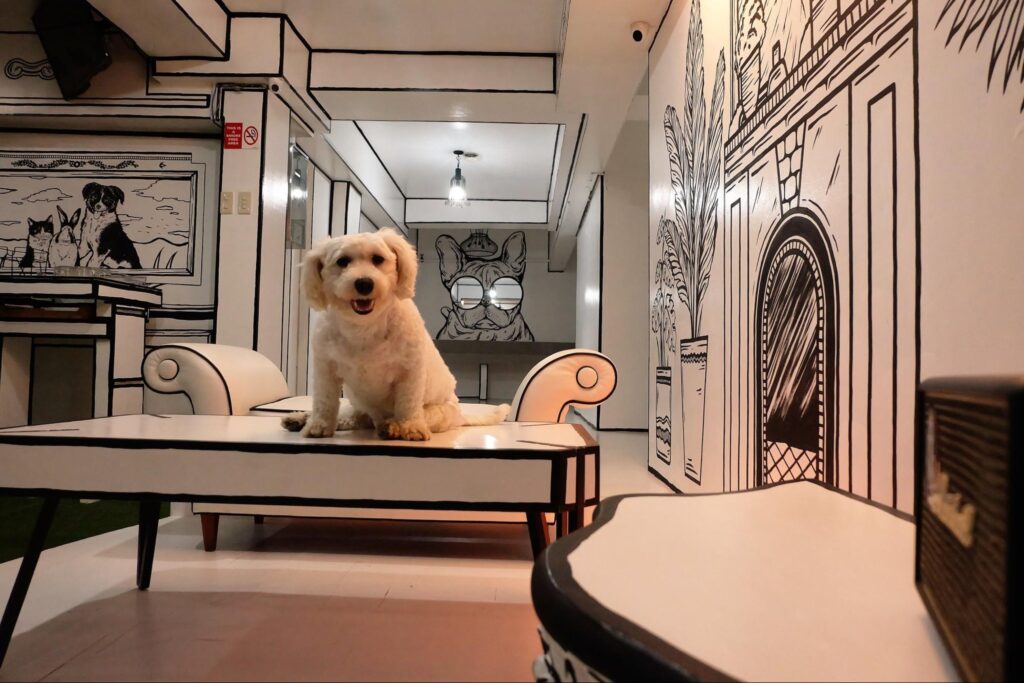 Photo Source: Spaces Hotel Makati – People & Pets
Go on a relaxing retreat with your family and pets at Spaces Hotel Makati. If you're looking for a more affordable and budget-friendly option for your city staycation, this 3-star pet-friendly hotel would be a fine choice.
12. Novotel Manila Araneta City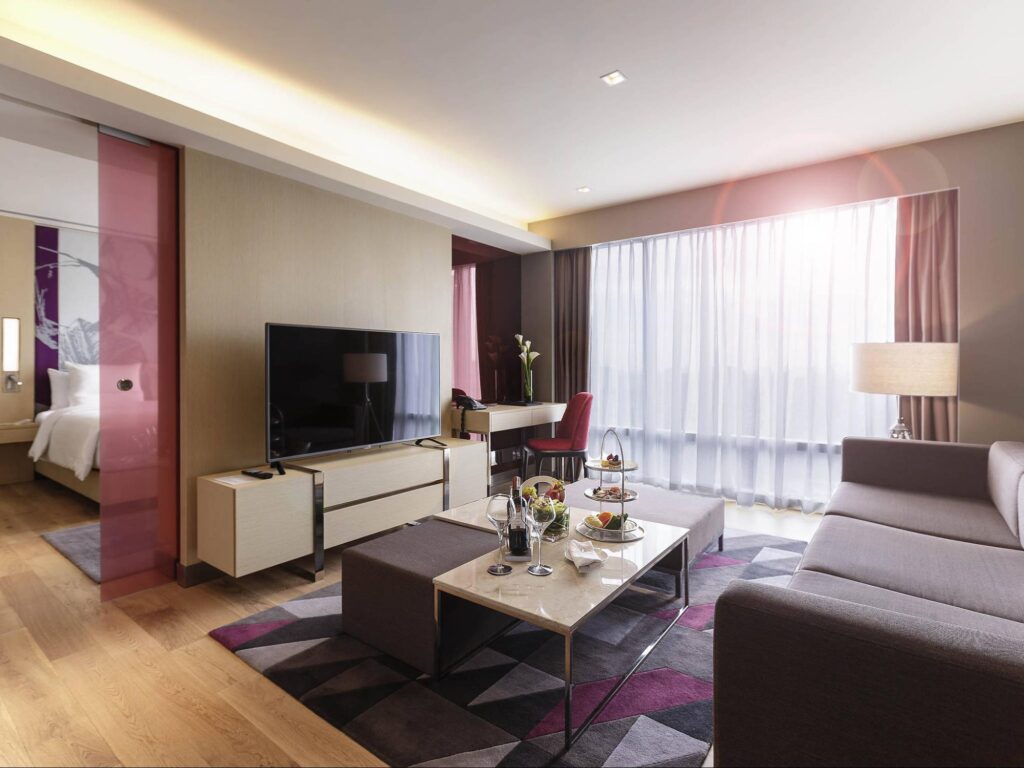 Photo Source: Accor Group
Novotel Manila Araneta City is a contemporary 4-star hotel located in the heart of Quezon City's bustling Araneta City. With its modern design and convenient access to shopping, dining, and entertainment options, it offers a vibrant urban escape. The hotel features well-appointed rooms, an infinity pool with panoramic city views, and diverse dining experiences, making it a popular choice for both business and leisure travelers seeking comfort and convenience.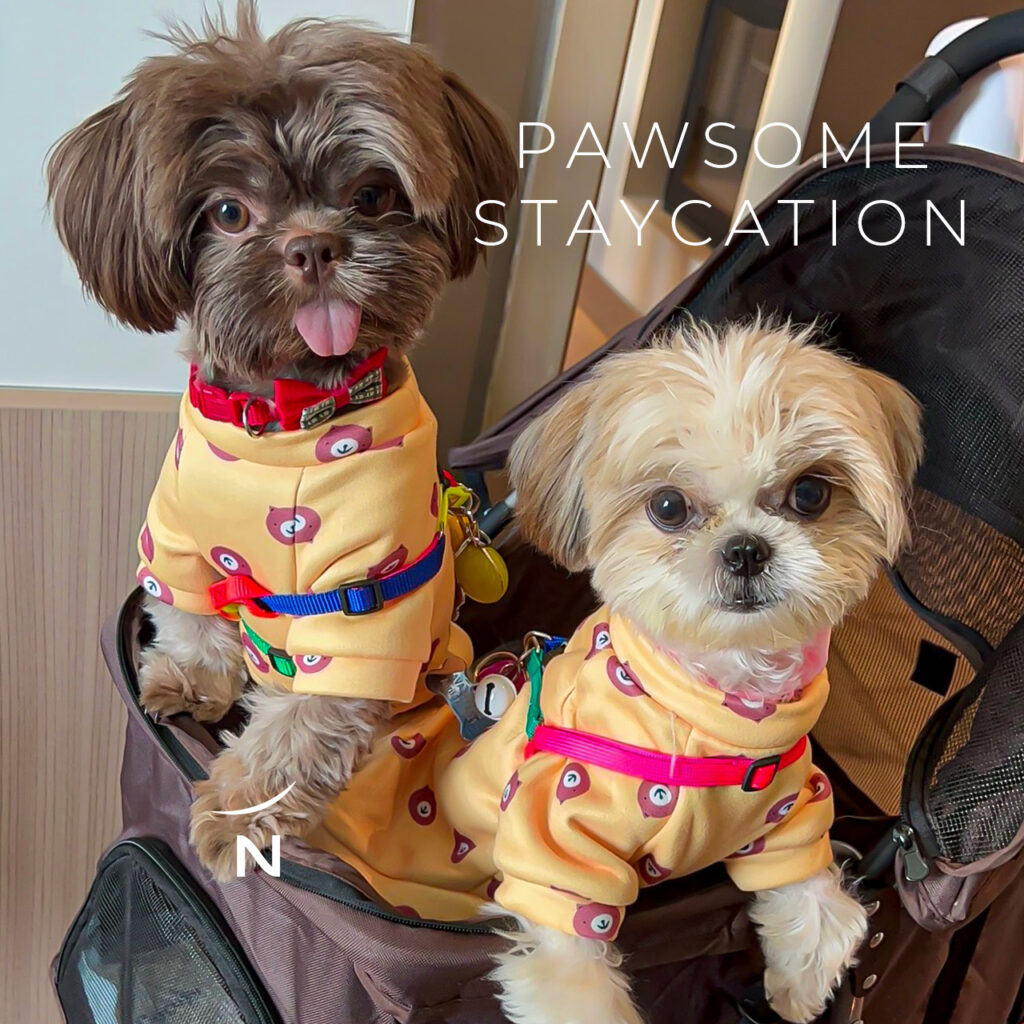 Photo Source: Novotel Manila Araneta City
Of course, your stay wouldn't be complete without your furry companions. That's why Novotel welcomes cats and dogs! A maximum of 2 pets below 2 feet are allowed, and a P1,500 fee per pet, per night is required.
13. Ascott Makati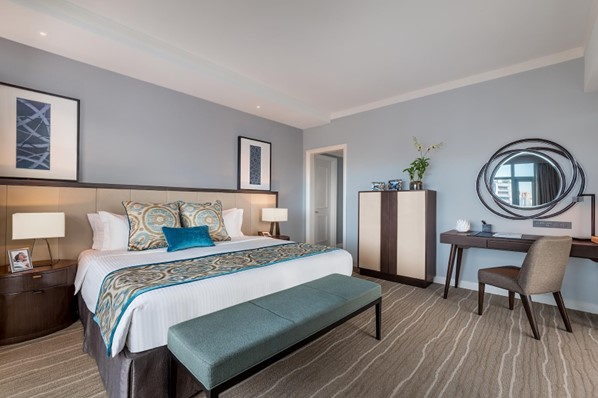 Ascott Makati is a luxurious serviced residence located in Makati's business district, offering elegant apartments and upscale amenities. It's a top choice for guests who are looking for a lavish stay in the heart of the city.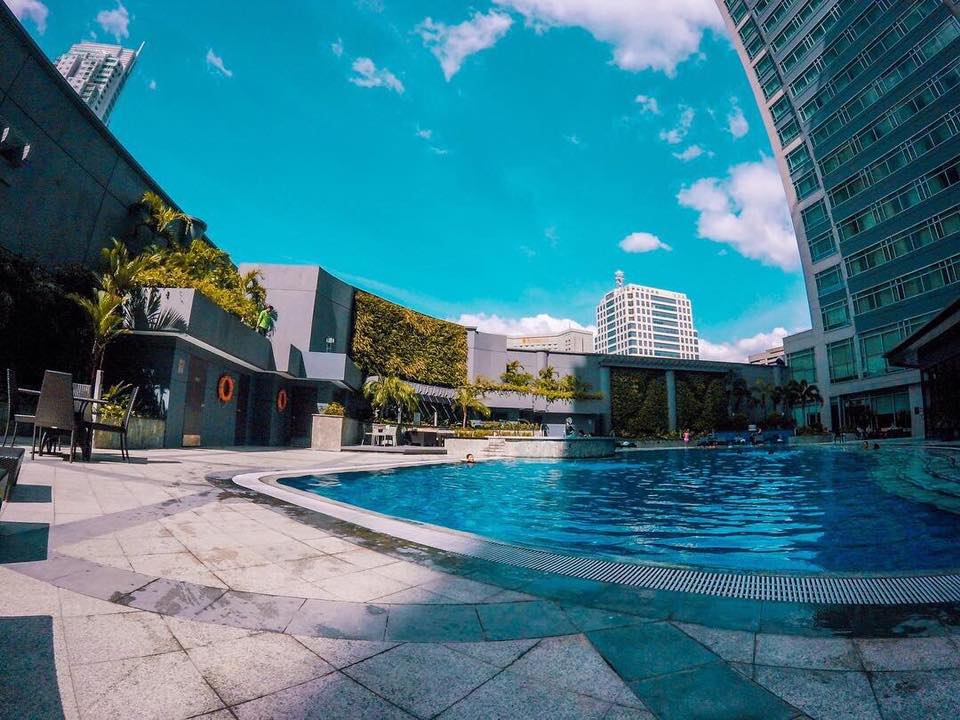 Photo Source: Ascott Makati
Same as Ascott BGC, Ascott Makati is a pet-friendly hotel that you can choose to go to for a staycation in the city. Pet fees also apply for guests who will bring their cats or dogs.
It's a relief that there are a lot of hotels in the city, ranging from luxurious 5-star hotels to affordable ones that cater to guests who want to tag their pets along. With accommodations like these in the city, pet owners are given the chance to enjoy a relaxing experience together with their pets. Check out these hotels for your city staycation!