From Tteokboki to Kimbap, Korea has all the best kinds of street food you can think of! And just recently the streets have been buzzing for the latest food trend this season which is Korean Corn Dogs! These Corn Dogs' batter is made with yeast, so it's a little like pancakes or other yeasted bread. The rolls are coated in panko (bread crumbs) and deep-fried until golden brown, then drizzled with gochujang, Ketchup, or Sriracha for an extra zing! If you're a K-drama enthusiast, you would probably find yourself drooling over these tasty snacks while watching "Start-Up." Don't worry, we're all guilty of the same thing and that's why we made a list of 10 online shops to satisfy your cravings!
1. Dogs and Dairies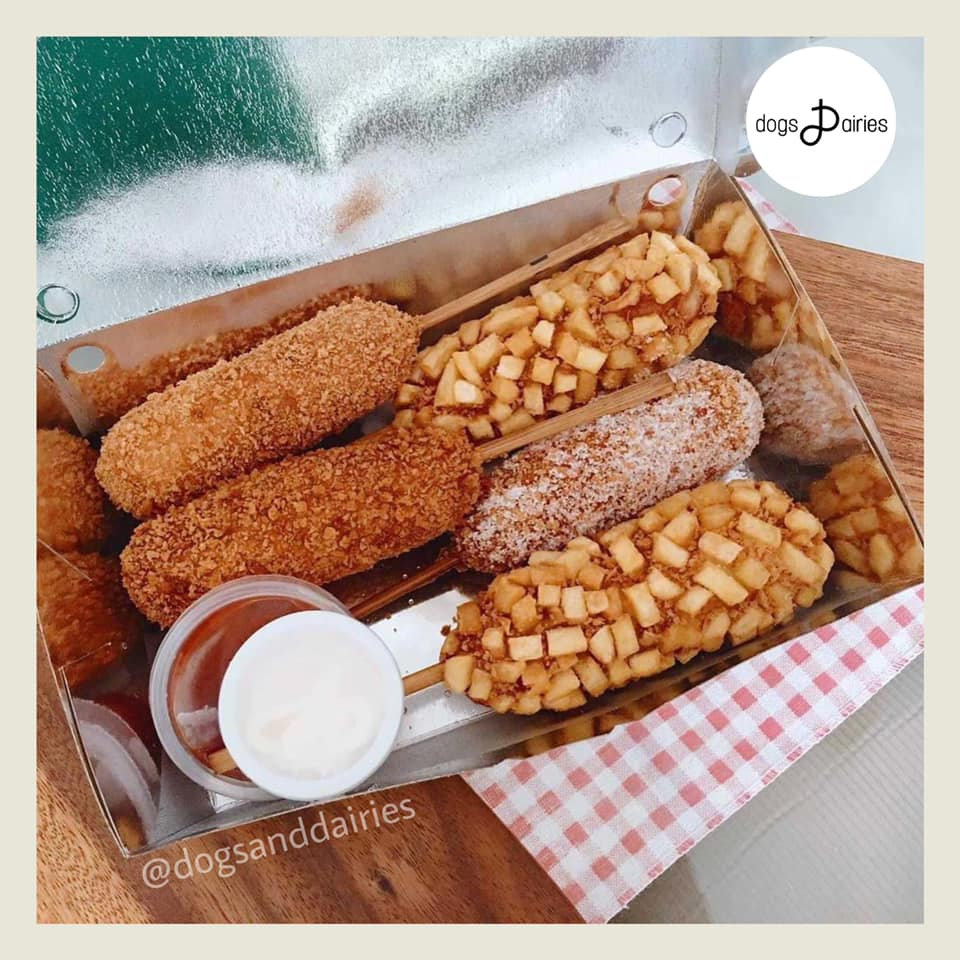 For all lovers of Korean and Filipino flavors, Dogs and Dairies is the place to go! With a lot of varieties to choose from, you can surely satisfy your sweet tooth with their ube cheese corn dogs, or try their squid ink Mozza corn dogs if seafood is your thing.
Insta: @dogsanddairies
Facebook: Dogs and Dairies
2. Gorae Hotdog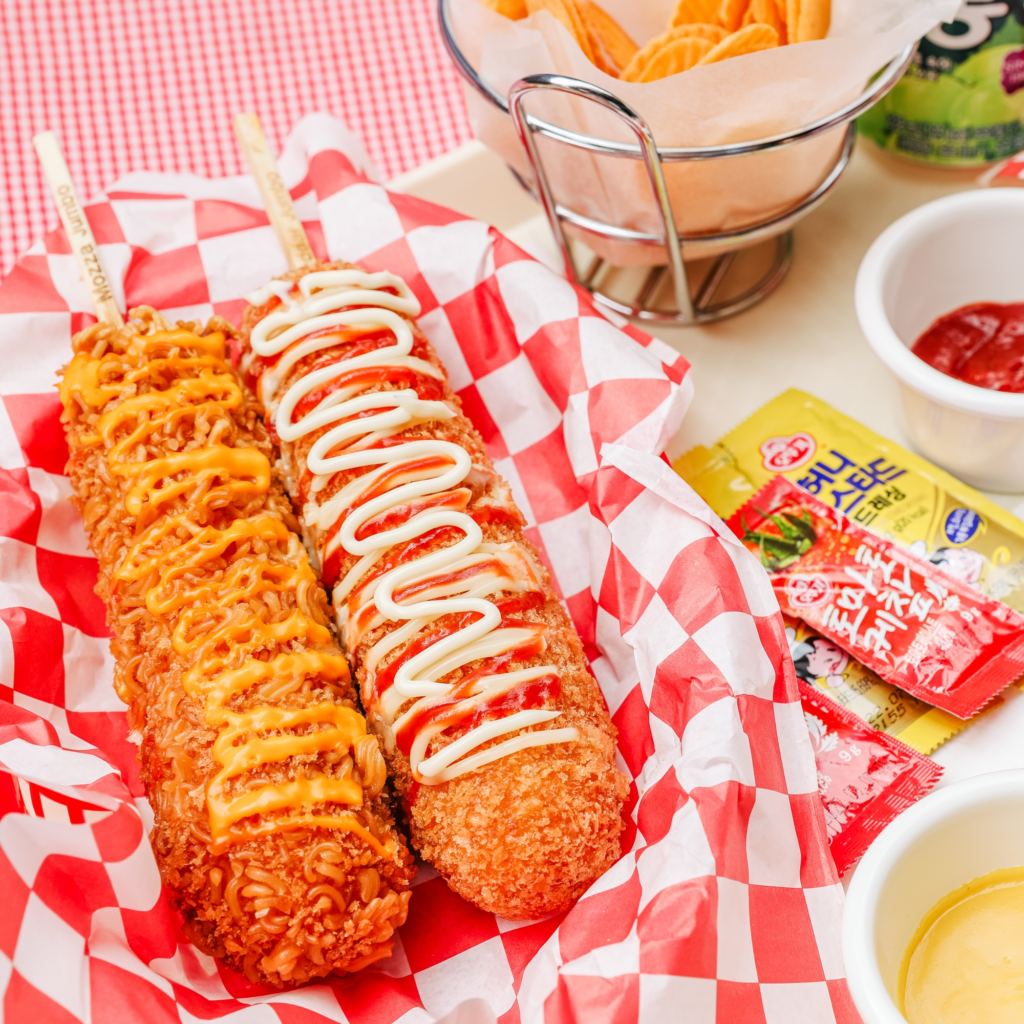 South peeps, you don't have to fly all the way to Korea to get a taste of their famous street food! This small family-run business sells some great, authentic corn dogs at pocket-friendly prices. Their original menu comes with a mustard and cheese dip, which you can use to dip your delicious sweet and savory corn dogs in.
Insta: @goraehotdogphilippines
Facebook: Gorae Hotdog
3. Corndog 28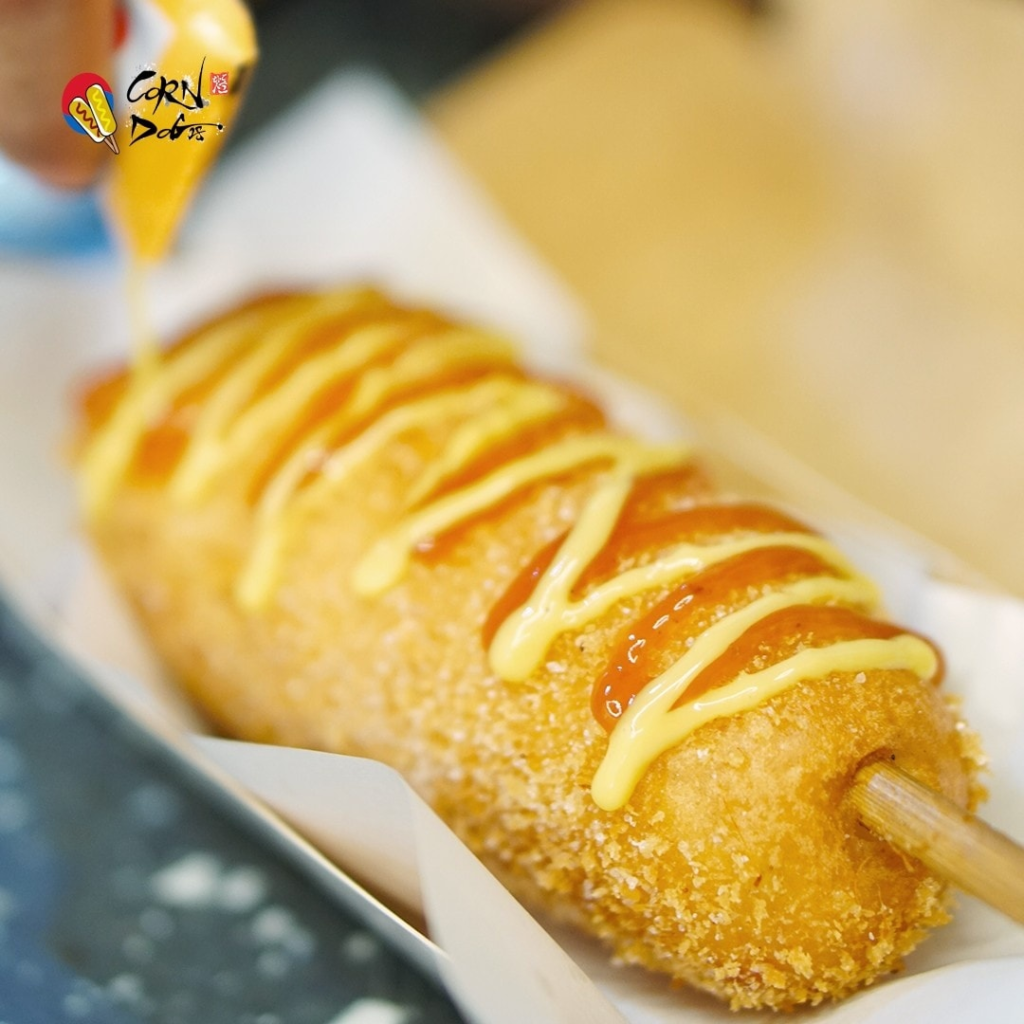 Never underestimate the power of cheese. If you love cheese and you're craving for something salty, Corndog 28's full mozzarella and full mozzarella potato Korean corn dogs are made just for you! Pair it with their homemade honey mustard sauce, tomato ketchup, or both!
Insta: @corndog28ph
Facebook: Corn Dog 28
4. 101 Korean Hotdog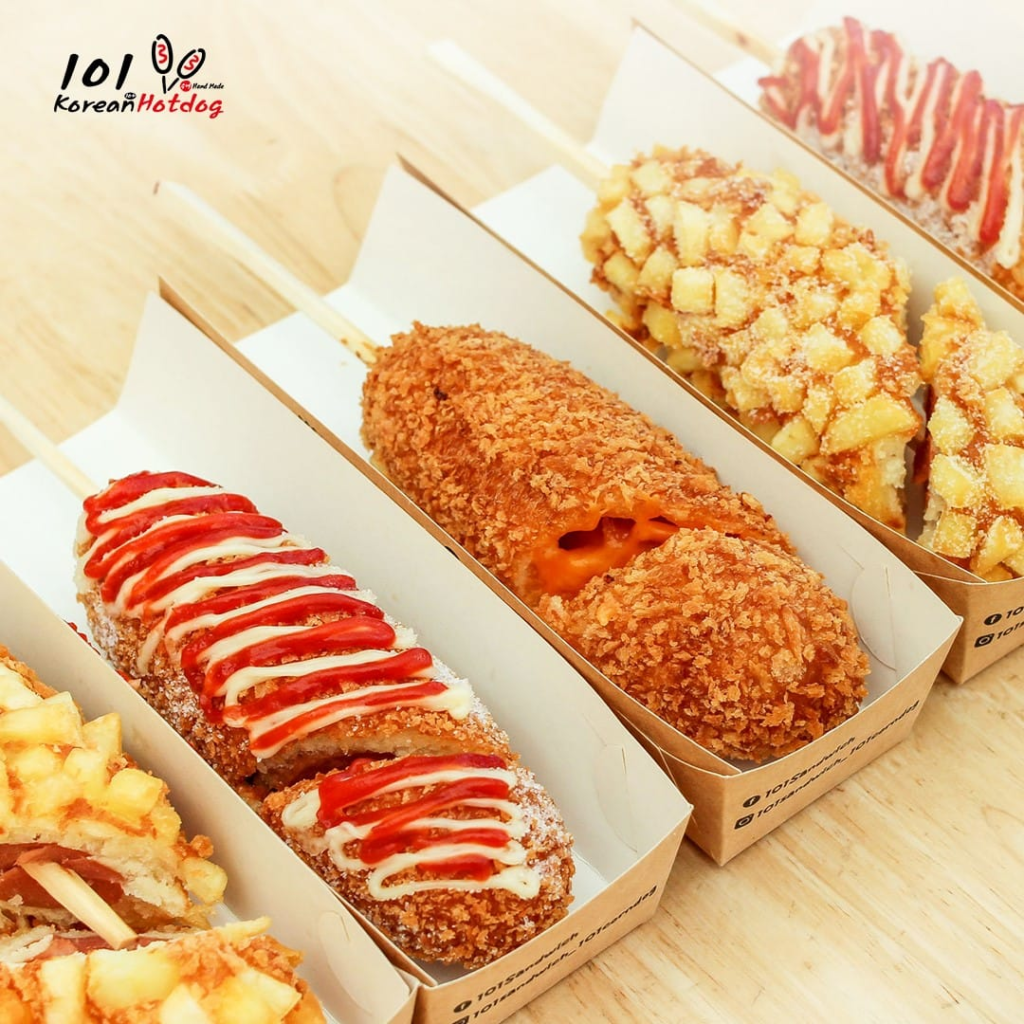 Looking for a snack that will satisfy your cravings without breaking the bank? At 101 Korean Hotdog, you can get four flavors of corn dogs for just P460! An affordable way to satisfy your hunger pangs, these Korean corn dogs are a delicious treat that goes great with their many side dishes and drinks.
Insta: @101koreanhotdog
Facebook: 101 Korean Hotdog
5. Chung Chun Rice Dog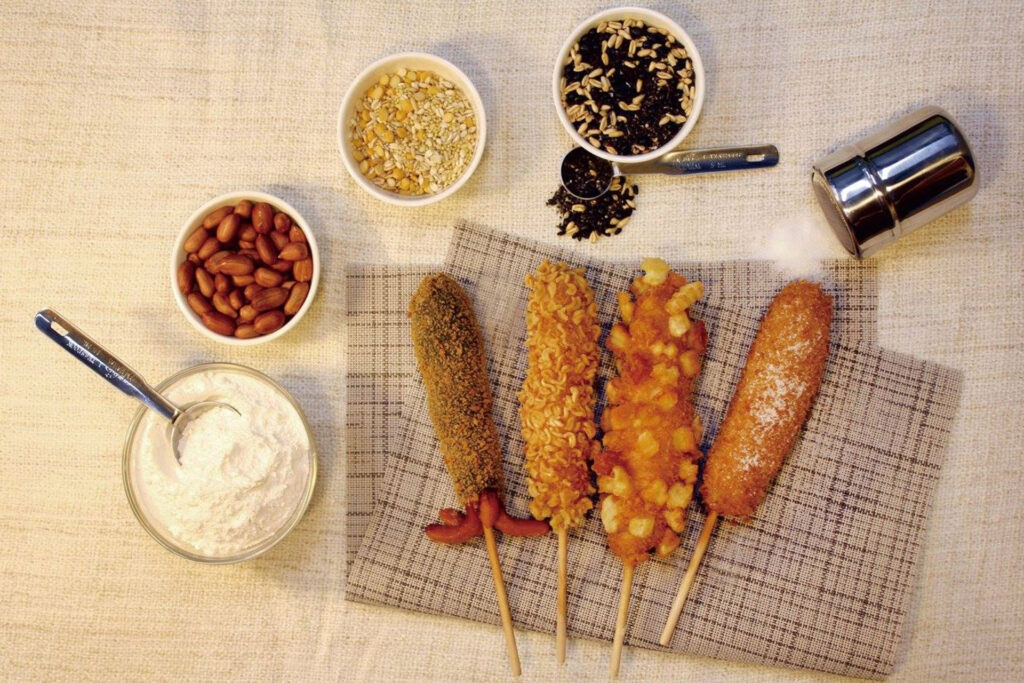 This South Korean street food favorite is the perfect treat for your family. With nine different varieties of Chung Chun Rice Corndog to choose from, your whole fam will be satisfied! Even better, it's priced right at P69 – so everyone can enjoy it!
Insta: @chungchunricedogs
Facebook: Chung Chun Rice Dog
This store offers massive Korean corn dogs and mini versions that are too cute to resist! Aside from mozzarella and hotdogs, you can also go for their spam-filled Korean corn dogs, beef franks with honey-cured bacon, and chicken sandwiches.
Insta: @kocogo.ph
If you love Korean-style corn dogs like we do, oh boy, will you be in for a treat! Café Constancia's corn dogs are big, crunchy, and golden brown to perfection – we can hardly recommend them enough. These hefty treats are made from premium ingredients, including their own dipping sauces – two for the price of one!
Insta: @cafeconstanciaph
8. Frisco StrEat Bites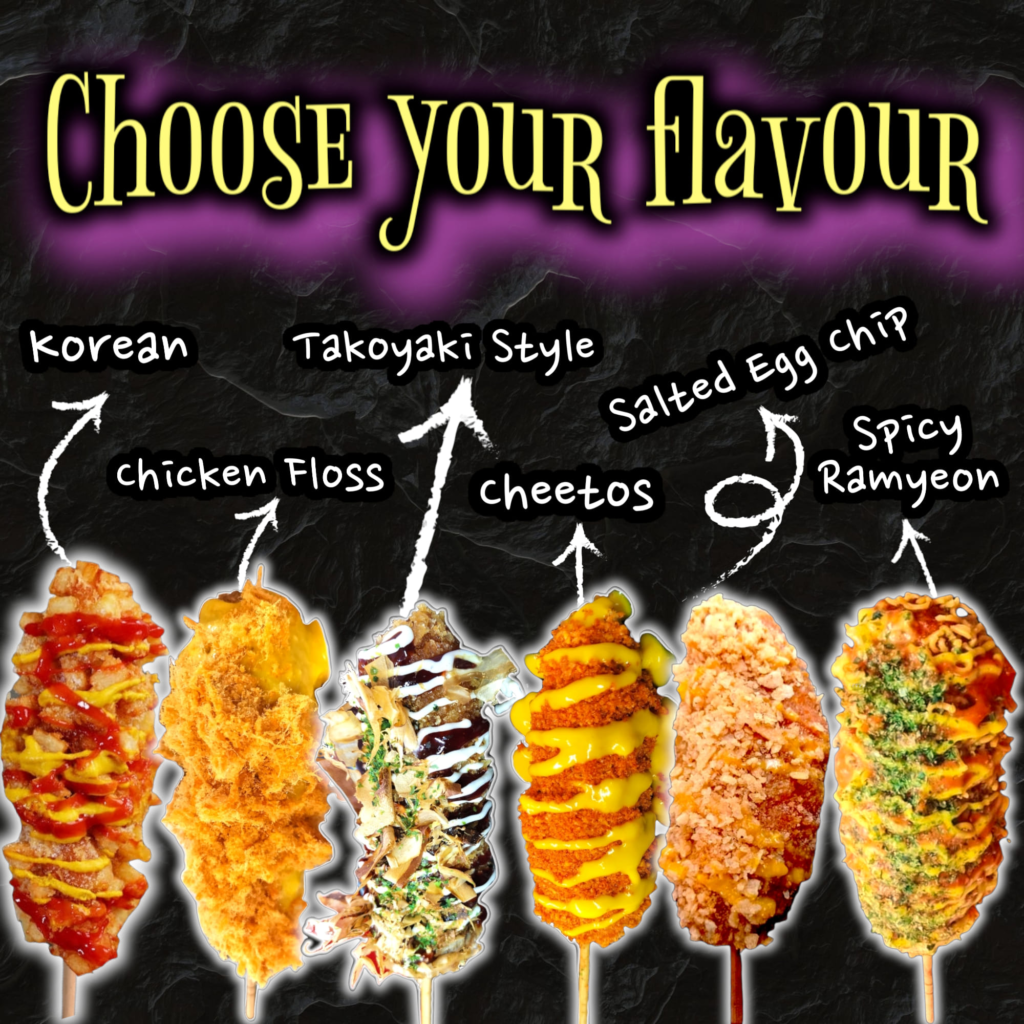 Check out Frisco StrEat Bites if you're craving Korean corn dog flavors. The stall has an extensive range of unconventional toppings and sauces for each of their sweet, savory and spicy corn dogs.
Frisco StrEat Bites is located in San Pedro, Quezon City. They also pop up at different outdoor food markets around Metro Manila from time to time. You can order for delivery via Facebook.
These are perfect for a snack on the go, or even as a meal when you don't have much time. They're crispy, chewy, and tasty. If you're craving something sweet or savory, these corn dogs will definitely satisfy your appetite. As you can see, there is a good selection of Korean Corn Dogs in the market! Whether you are just craving these delicious treats or looking for a present for your loved ones, rest assured that one of these online shops would be able to make it happen, enjoy your food trip, and happy CRAVINGS!