Headed for a summer vacation at the beach? Look no further because the Philippines is home to some of the best beaches in the world that even foreigners come to visit at any time of the year, especially the summer months in the country.
With over 7,000 islands in the Philippines, it's no surprise that we have rich geographical features that showcase nature at its finest – and it's exactly what makes this country so beautiful. There is nothing like the view of the long stretches of palm trees, immaculate white sandy shores, and crystal clear waters that surround the beach, along with the breathtaking view of the sky meeting the sealine – not to mention, the tranquil feeling of just being surrounded by nature while enjoying a day out in the sun.
Every beach in the country is unique, offering different attractions and experiences to every tourist. But what they all have in common is they are all beautiful enough to visit – that's why we have listed down the must-visit beaches in the Philippines for the best summer vacation ever!
1. Boracay, Aklan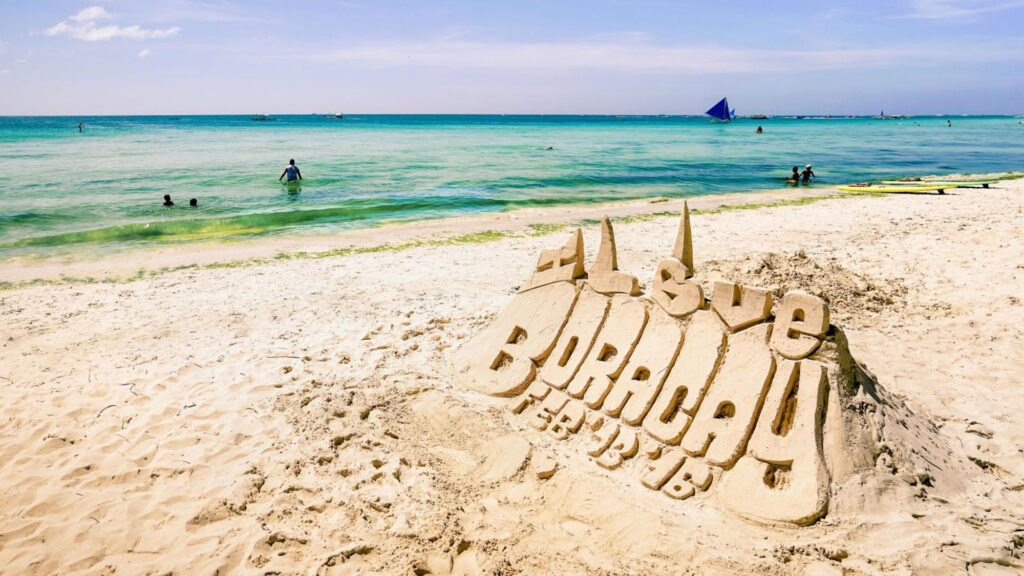 First up on the list is Boracay – well, maybe you already saw that coming. But yes, Boracay is indeed one of the best and most popular beaches and tourist destinations in the country because of its fine white (powder-like) sand beaches and pristine turquoise waters. In fact, in the previous year, Boracay was included in the list of the World's Greatest Places of 2022 in TIME magazine, and was hailed as the "Paradise Reborn."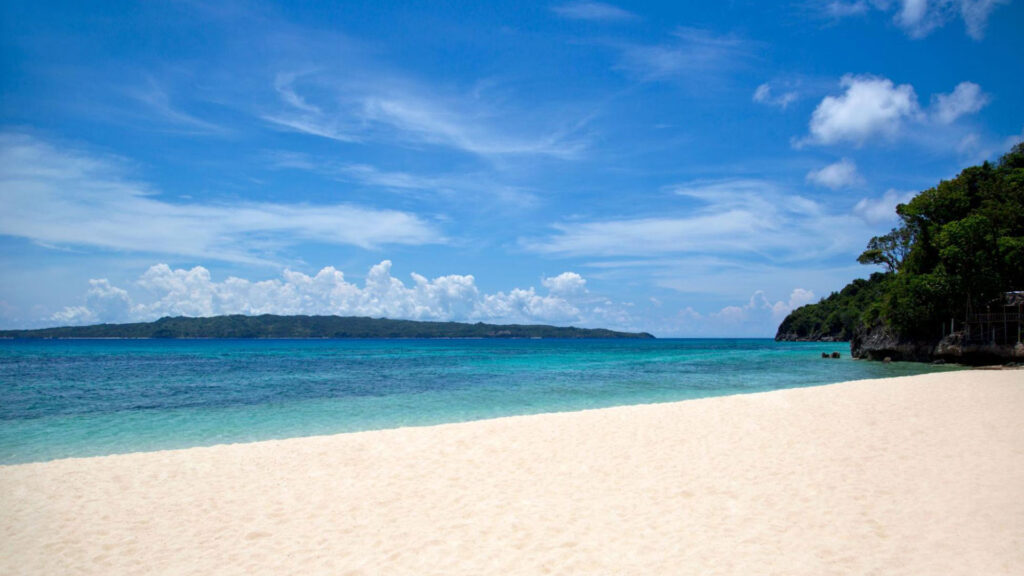 You can do all sorts of fun activities in Boracay such as snorkeling, windsurfing, scuba diving, cliff diving, paddle boarding, kiteboarding, helmet diving, parasailing, and kayaking that will definitely add to the enjoyable experience. Aside from the water activities, you can take a chill walk along the beachfront where you'll find lots of restaurants, cafes, bars, souvenir shops, and even tattoo art shops.
2. Bantayan Island, Cebu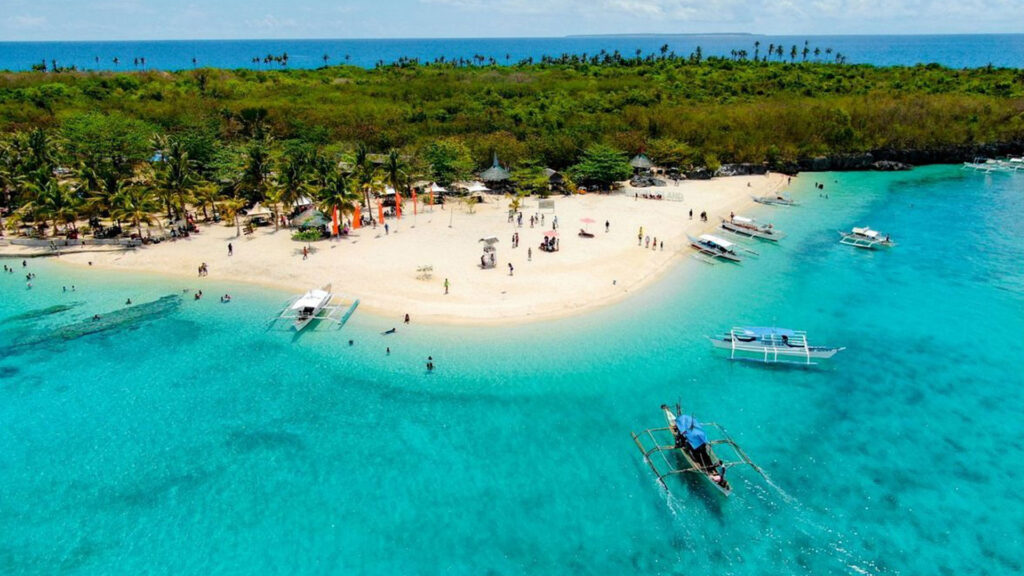 Cebu is one of the places in the country that gets flocked by tourists because of its luxury hotels and restaurants, stunning beaches, massive waterfalls, and rich historical sites that's perfect for escaping the hustle and bustle of city life.
Now when it comes to the beaches in Cebu, you have got to visit Bantayan Island. This place is home to a collection of beach destinations like Kota Beach and Sta. Fe beach that boasts of beautiful beach fronts that are absolutely IG-worthy.
You'll enjoy the feeling in Bantayan Island because compared to Boracay, there are fewer crowds, making it ideal for people who don't like crowded beaches. On top of that, you can also do other activities such as island hopping, inland tours, beach trips, and several other water activities. Of course, good food is a part of it!
Located at the Northernmost tip of Cebu, Bantayan Island is also known for being Cebu's fishing grounds and supplying fresh catch to towns and provinces going to Manila and even up to Mindanao. So if you like or you haven't tried danggit (dried fish), Bantayan Island is where you'll get the fresh taste.
Related: 10 Beautiful Beaches in Cebu to Help You Unwind
3. Panglao Island, Bohol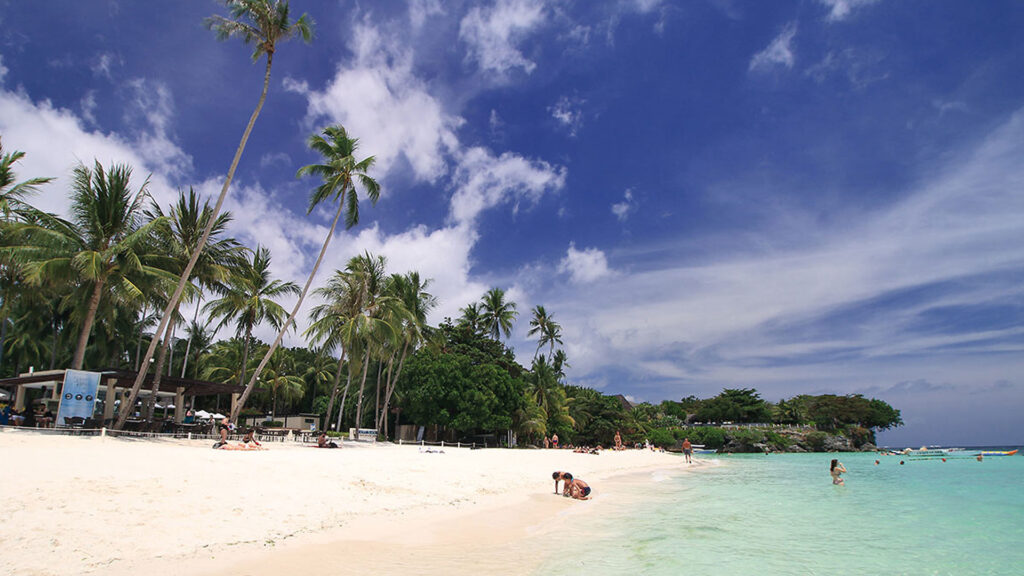 When you hear of Bohol, you may usually think of the Chocolate Hills, the tarsiers, or the man-made forest, but there's another one that you should put on your list — Panglao Island. Panglao Island is known for being a tourist hub, having hundreds of hotels, resorts, and restaurants. This tourist destination is also famous for its world-class diving sites and white sand beaches.
Related: Top Places to Visit and Things to Do in Bohol
4. Nacpan Beach – El Nido, Palawan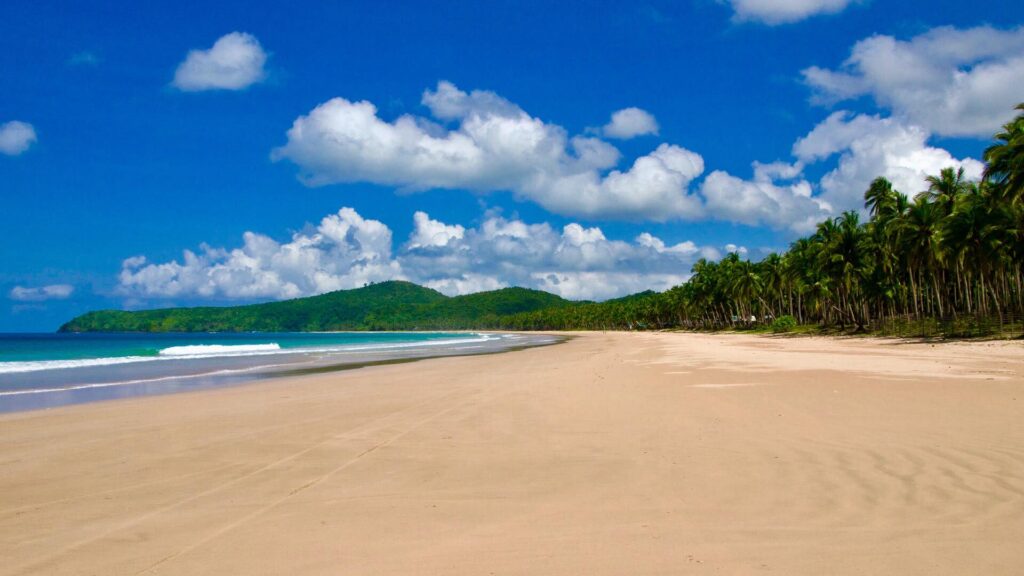 If you are into a secluded type of beach, then Nacpan Beach in El Nido, Palawan is a must-visit for you. This is because it is less developed compared to other tourist destinations and beaches in the country, which makes the place feel less commercialized and more authentic (if that makes sense).
With El Nido, Palawan being known for its rich greeneries, lagoons, and beaches, you will know that Nacpan Beach certainly won't disappoint you. In fact, this place has one of the most beautiful stretches of sand in the country, so you can enjoy walking down the soft cream-colored sand while embracing the sea breeze and all that nature has to offer.
Nacpan Island is a place you'll want to explore, so it's a must to go on an island hopping experience while you're there.
5. Saud Beach – Pagudpud, Ilocos Norte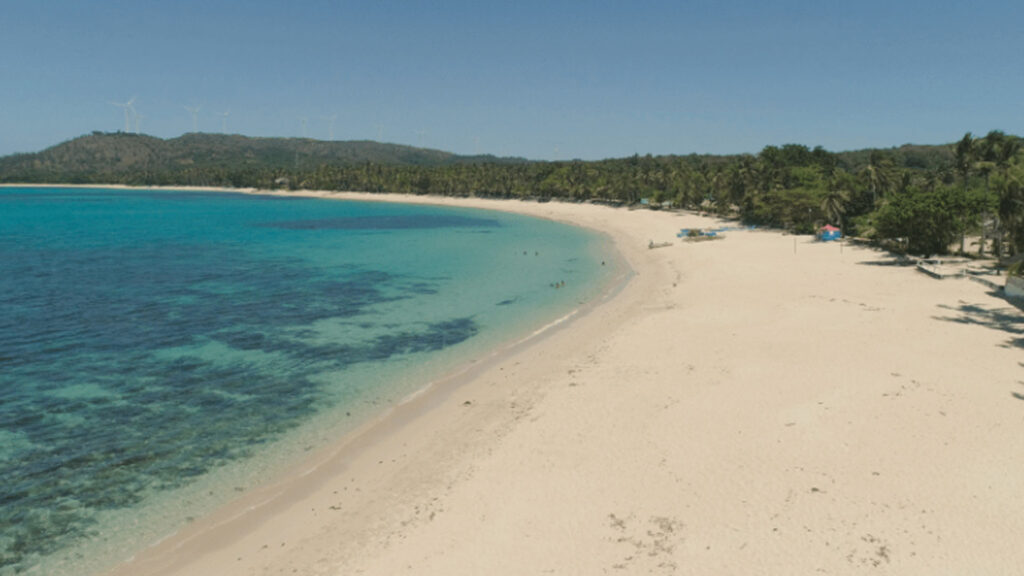 Ilocos Norte is typically known for its windmills, lighthouse, native delicacies such as the Batac Empanada, and Pagudpud beaches — especially the Saud Beach. Saud Beach stands out among other beaches in Pagudpud because of its long stretch of powdery white sand and scenic blue waters, which is also why it is called the "Boracay of the North." So if you're headed to Ilocos Norte, this beach should be a part of your itinerary as it is truly a gem and worth the experience.
If you want the complete beach weather and summer-like vibe-out-in-the-sun kind of stuff, the best time to go to Saud Beach is during the months of January to April. But if you just want a relaxing swim at the beach, December is an ideal month to visit because the sea temperatures are warm.
6. Alegria Beach – Siargao, Surigao del Norte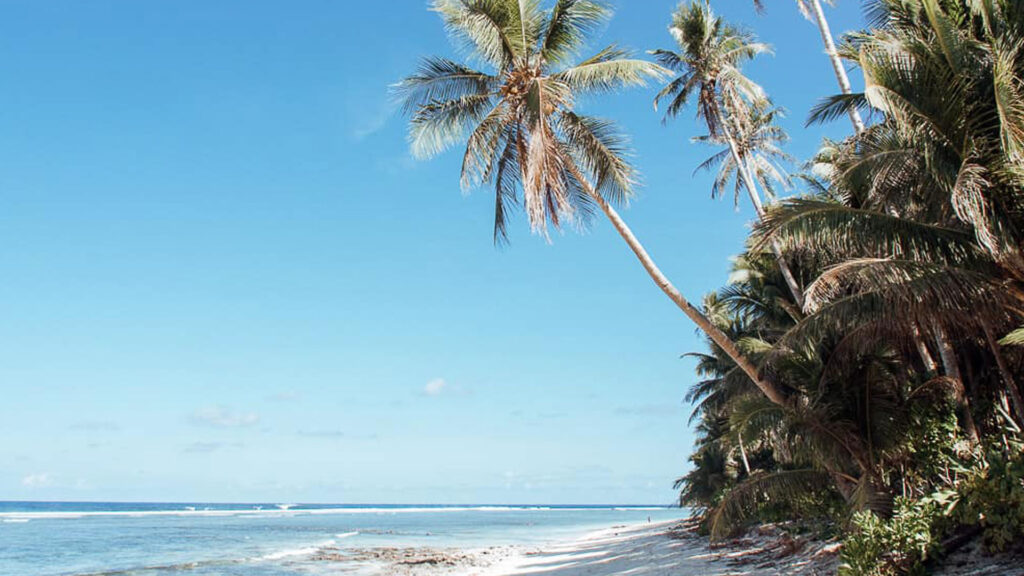 Siargao is known as the "Surfing Capital of the Philippines," and is also home to several beaches with picturesque sunsets and sea waves that are best for surfing. But we will be putting the spotlight on Alegria Beach. This beach is a popular tourist destination in Siargao because of its surfing activities, creamy white soft sand, clear blue waters, and beautiful coastline. Alegria Beach is also a well-preserved and unspoiled beach that's perfect for a chill and laid back vacation.
7. Banol Beach – Coron, Palawan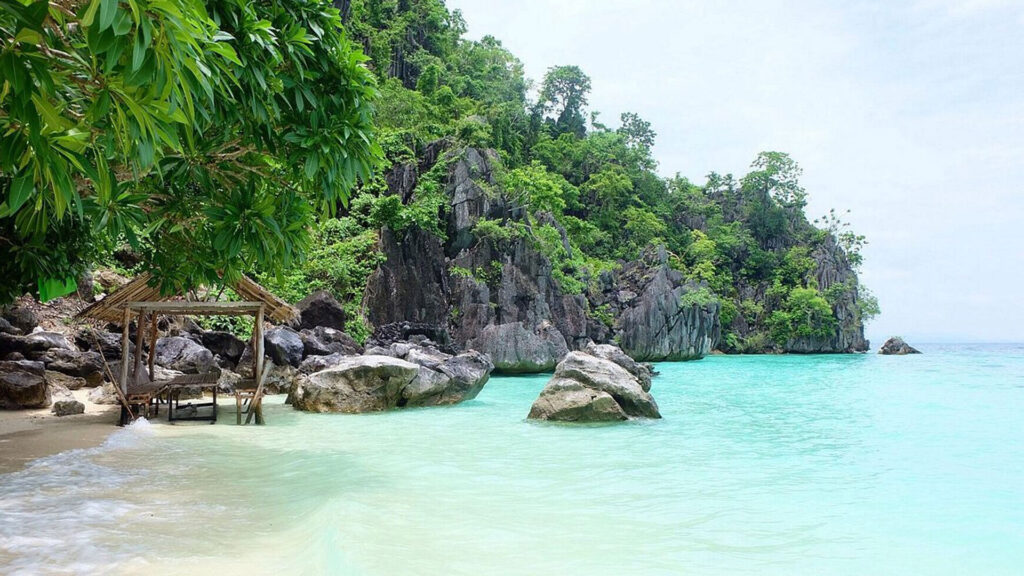 Coron, Palawan is one of the most popular and must-visit destinations in the country by both local and foreign tourists, especially during the summer months. This is no surprise because aside from the famous wreck diving and karst limestone landscapes, Coron is very much blessed with lush greenery, stunning beaches, and crystal clear waters.
And one of the must-visit attractions here is Banol Beach. This beach has a small stretch of white sand, and is usually one of the stops when you're on an island hopping tour. Fun thing about this is that you can find picnic huts along the stretch of sand that are designed to accommodate lunch stop-overs for the island hoppers. Other stops in the island hopping tour also include Kayangan Lake and Blue Lagoon.
Banol Beach is smaller compared to other beaches in Coron, nevertheless, it does not rid this place of its beautiful visuals. It also particularly stands out to tourists because of its serene vibe, making it perfect for a quiet and relaxing vacation.
8. Caramoan Islands, Camarines Sur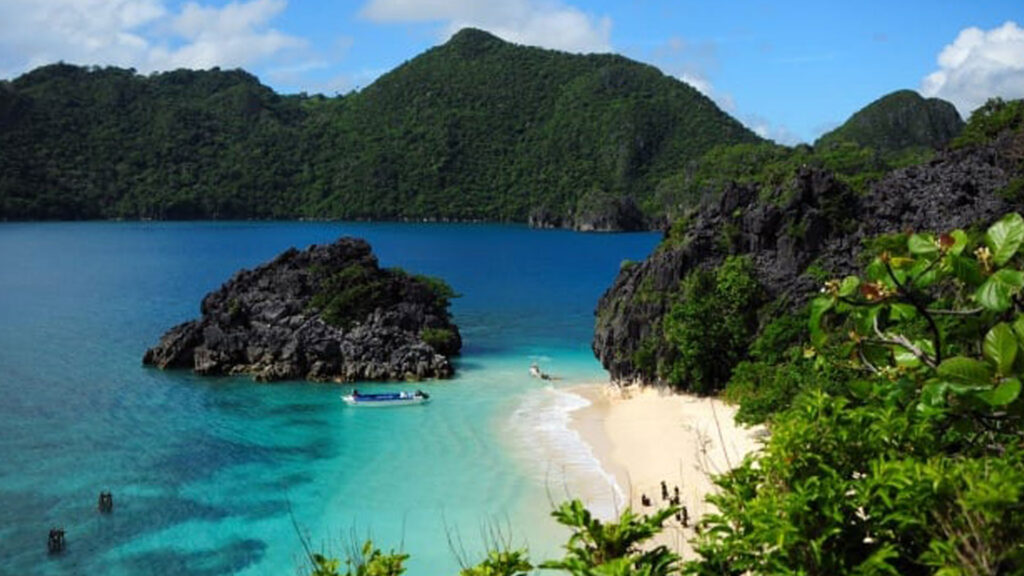 With a 4,000 hectare limestone forest, Caramoan Islands is sure to captivate every tourist with its beautiful landscapes, calm and crystal clear blue waters, and white sand beaches – not to mention, the alluring caves and hidden coves that you can find in this place.
If you have watched Survivor, Caramoan Islands was one of their filming locations. There are also a bunch of fun activities that you can do here, such as hiking, snorkeling, kayaking, diving, trekking, and more.
9. Hidden Beach – El Nido, Palawan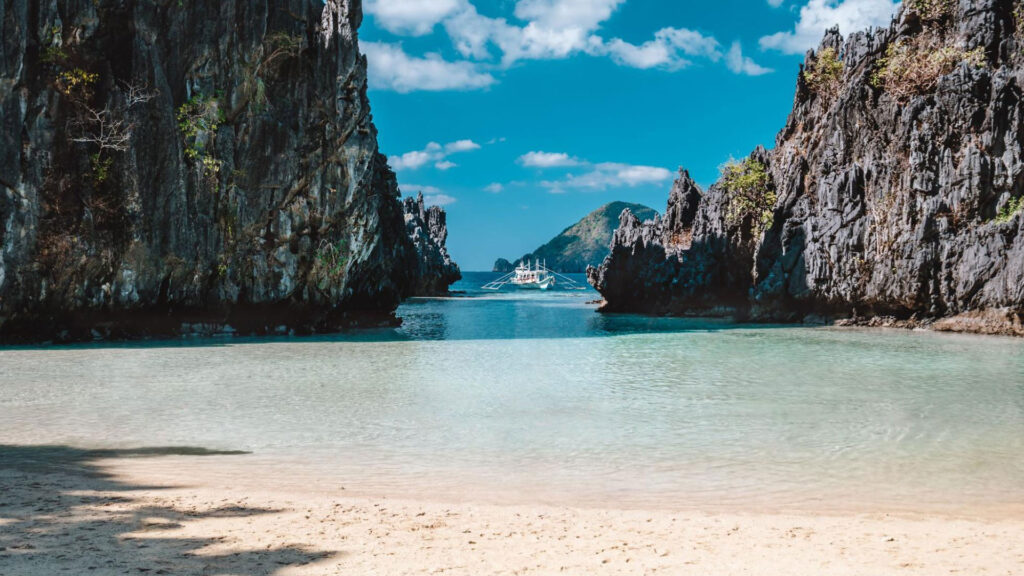 Hidden Beach, despite its name, is not a hidden gem. This beach is a work of art with its amazing karst landscapes, picturesque waters, and pristine white sand that are absolutely picture-perfect – no need for filters. Hidden Beach is often a top choice for travelers who prefer uncrowded places on the island.
For a unique experience, you can swim or ride a kayak from your boat to get to the beach. And since it's Palawan, you can expect that island hopping is present in the activities you can enjoy. In fact, Hidden Beach is one of the best attractions you'll ever come across during your island hopping adventure.
However, take note that it's not advisable to visit El Nido in July to September or during the rainy season as it is not safe because you will be boarding a boat for the tour.
10. Oslob, Cebu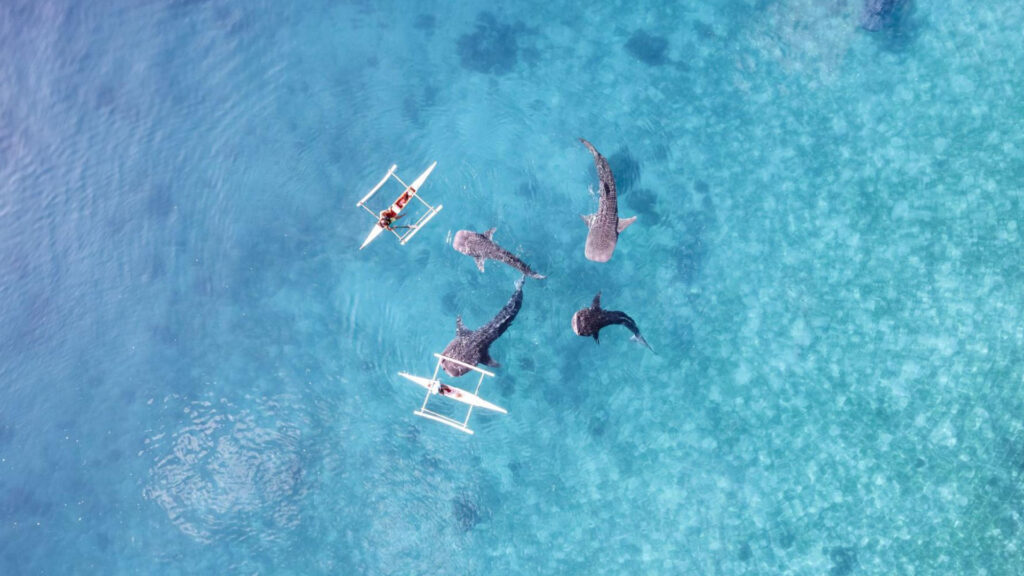 Do you fancy swimming with whale sharks? Oslob in Cebu is definitely a must-visit for that! This is a relatively small town near the Southern tip of Cebu island, and is well-known for its tourist attraction – the whale sharks. The whale shark, aka the largest fish in the world, is locally known in Oslob as the "Butanding."
You can enjoy swimming with the Butandings and getting a close look at them, but it's also important to keep in mind that the provincial government has strict rules when it comes to swimming with the whale sharks. For safety reasons, you are not allowed to touch or feed them.
11. Malcapuya Island – Coron, Palawan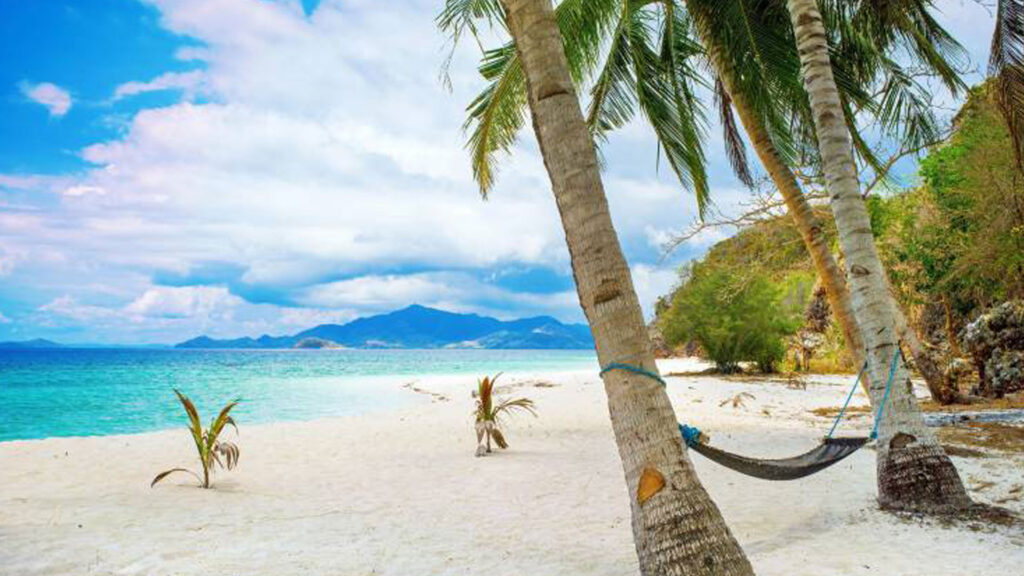 With Coron, Palawan being a popular tropical destination among tourists and locals because of its wreck diving activities and stunning sites and beaches, it's no doubt that we will be landing on another gem — Malcapuya Island. This beach is one of the must-visit attractions included in the Coron island hopping tours. It has pristine emerald waters along with white, soft sand.
Malcapuya Island is a great place to unwind and enjoy swimming at the beach since it's not that populated. And well, with its beautiful waters and rich marine life, it's also one of the best places to snorkel and dive.
If you wish to visit this beach, go during the summer months. Avoid going here during the rainy or typhoon months (July to September) since you'll be boarding a boat for island hopping tours, which can be dangerous if you're out in the water.
12. Islas de Gigantes, Iloilo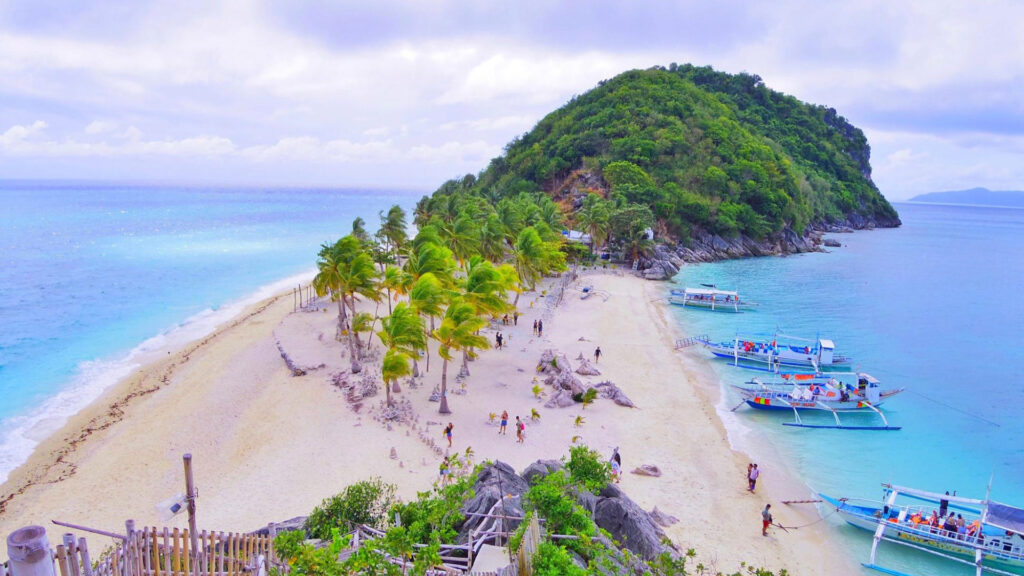 Up for some delicious and budget-friendly seafood? Islas de Gigantes is the place to be! On top of that, you have crystal blue water and fine white sand to enjoy while you munch on fresh seafood.
The name "Islas de Gigantes" means "Islands of Giants," which came from local folklore. In the legend, it was believed that a giant's body fell into the water, and became the islands of Gigantes Sur. Then Gigantes Norte was also believed to be the body of the woman who captured the heart of the giant. Quite interesting, don't you think?
For people who like remote beaches, Islas de Gigantes is one of the best beaches to visit because you can freely swim without having to mind a big crowd. It is also blessed with a rich marine life, so you can surely enjoy snorkeling.
13. White Island, Camiguin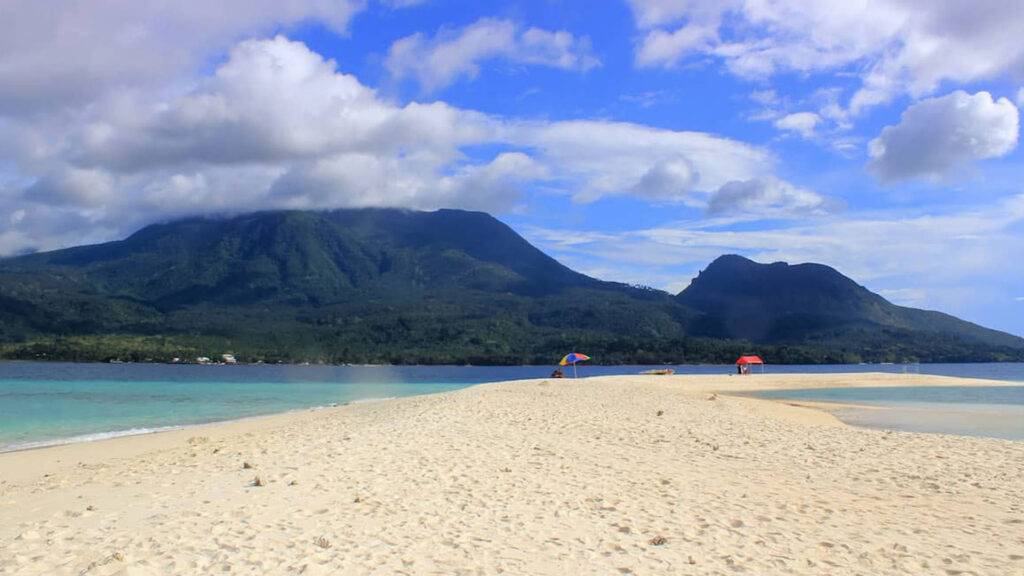 White Island is literally like looking at nature at its finest because you won't be seeing many man-made structures around. So you will mostly be basking in the clear blue waters and powdery white sand. White Island is a beautiful uninhabited white sandbar where you can get a really great view of Mt. Hibok-Hibok, and is perfect for swimming, snorkeling, and of course sunbathing.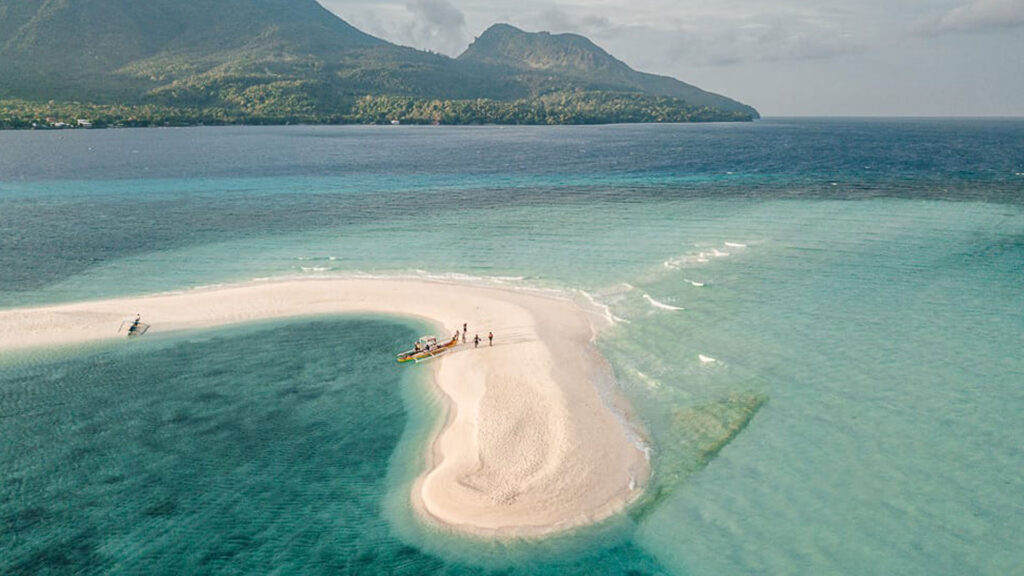 Although, you may want to double up your sunscreen and hydrate more since there are not many trees surrounding White Island, which means you'll be exposed to a lot of sunlight – hence why you won't have any problem getting a tan here. And like any other island visit, it's best to go here during the summer months because boats won't be able to sail out in the sea during rainy seasons.
14. Bonbon Beach, Romblon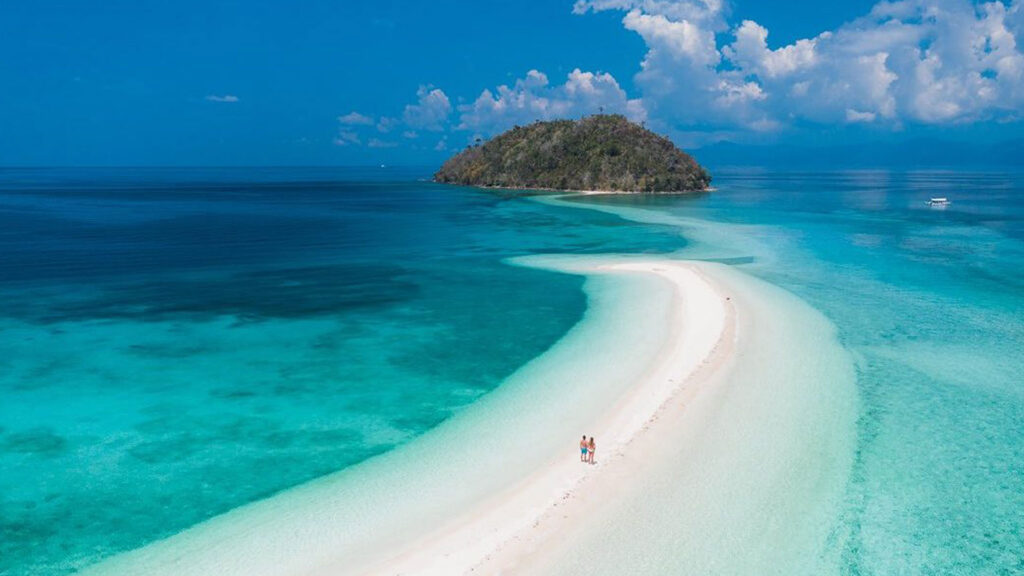 Ever seen one of those beautiful beaches with long stretches of white sand in postcards? Well, we got them here in the Philippines — and Bonbon Beach in Romblon is an example of that! This beach has one of the most beautiful stretches of sand in the world, and is also particularly well-known for its white sandbars that extend up to 2km, connecting to a small island.
You won't only enjoy crystal clear waters and white sand beaches here, but you will also get to witness an incredible view of the sunrise and sunset. Avoid going to Bonbon Beach from June to October as it is the rainy/typhoon season there. The best time to visit this gem is from November to May because the temperature is fair and there are fewer chances of rain or typhoons during those months.
15. Subic Beach, Sorsogon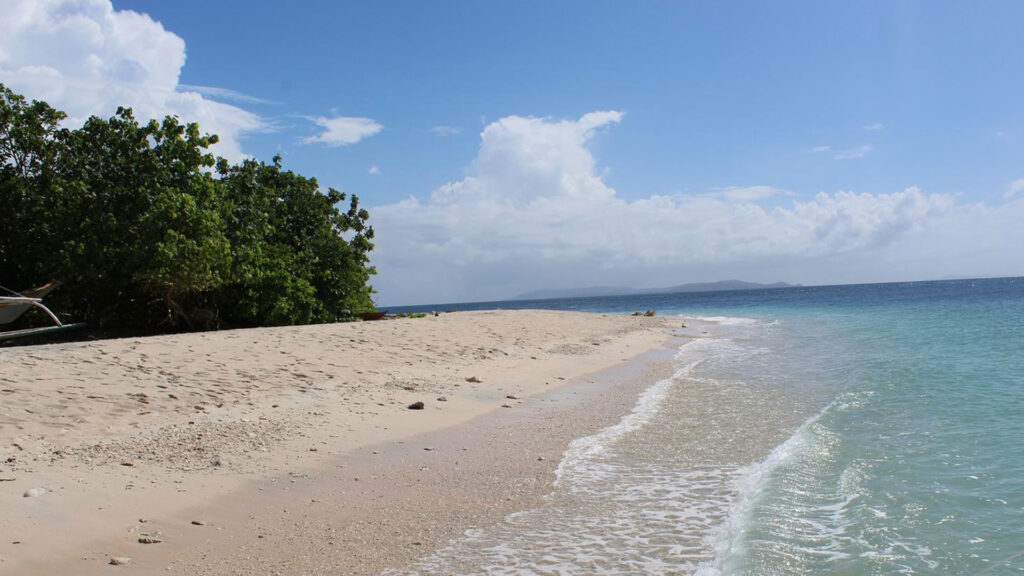 Subic Beach in Sorsogon is an unspoiled beach with pinkish-white sand and crystal clear blue waters. It is located in the municipality of Matnog in Sorsogon, the southernmost part of Luzon in Bicol region. One of the unique traits of Subic and also Tikling Island (an island nearby Subic Beach) is the color of its sand, which looks pink when viewed from afar because of the crushed red corals carried by the waves to the shore that are mixed with the white sand.
It's also worth noting that Subic Beach is divided into two, and the locals here call it Subic Laki (Subic Big Beach) and Subic Liit (Subic Small Beach). The former is typically a place where a lot of accommodations reside, while the latter is perfect for a peaceful, less-crowded kind of getaway since it is uninhabited.
It's better to visit Subic Beach from January to June as it is still warm and sunny during those months and the waves are relatively calm, making it suitable for boat trips.
16. Kalanggaman Island, Leyte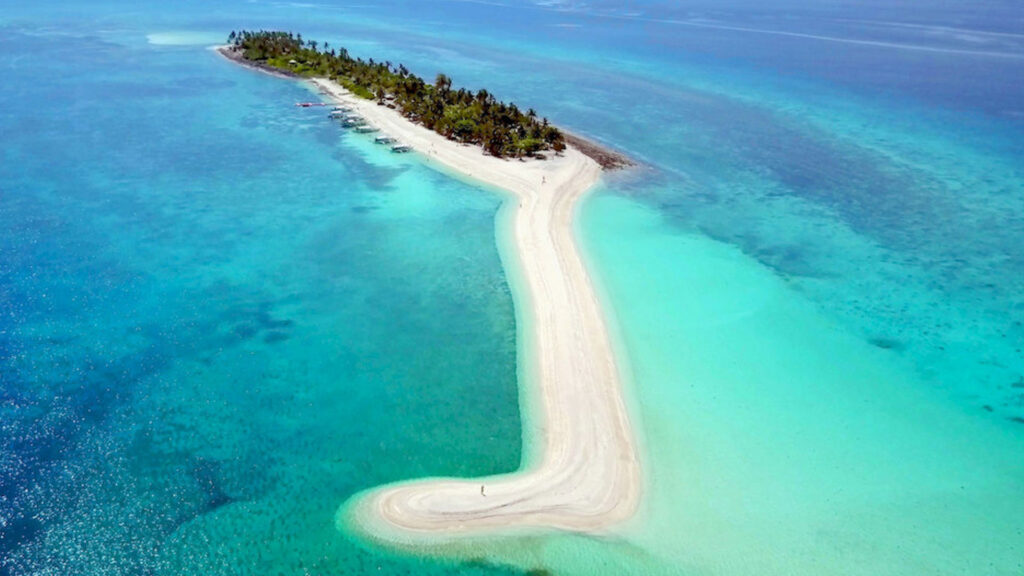 Kalanggaman Island is one of the most beautiful islands in the Philippines, and is known for its long stretches of white powdery sand, rich palm trees, sandbars on both ends, and crystal clear waters surrounding the island. This small island paradise that's located in Palompon, Leyte was named Kalanggaman because it is shaped like a bird, which is what "langgam" means in their local dialect.
However, you have to be careful when swimming here since the sandbar moves together with the tides. Plus, there are also no resorts in Kalanggaman Island, so if you plan to stay here, you will have to go camping — which isn't a totally bad idea, right? Doing so can provide you with an ultimate island experience and bask in the clear nature, beautiful skies, and calm waves of the sea.
17. Long Beach – San Vicente, Palawan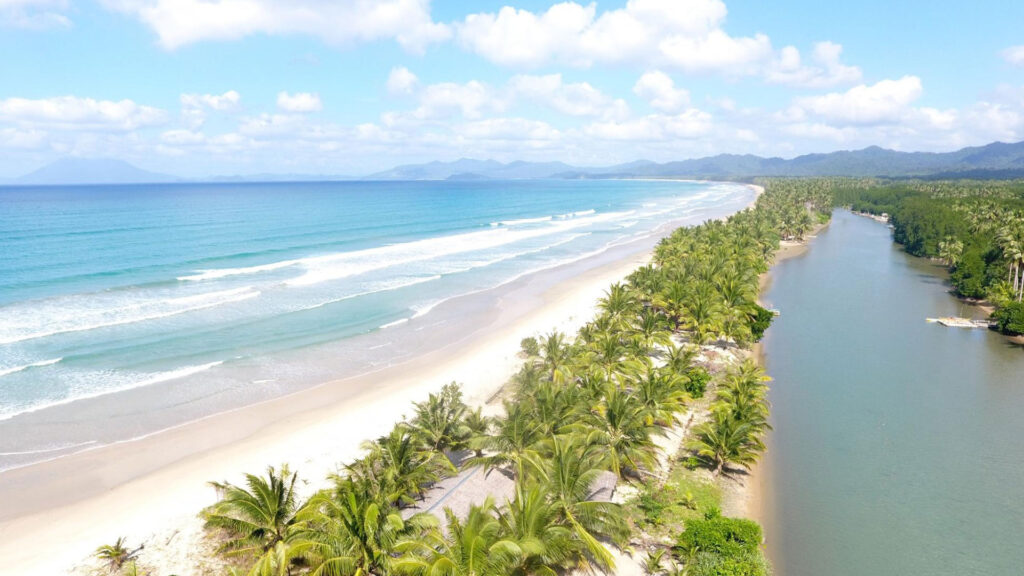 Hence its name, Long Beach is the longest beach in Palawan and the second-longest white sand beach in Southeast Asia with a 14.7km stretch of sand. San Vicente, which is located on the northwestern side of Palawan, is becoming one of the must-visit tourist destinations in Palawan alongside Puerto Princesa and El Nido.
Long Beach is among the top tourist spots in San Vicente, and is especially attractive because it is unspoiled and not crowded. So you can fully enjoy the beach atmosphere here!
18. Morong Beach, Batanes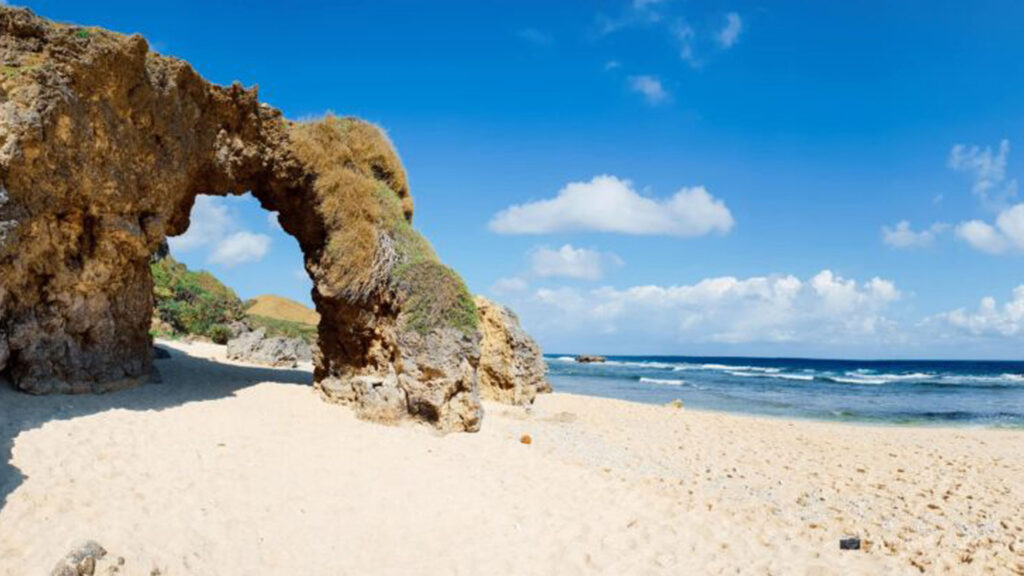 Morong Beach, located in the coast of Sabtang Island in Batanes, is considered the most popular beach in the coast because of the Nakabuang Arch, a large arch rock formation that has become an iconic feature of the beach and Batanes as a whole. You definitely wouldn't want to miss getting your pictures taken with this spot!
Aside from the arch rock formation, Morong Beach is a top choice for tourists and locals because of the stretch of white sand that other beaches in Batanes do not possess. To top it off, Morong Beach boasts crystal clear blue waters, which makes it perfect for swimming, diving, and even snorkeling.
There are no entrance fees needed to enter this tropical paradise. However, do keep in mind that a ₱200 environment fee is required for all tourists who wish to enter Sabtang Island. The environment fee is typically included in the rates for Batanes tours, but it's still advisable to confirm this with your tour operator. And since this is a beach, it will be better for you to visit Morong Beach anytime between March to June as there are less chances of rain, enabling you to enjoy all that this place has to offer.
19. Calaguas Island, Camarines Norte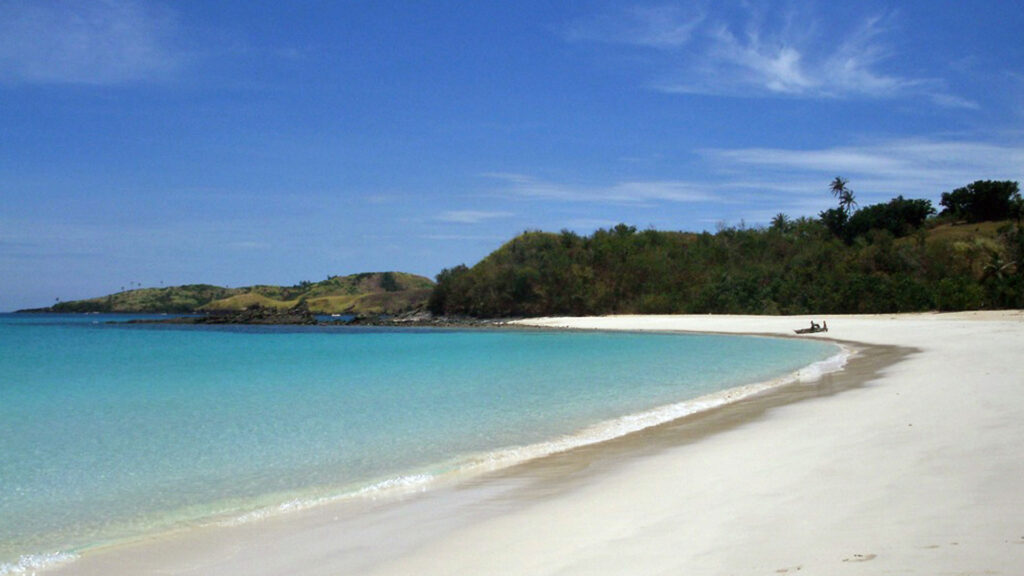 If you're into a more laid-back beach experience, then Calaguas Beach should be one of your options. Calaguas is a group of islands in Camarines Norte, and is particularly known for its unspoiled beaches with long stretches of powdery white sand such as Mahabang Buhangin or Long Beach, which is the most popular beach in Calaguas.
It is a 2-hour long boat ride, making it difficult for tourists to get here, hence why it also remains well-preserved and uncrowded. And if you're looking for a lot of activities, you won't find many of them here compared to other beaches or tropical islands in the country since it's a virgin island. You can, however, enjoy the usual swimming and sunbathing — basically just chill.
With the rundown of the must-visit beaches in the Philippines above, we say that our country is very much blessed to be able to have this kind of amazingly pristine beaches and rich nature that not many countries possess. And we hope that these places stay unspoiled and beautiful for several years to come because it is one of the things that make our country unique

So how about you, which of the beaches here are you going to visit next?