We're used to seeing international brands coming up with vegan products that cater to those who want to practice healthier lifestyles, have lactose-intolerance, and those who have allergies or sensitivities to dairy products and eggs. But now, many local brands are also stepping up to provide Filipinos with healthy options without compromising the freedom to eat good food. And it's nice to know that you can indulge into these goodies guilt-free, safe from possible allergy attacks, and emergency trips to the bathroom. Wink wink!
Today, there are a lot of milk alternatives being made available in the market — and while the taste of milk in cold treats like ice cream is still a prime choice, you'll be happy to know that you can still enjoy eating a good scoop of ice cream made with dairy alternatives. The best part? They taste great and come in all sorts of flavors, too! It's as if you're eating a regular ice cream!
Here's a list of local brands that offer a great deal of vegan or dairy-free ice creams:
1. Alt Scoops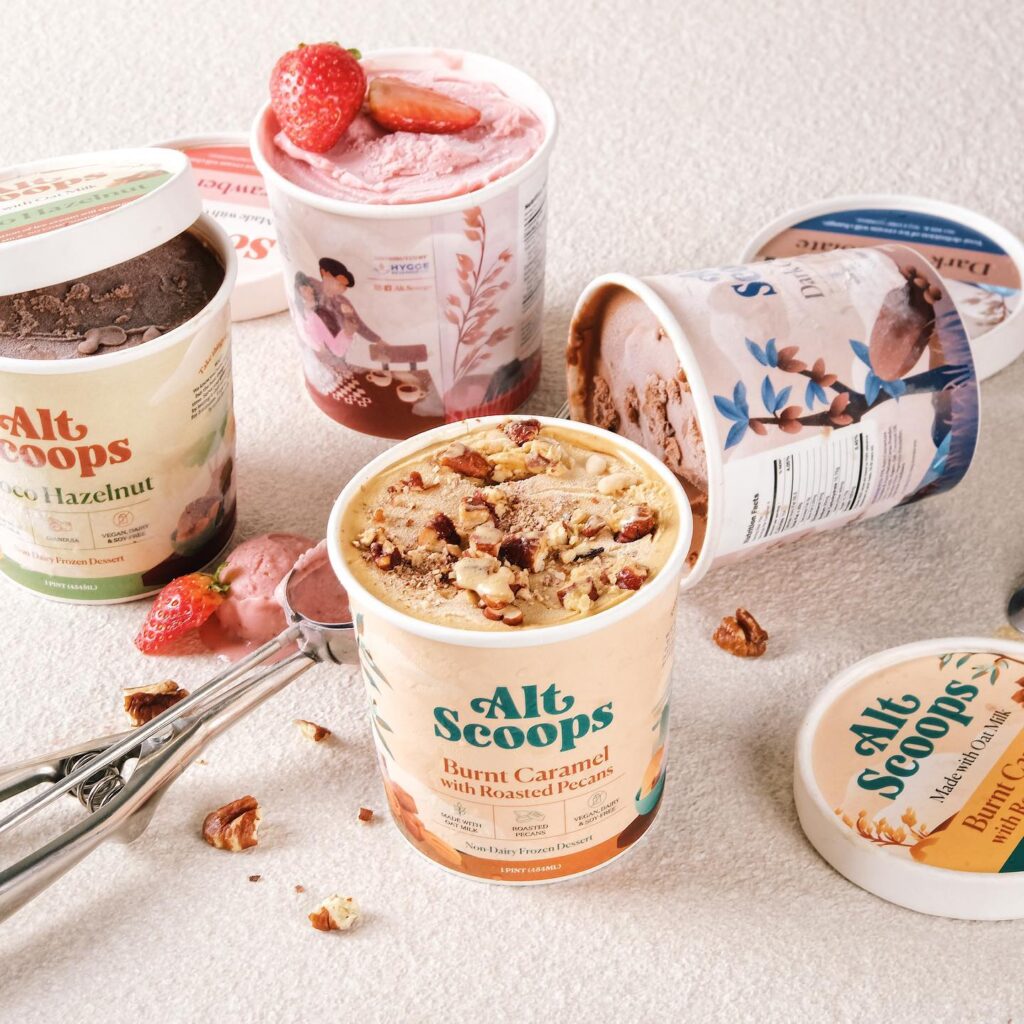 If you're looking to lessen your calorie intake, but still want to binge a bit of ice cream, you may want to check out Alt Scoops. It's an absolute game-changer in the ice cream bizz because it's not only delectable, but it's also sustainable, affordable, and completely vegan. Instead of the usual dairy or cow milk, they use oat milk along with fresh ingredients, making every spoonful of ice cream enticingly good! The creators of Alt Scoops also made sure that you'll enjoy their flavors because you have a wide variety of selections to choose from such as Cookie Butter, Choco Hazelnut, Burnt Caramel, Cappuccino Crunch, Sugar-free Dark Chocolate, and more.
2. Super Scoops Dairy-Free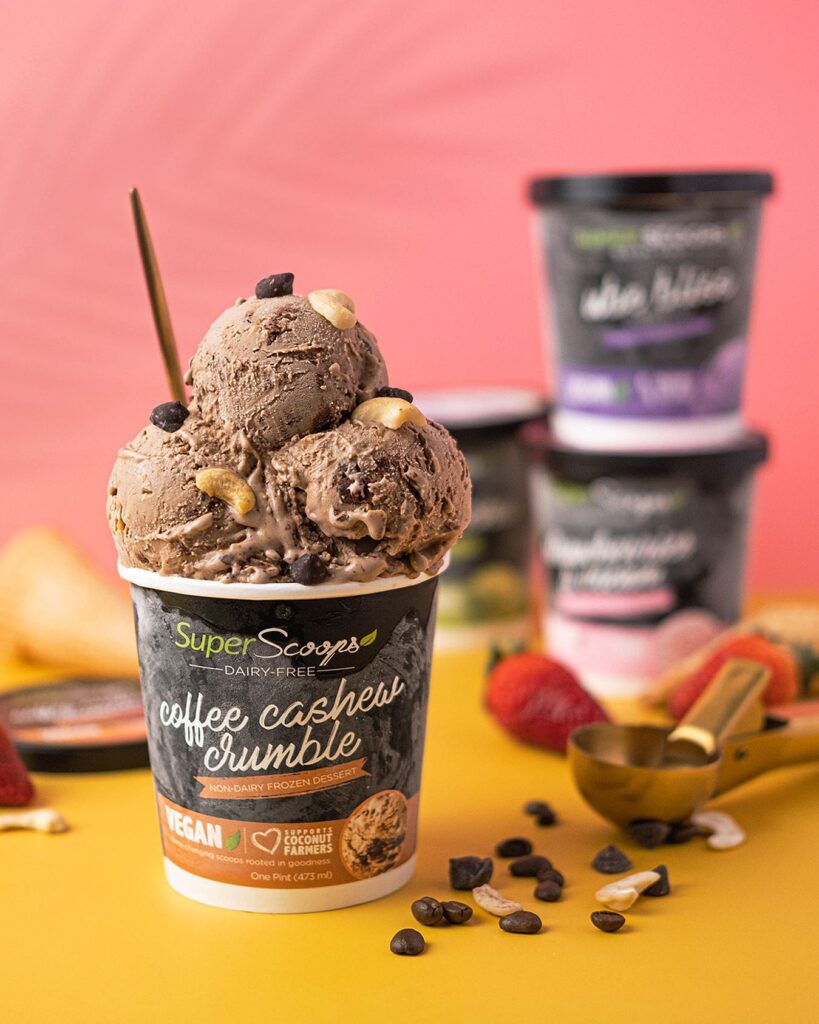 Super Scoops Dairy-Free is a product of The Superfood Grocer, a health food store in the Philippines that creates revolutionary plant-based whole foods that are nourishing to the body and are entirely safe for people with cancers, diabetes, heart disease, and even those who are trying to watch their weight and live a healthier lifestyle. This means you can munch on Super Scoops without having to worry whether you'll gain weight or your blood sugar will spike up. Now, who said healthy has to taste bland and boring?
And did we mention that Super Scoops is available in various flavors? You'll be happy to discover that they have luscious flavors such as Almond Cookie Dough, Blueberry Cheezecake, Vanilla Brownie Crumble, and more! For coffee lovers, Coffee Cashew Crumble may suit your palate.
3. Ambassador's Ice Cream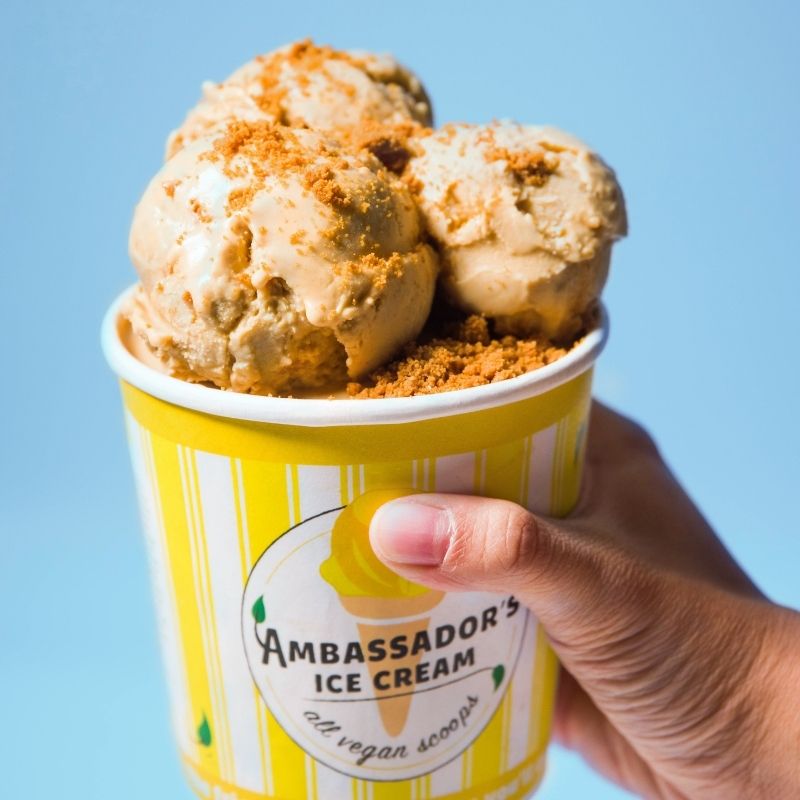 Ambassador's Ice Cream is a premium dairy-free plant-based ice cream. It's cholesterol-free, environmental-friendly, and made with vegan sugar alternatives. If you think that vegan ice creams only have limited flavors to choose from — you're wrong. Ambassador's Ice Cream, in fact, offers an interestingly good selection of flavors that you can choose from such as Vanilla Mega Cookie, Dark Matcha, Golden Milk with Vegan Cookie Dough, Horchata Almonds, Peanut Butter Cookies and Cream, and more. There are also Filipino-inspired flavors that are worth the try such as, Pili Coffee, Pili Whiskey, and Tsokalate Tablea.
4. Delicielo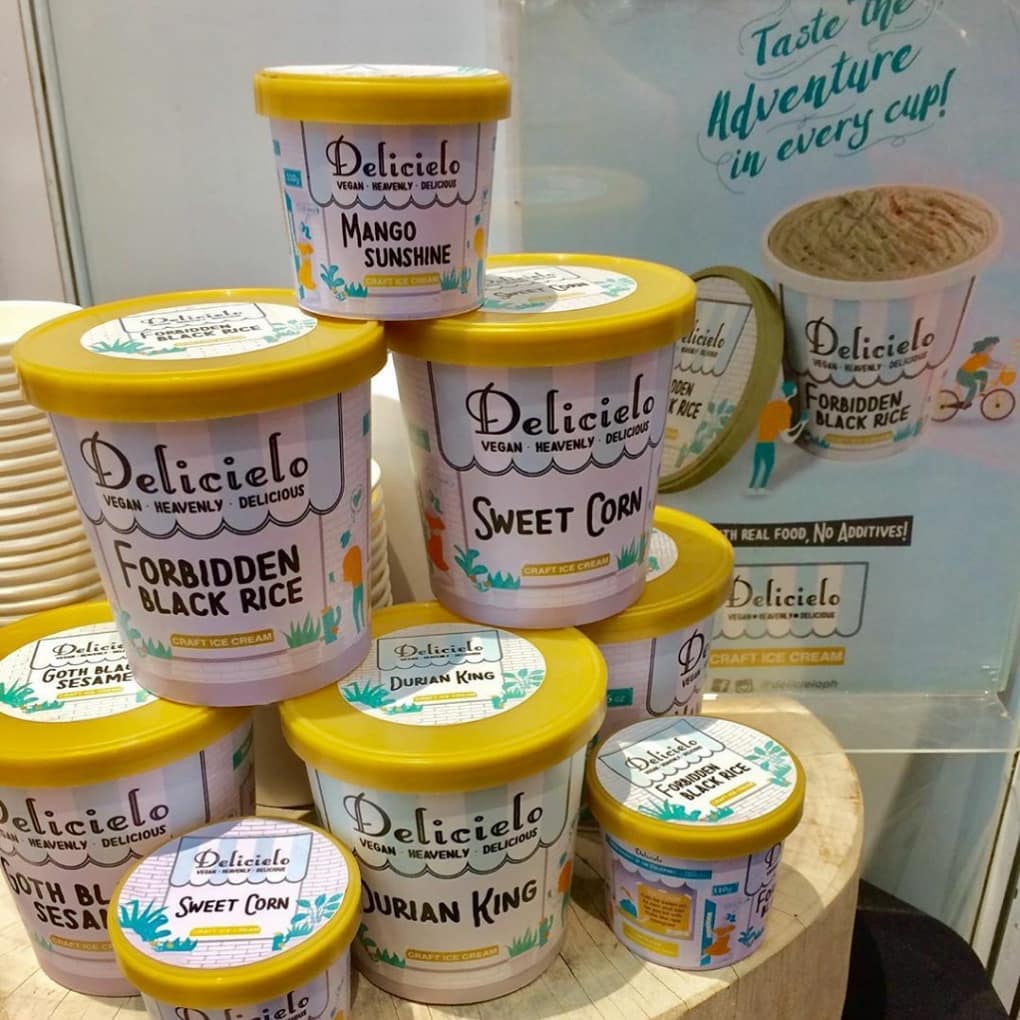 Delicielo is an authentic vegan dessert cafe that was established in 2014 — and they have been crafting healthy and delicious desserts with no use of any refined sugars and preservatives. This cafe only serves food that is cholesterol free and made with 100% natural ingredients. Among the range of desserts that you can find at Delicielo are different varieties of cakes, pastries, brownies, and of course, ice cream. They use coconut milk and cashew milk as a dairy alternative for their ice cream, which also comes in different flavors like: Durian King, Sweet Corn, Forbidden Black Rice, and more!
5. Soy & Bean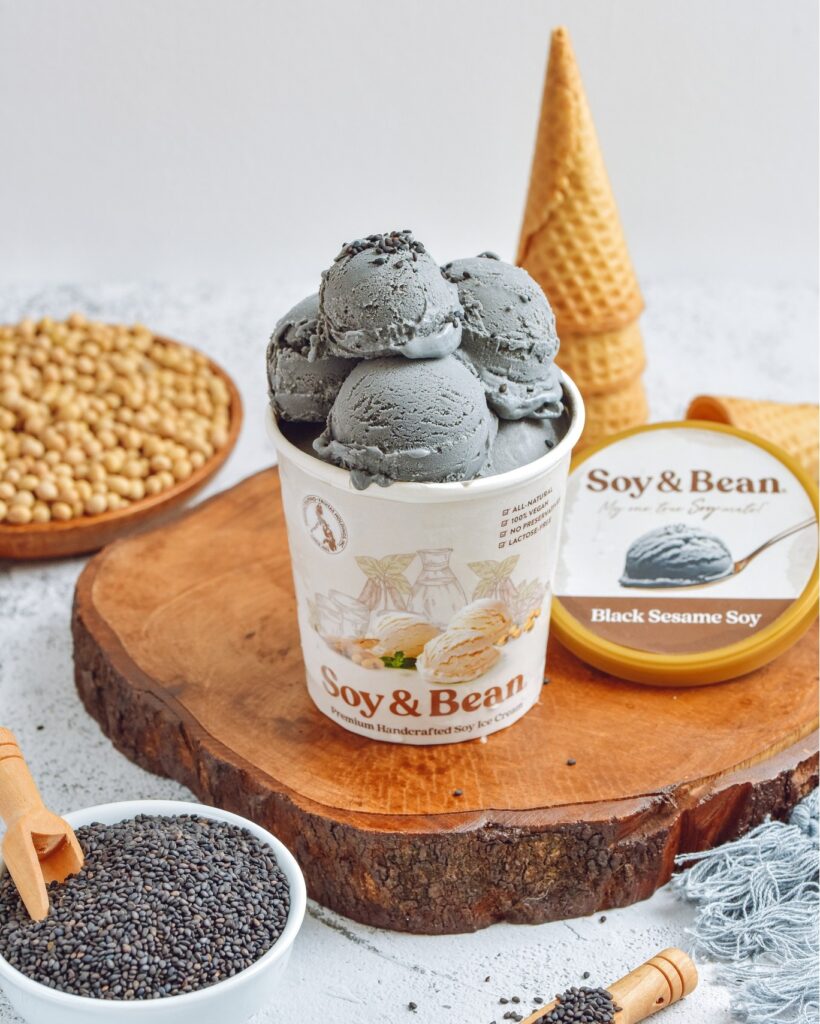 Soy & Bean is popularly known today as a food and beverage brand that offers the classic Filipino faves — taho and soy milk. But some of you may not know that they also serve vegan, dairy-free ice creams that are just so indulgent. Soy milk is used to handcraft these premium frozen desserts. On top of that, they are made with no preservatives using only natural ingredients, and are absolutely vegan-friendly and lactose-free.
6. Bubu Bars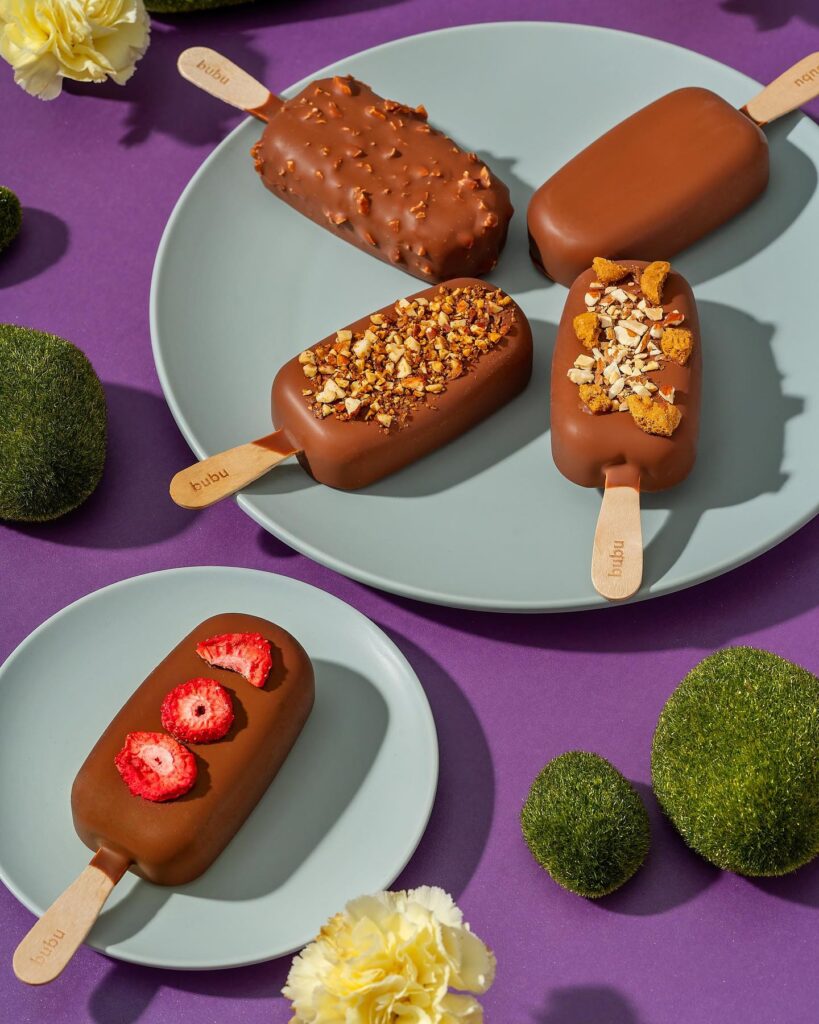 While you might be used to seeing vegan ice creams in pints — Bubu Bars takes it a little differently, making not only their name very unique and interesting, but also the way they present each bar of vegan ice cream. They offer handcrafted vegan ice cream bars that are fully coated with the award-winning Auro chocolate (a Filipino chocolate brand that produces fine cacao beans) and are lavishly embellished with toppings. Bubu Bars definitely makes it fun for their customers to order because all the flavors are named creatively such as Fancy Pants, Nuts for You, and You Little Monkey.
Eating healthy and staying healthy doesn't mean you have to completely limit yourself and stay away from anything that tastes good. Delicious food doesn't always equate to unhealthiness. Nowadays, you'll be surprised to find that there are a lot of products from various local brands in the country that concoct healthy yet alluringly toothsome food that won't make you break your diet. And fortunately, we live in an age where you can enjoy eating healthily.
So, which one of these vegan ice creams are you going to try first?