In recent years, Filipino artists have been making waves in the international music scene, showcasing their immense talent and capturing the hearts of audiences worldwide. Surely, their dedication and creativity have not gone unnoticed as well.
Times Square in New York City is undoubtedly one of the most iconic and vibrant locations in the world, known for its dazzling billboards and bright lights. Over the years, it has become a symbol of success and recognition for artists across various genres. Today, we'll delve into the achievements of outstanding OPM (Original Pinoy Music) artists who have had the honor of gracing the billboards in Times Square, capturing the hearts of both local and international audiences.
1. Sarah Geronimo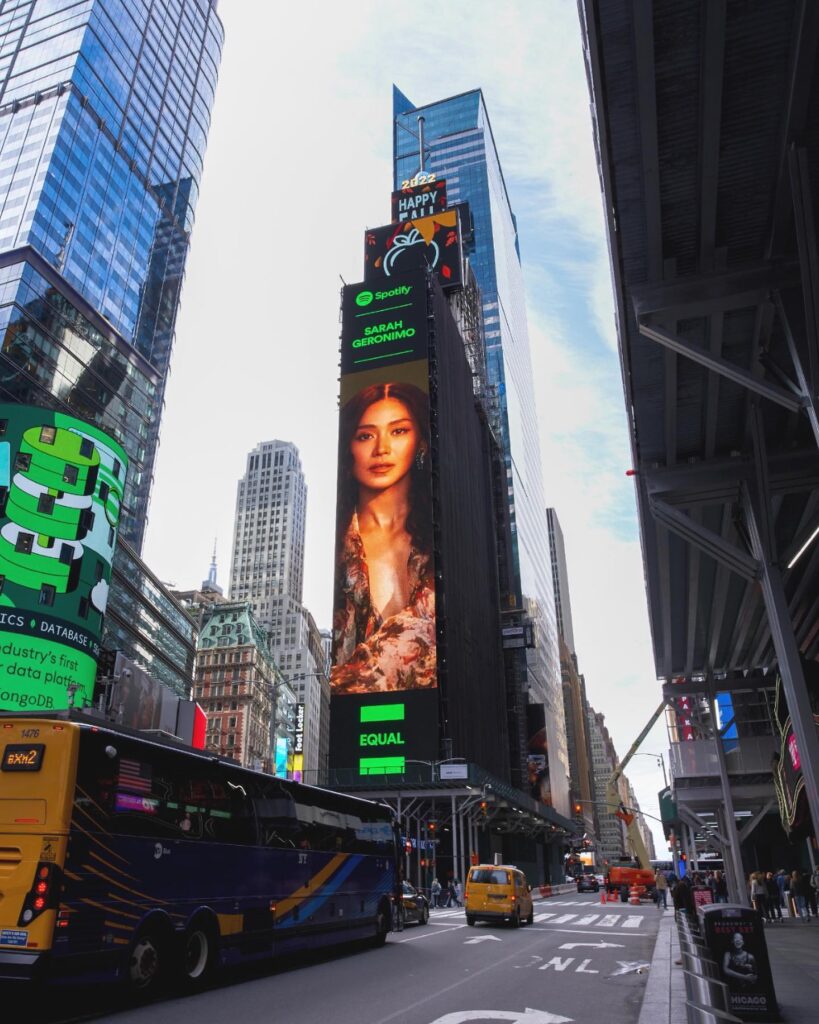 Dubbed as "Asia's Popstar Royalty," Sarah Geronimo is a multi-talented singer, actress, and performer that has graced us with numerous outstanding performances.
And as the Philippine ambassador for Spotify's EQUAL campaign, Sarah Geronimo had the honor of being featured on the digital billboard in Times Square. EQUAL is a program of Spotify that aims to promote equity for women in the audio industry and celebrate their invaluable contributions.
2. Moira Dela Torre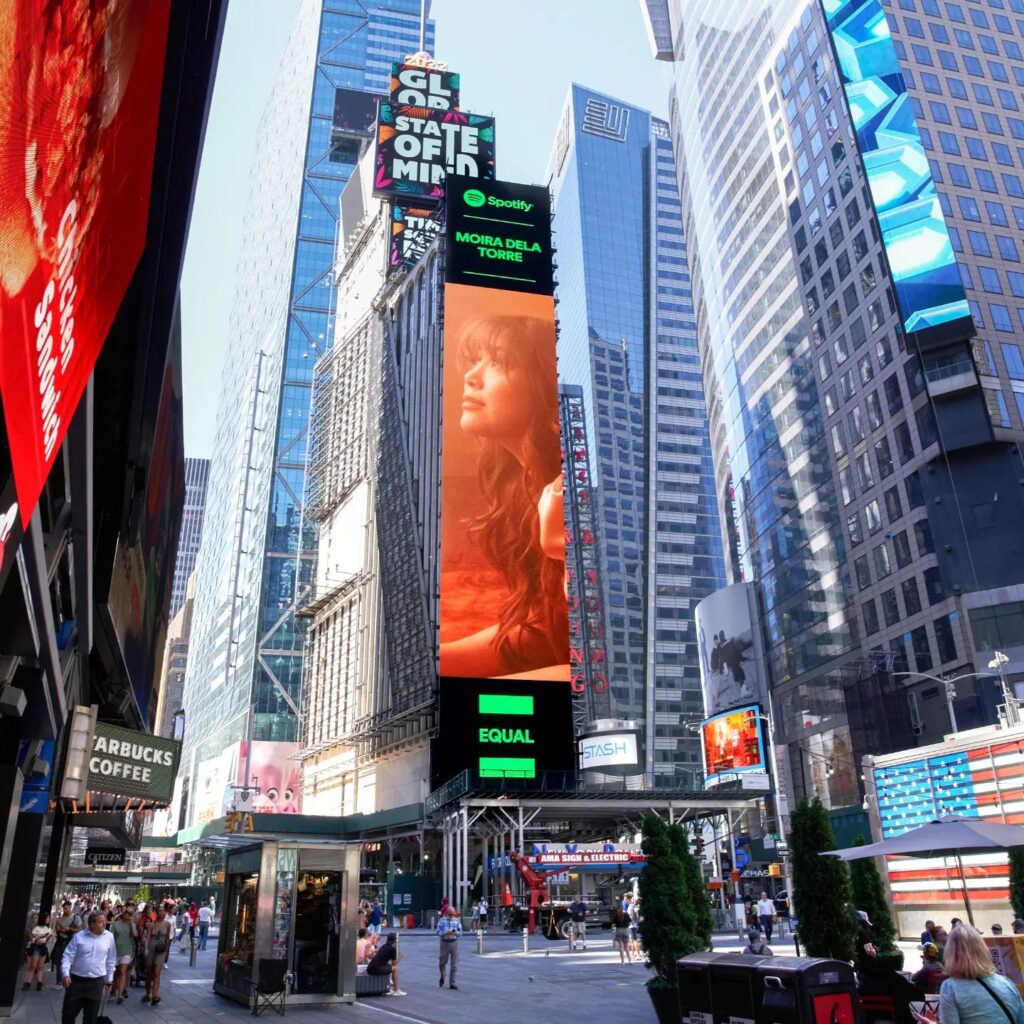 Moira Dela Torre, known for her soulful and heartfelt ballads, also found her way onto the popular Times Square billboard. With her signature melodic style and emotionally-charged performances, Moira has garnered a dedicated fan base in the Philippines and beyond. Her appearance in Times Square not only solidified her position as one of the country's most beloved artists, but also showcased the global impact of her music.
3. Julie Anne San Jose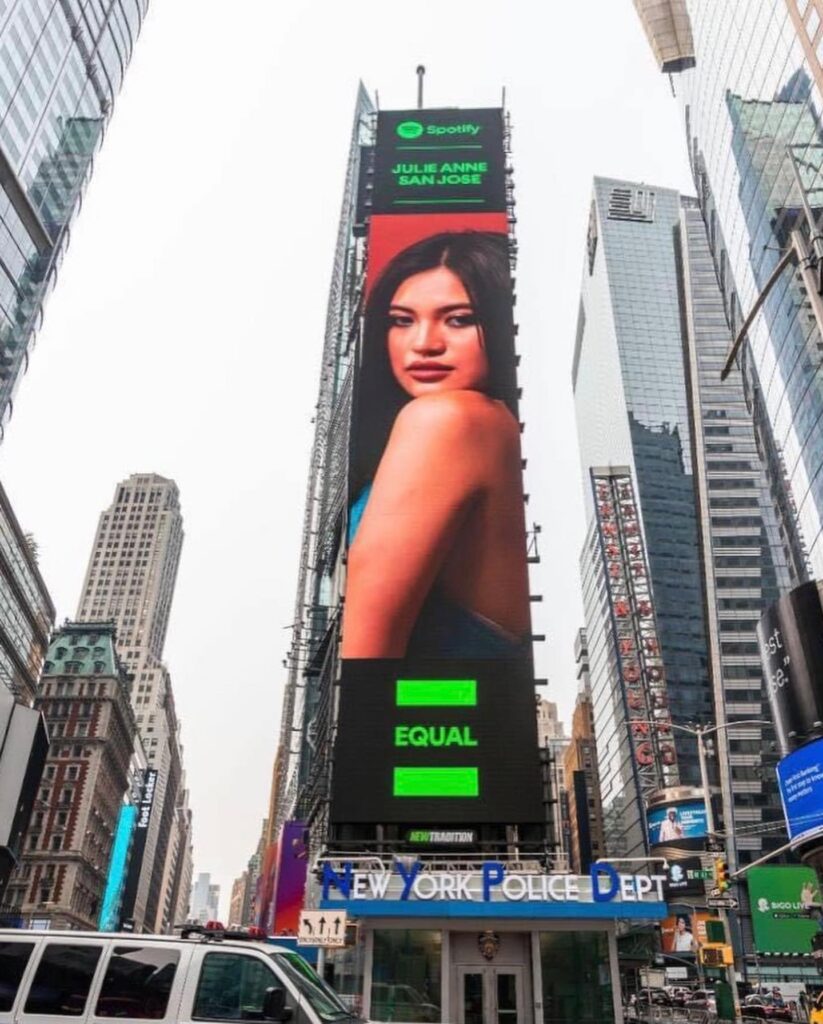 Julie Anne San Jose is known for being a talented artist, showcasing admirable acting, singing, and even dancing skills. But did you know that she also joined the roster of Filipino artists who were featured on a billboard in Times Square, NYC? The Maria Clara at Ibarra star was a part of Spotify's EQUAL campaign, which is intended to empower women around the globe.
On top of that, her song "Free" has earned her a spot among renowned international artists such as Doja Cat, Ariana Grande, David Guetta, and more on Spotify's prestigious EQUAL Global playlist.
4. KZ Tandingan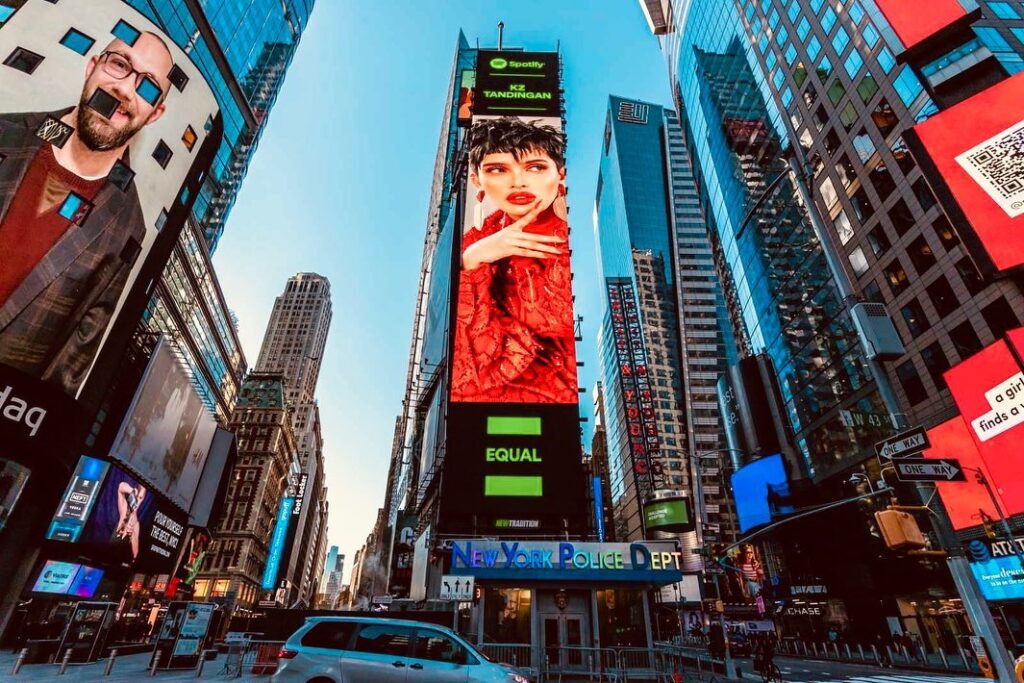 KZ Tandingan, renowned as "Asia's Soul Supreme," has achieved international recognition by landing on Spotify's prestigious EQUAL Global Playlist, paving the way for her to be featured on Times Square billboard and solidifying KZ's global impact and status as a rising star in the music industry.
Her song "11:59," which was released in November 2021, has also made a remarkable impact, leading it to get a spot on Spotify's New Music Friday playlist in 10 countries, which includes the Philippines, Thailand, Korea, Singapore, Malaysia, Hong Kong, Indonesia, Vietnam, Taiwan, and Gulf. In addition to that, KZ Tandingan topped key Spotify PH editorial playlists like Tatak Pinoy and OPM Rising.
5. Nadine Lustre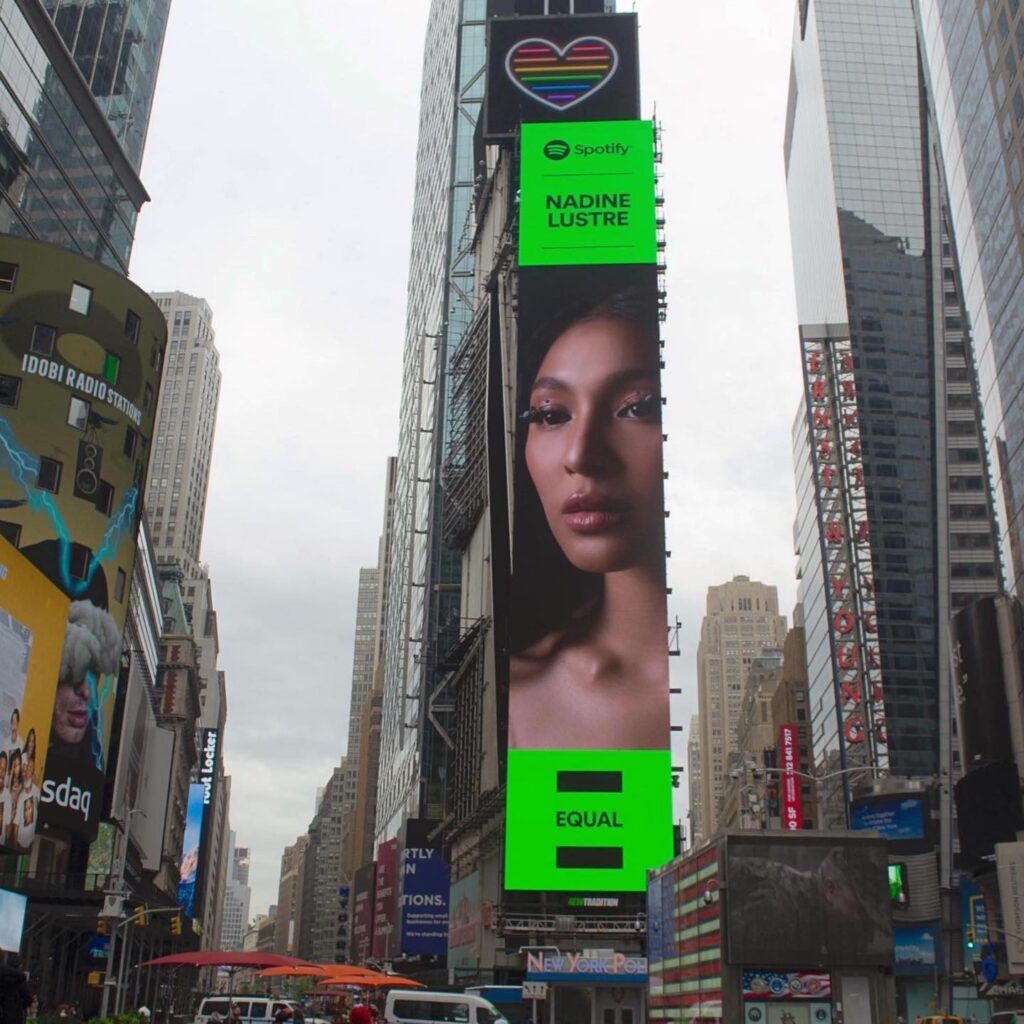 Actress and singer Nadine Lustre is one of the most loved TV personalities today because of her authenticity and style. With her captivating performances and versatile talent, Lustre has garnered a significant following both in the Philippines and beyond, leading her to make it to the Times Square digital billboard. Her presence and talent in the industry has been recognized by various platforms, leading her to be featured on Spotify's EQUAL Global playlist.
6. Belle Mariano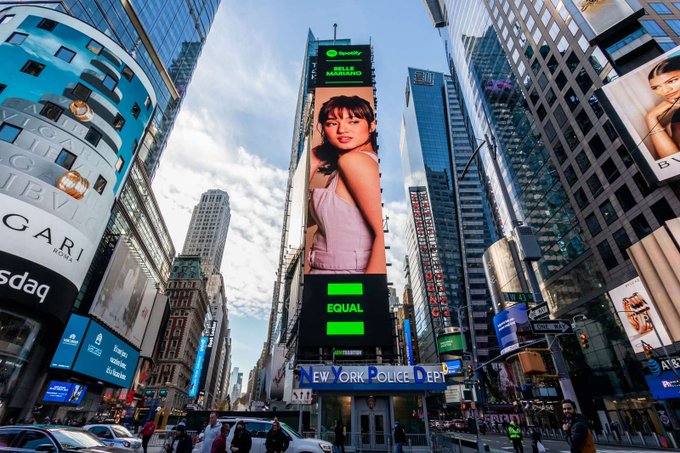 You may know Belle Mariano as an actress and part of the loveteam "DonBelle," together with Donny Pangilinan. But she is more than that, as she is also a talented singer. And it's no surprise that she graced the New York Times Square digital billboard, and was a part of Spotify's EQUAL campaign, same as San Jose and Lustre. Her songs "Sigurado" and "Tanging Dahilan" were also featured on Spotify's EQUAL Philippines playlist.
7. Ylona Garcia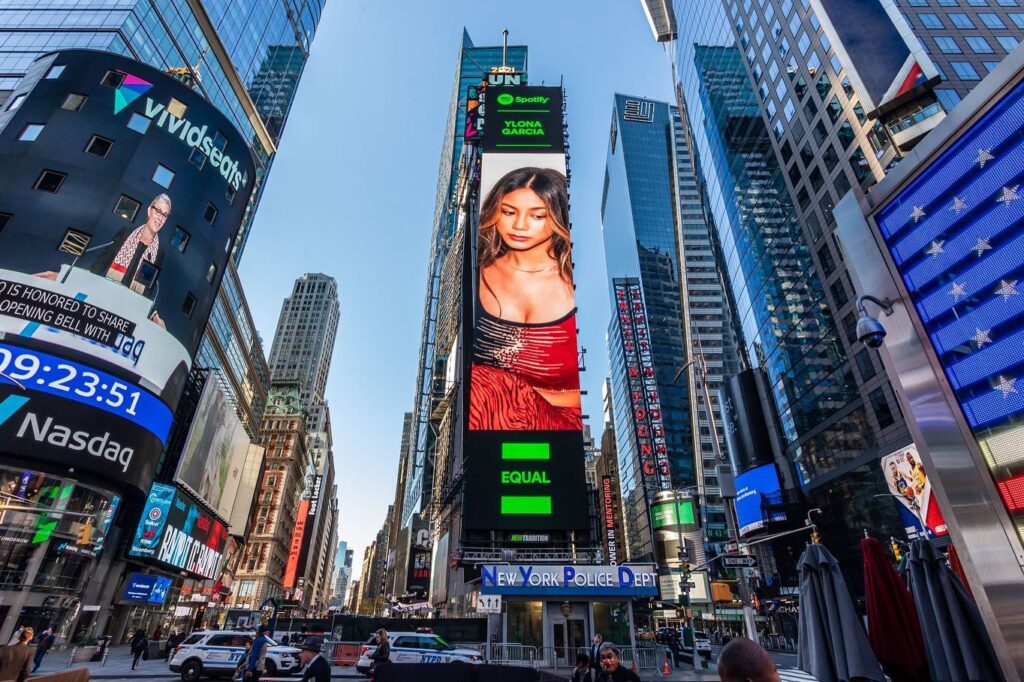 Ylona Garcia was first known in the Philippines as one of the teen housemates in the TV series Pinoy Big Brother, where she finished as the 1st runner-up in the competition. The Filipino-Australian singer, songwriter, and actress eventually grew more recognition when she became one of the artists handled by the American music company, 88rising.
After gaining more popularity and recognition for her talent, Ylona was featured as one of the artists in the EQUAL Global flagship playlist of Spotify — which of course, has led her to land a spot on the Times Square billboard in NYC.
8. Maris Racal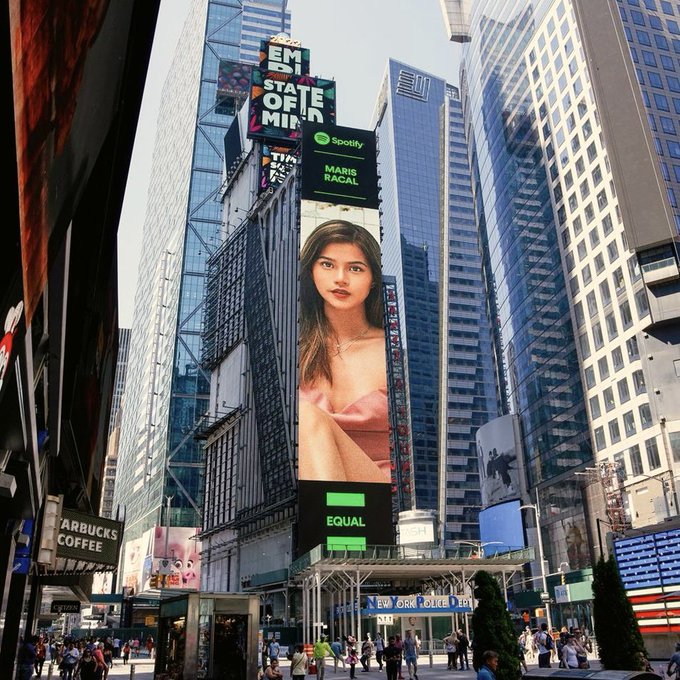 Another Pinay performer joins other fellow Pinoy artists featured on Spotify's EQUAL campaign — Maris Racal. She is best known as one of the housemates in Pinoy Big Brother: All In, where she won 2nd place. Apart from her acting career, she has also blossomed into a singer and songwriter over the years, and has released her second album "Ate Sandali," including the single of the same title track.
In disbelief and high on cloud 9, Maris took it to Twitter and made a funny remark after finding out that she was featured on the Times Square billboard, saying: "Nahihilo ako. Dati lang akong naglalakad sa New York, Cubao. Di ko naman akalain na aabot ako sa New York Times Square."
9. Zack Tabudlo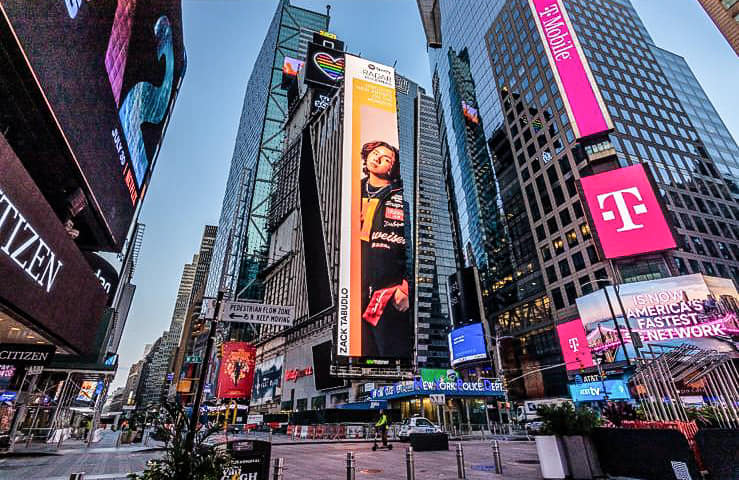 Zack Tabudlo is one of the most sought after Filipino singers and musicians today because of his soulful voice and relatable songs. His song "Binibini," which was released in 2021, broke a record as the top local song on Spotify's Philippines charts. Alongside that was his song "Pano," which became a record-breaker, holding the title of the longest-running number-one OPM song on Spotify Philippines. It also made history as the first-ever number-one song to debut on the Billboard Philippines Songs chart, while successfully charting in various Southeast Asian countries, including Malaysia, Thailand, and Vietnam.
Following that success, Tabudlo stood as the only Filipino artist whose song was featured in Spotify's Global RADAR program. His smash hit "Binibini" etched its name in history by becoming the longest-running number one track by a Filipino RADAR artist on Spotify's Top 50 Chart in the Philippines, keeping its spot for six consecutive weeks and earning him a feature on Times Square digital billboard as part of Spotify's Global RADAR artists.
10. BINI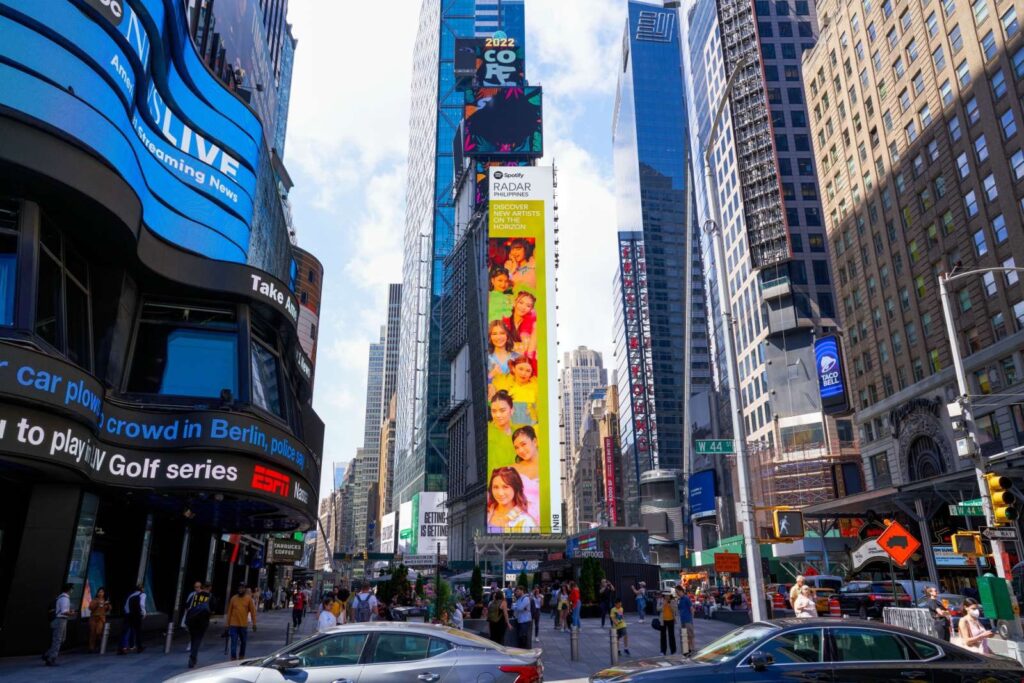 Labeled as the "Nation's Girl Group," BINI is an 8-member group that's making history and proving that P-pop is indeed still alive.
They debuted in 2021, but are already making great milestones and received a well-deserved recognition because they were featured on the iconic Times Square digital billboard in New York as one of Spotify's "new artists on the horizon," under Spotify's RADAR program.
11. Reese Lansangan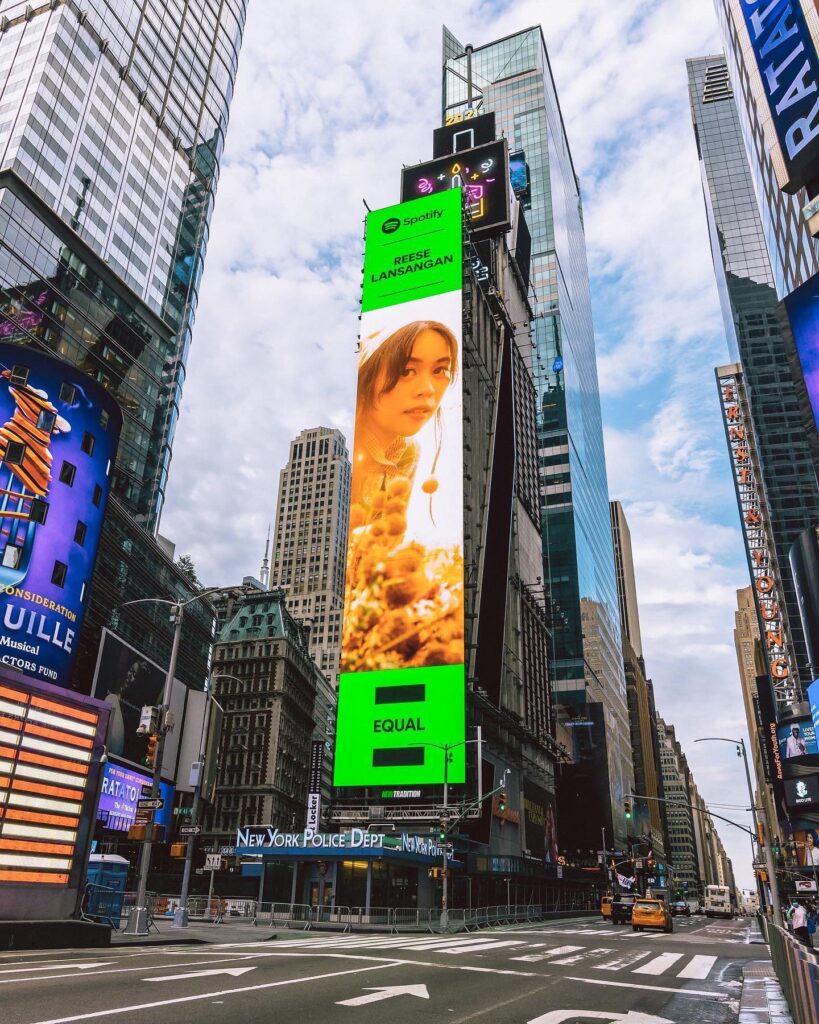 Reese Lansangan is an indie pop-folk singer-songwriter, author, and a multi-awarded creative that is best known for her debut album "Arigato, Internet!" She is also the other half of the duo "Reese and Vica," a Pinoy indie pop duo who are renowned for their great guitar skills and amazing harmony.
Lansangan made it to NYC's famous Times Square digital billboard under Spotify's EQUAL program, alongside other Filipino artists such as Sarah Geronimo, Nadine Lustre, and more. Her song "A Song About Space" from her debut album "Arigato, Internet!" was also featured in NASA's campaign videos, #LaunchAmerica.
12. Keiko Necesario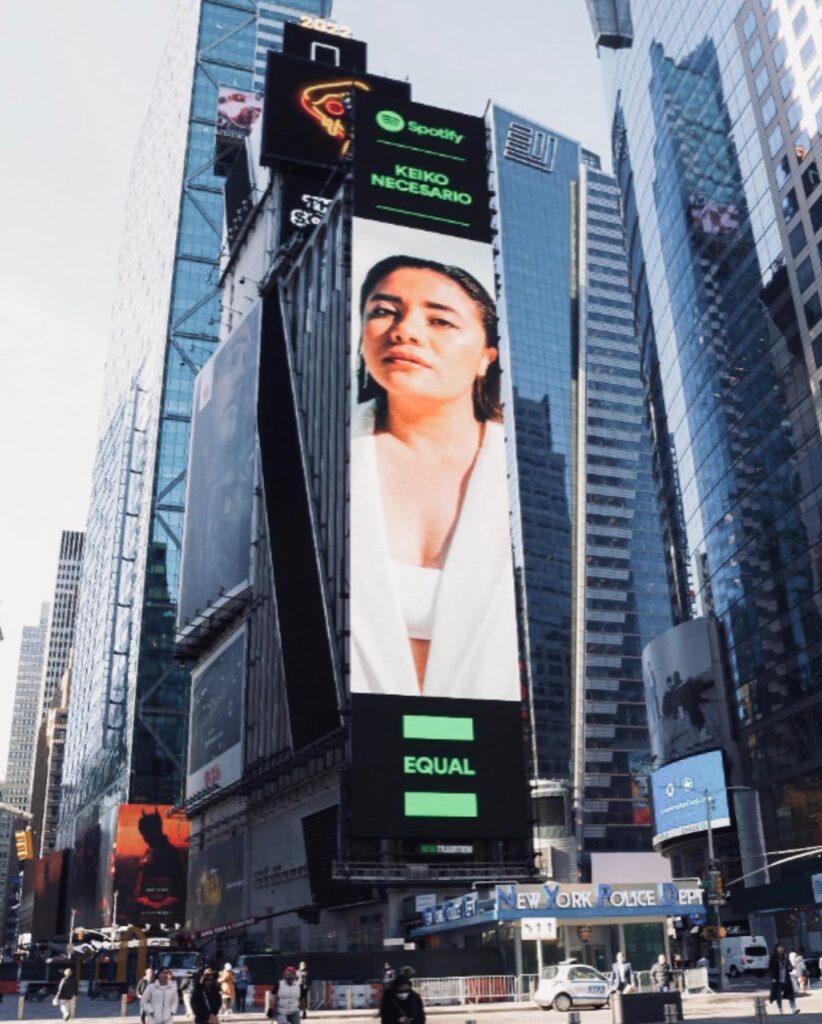 Keiko Necesario is best known for singing the soundtracks of 2018 Pinoy films "Ang Babaeng Allergic Sa Wi-Fi" and "Nakalimutan Ko Nang Kalimutan Ka." In 2022, the acclaimed OPM musician released her highly anticipated EP titled "Obra," and to commemorate this, she was featured on the cover of Spotify's EQUAL Philippines playlist. To add to that, Necesario achieved another remarkable feat by getting featured on the Times Square Spotify billboard, under the EQUAL campaign.
13. Lesha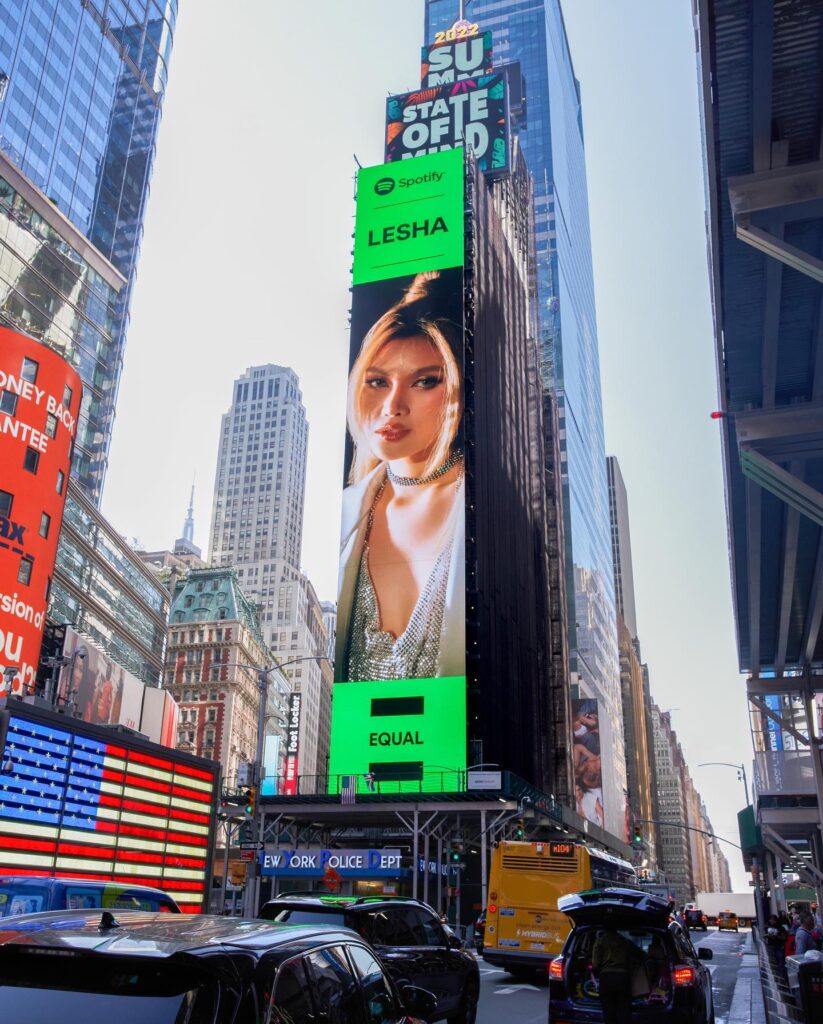 You may have first seen or heard Lesha on YouTube or TikTok, making beats in her bedroom. But this Filipino singer-songwriter and social media star has proven that she has more to give when it comes to her great talents as she had the honor of being featured on Spotify's billboard in Times Square as part of the music streaming platform's EQUAL campaign to promote her exceptional debut album, "3RD EYE."
14. Janine Berdin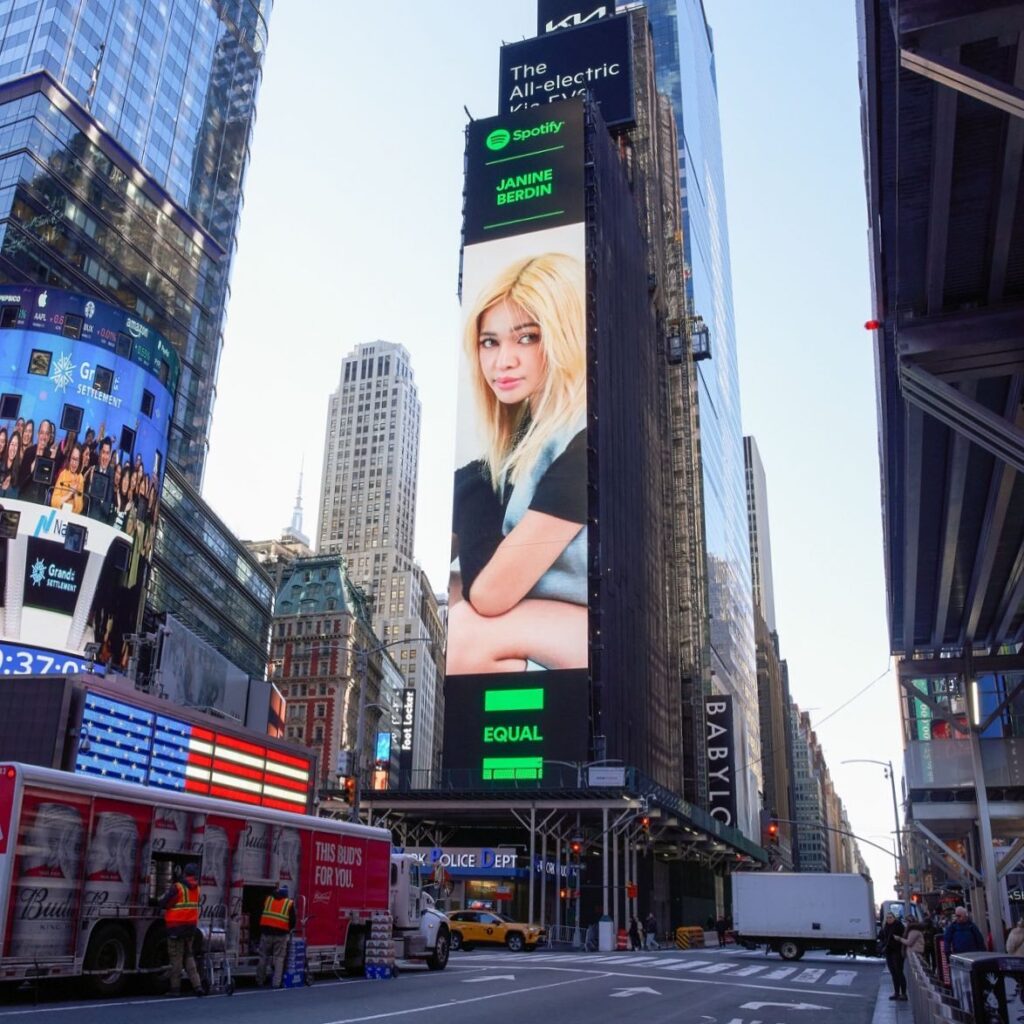 Janine Berdin first gained recognition when she won in the second season of "Tawag Ng Tanghalan" in the noontime show "It's Showtime."
Her songs "Pagod Na Ako" and "The Side Character" were included in Spotify's EQUAL Philippines playlist, which also led her to make it onto the iconic Times Square digital billboard under Spotify's EQUAL campaign.
15. Kiana V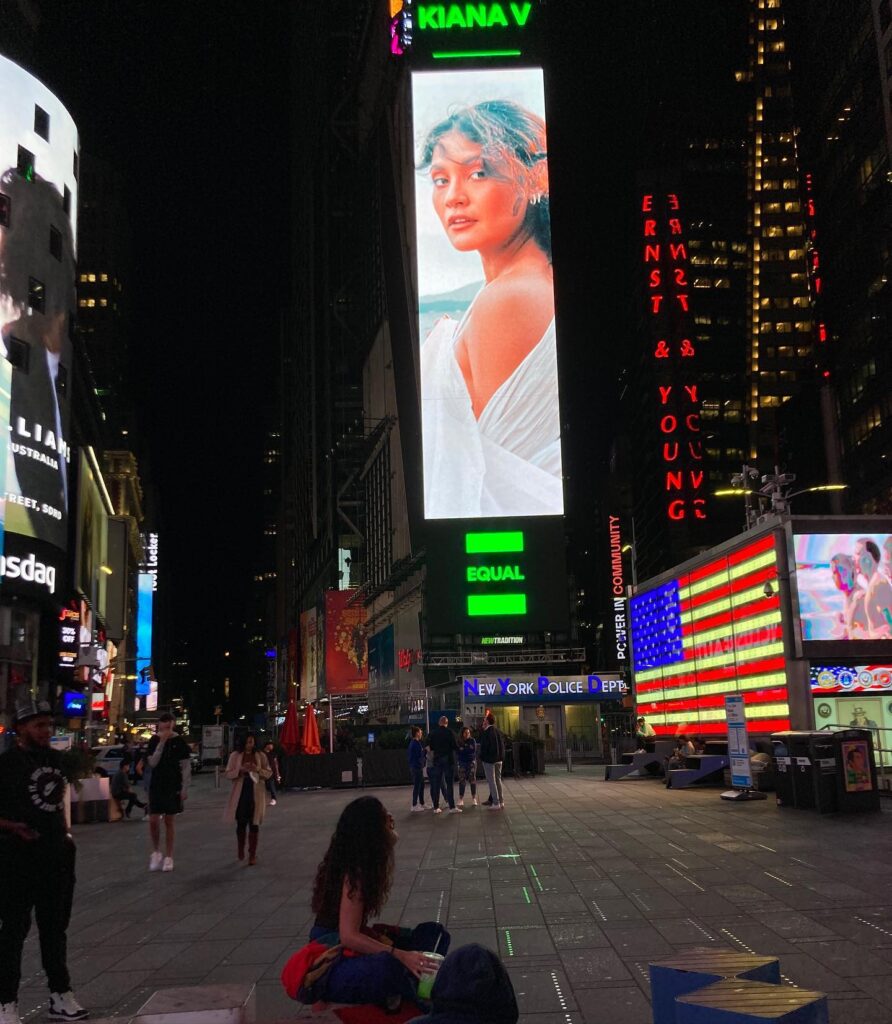 Kiana V's recent endeavors have propelled her presence in the United States, as she brings her captivating and soulful brand of OPM to a wider audience. Her talent was further recognized as she graced Spotify's Times Square billboard as part of their EQUAL campaign. What makes it even more special is that Kiana had the incredible opportunity to witness this milestone firsthand.
The presence of these Filipino artists on Spotify's billboard in Times Square, NYC, is a testament to their remarkable talent and the growing recognition of Filipino music worldwide. Their achievements serve as an inspiration to aspiring artists and highlight the rich diversity of talent in the Philippines. As we celebrate these incredible individuals, let us continue to support and promote Filipino artists on the global stage!