There's definitely no denying that K-pop made a huge impact musically in the Philippines over the past few years, especially with various K-pop male and female idol groups, rookie groups, as well as solo artists making a hit and releasing music that just sits right for many Filipino fangirls and fanboys. With the catchy beat and uniquely dynamic dance moves, you can't help but jive and groove to K-pop songs. Honestly, nakaka-LSS 'diba? People are simply drawn to the fine visuals, strong dancing and vocal skills, and powerful stage presence that a lot of K-pop artists are giving in every performance, making both men and women of diverse age groups in the country swoon even more!
That's why for K-pop fans out there, you would know that meeting one K-pop fan after another would really feel so good because it's like you speak the same language, right? And going to a place that exudes the K-pop feels would absolutely be the cherry on top. Now, speaking of places — you'll be happy to know that there are quite a good number of cafes popping up around the country that you may want to check out to celebrate your inner fangirl or fanboy moment with your favorite K-pop chingu (friend).
Here's a list of the best K-pop themed cafes in the Philippines:
1. Chingu Dachi Cafe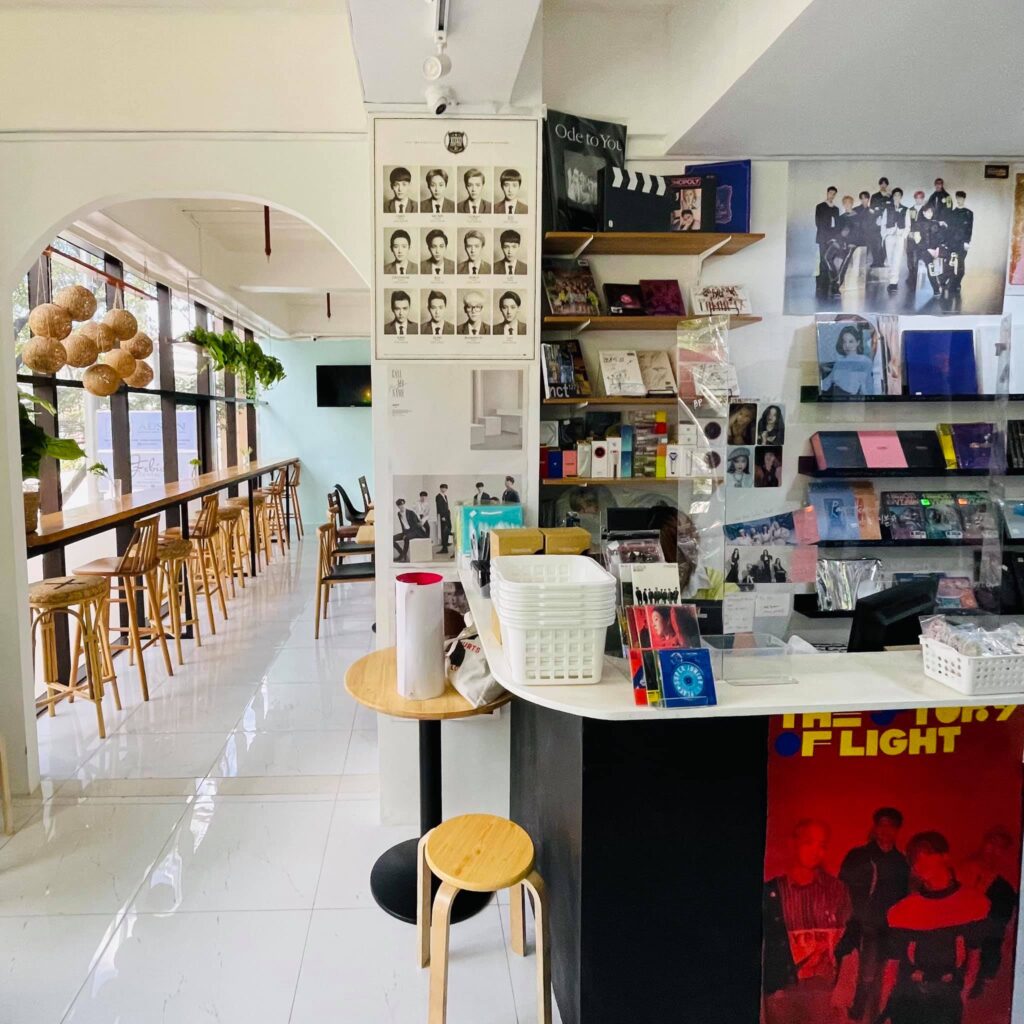 A cafe to chill and relax in and a merch store where you can purchase collectibles from your favorite K-pop artists combined in one is what Chingu Dachi Cafe brings to many Filipino K-pop fans. If you love J-pop, you'll also want to visit this cafe! Its interiors manifest a clean and minimalist vibe along with some greeneries to balance out the visuals and create a warm ambiance for the customers.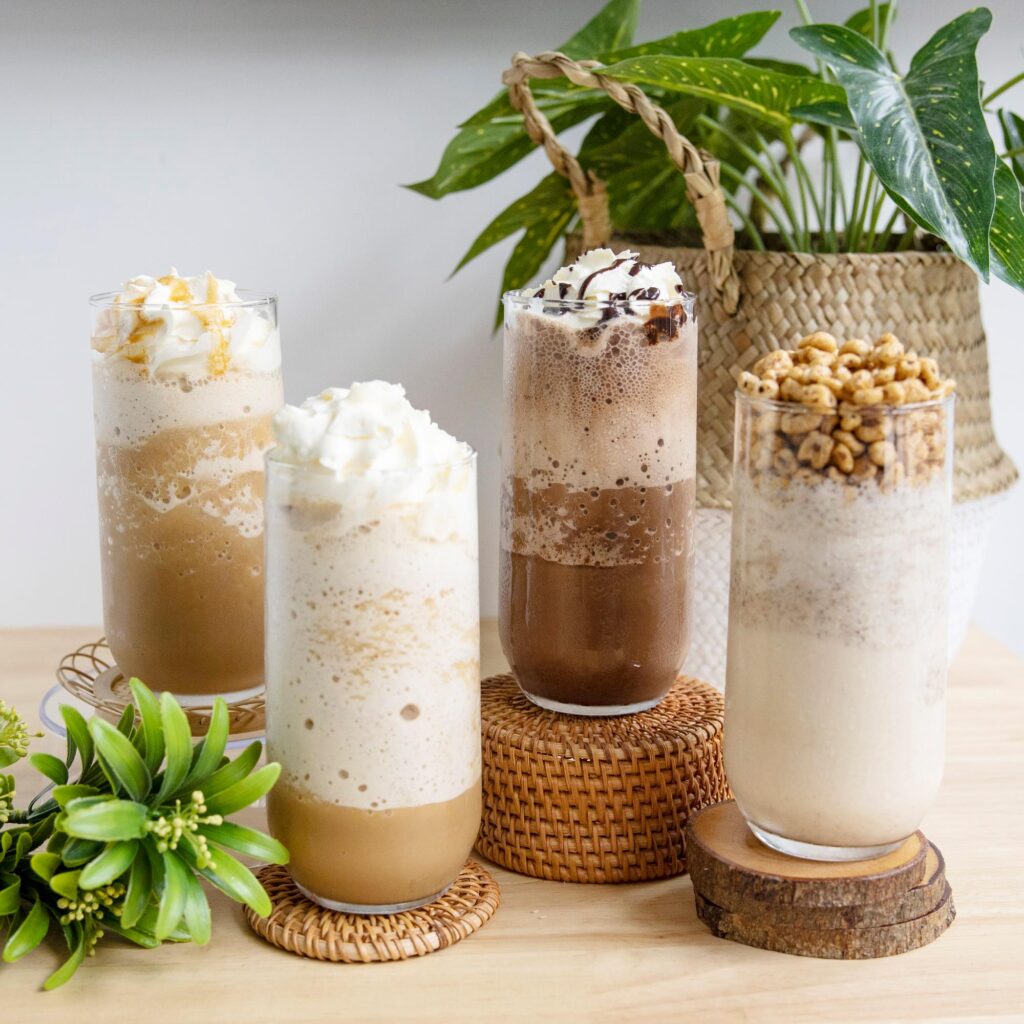 To complete the experience, Chingu Dachi Cafe also serves aesthetic food and beverages that will surely satisfy not only your eyes, but also your taste buds.
Location: 3388 Magsaysay Blvd, Santa Mesa, Manila
Opening hours: Monday, Wednesday to Sunday, 11:00 AM – 8:00 PM
Closed every Tuesday
Available for: Dine in, take-out
2. Sincerely, Shawols Cafe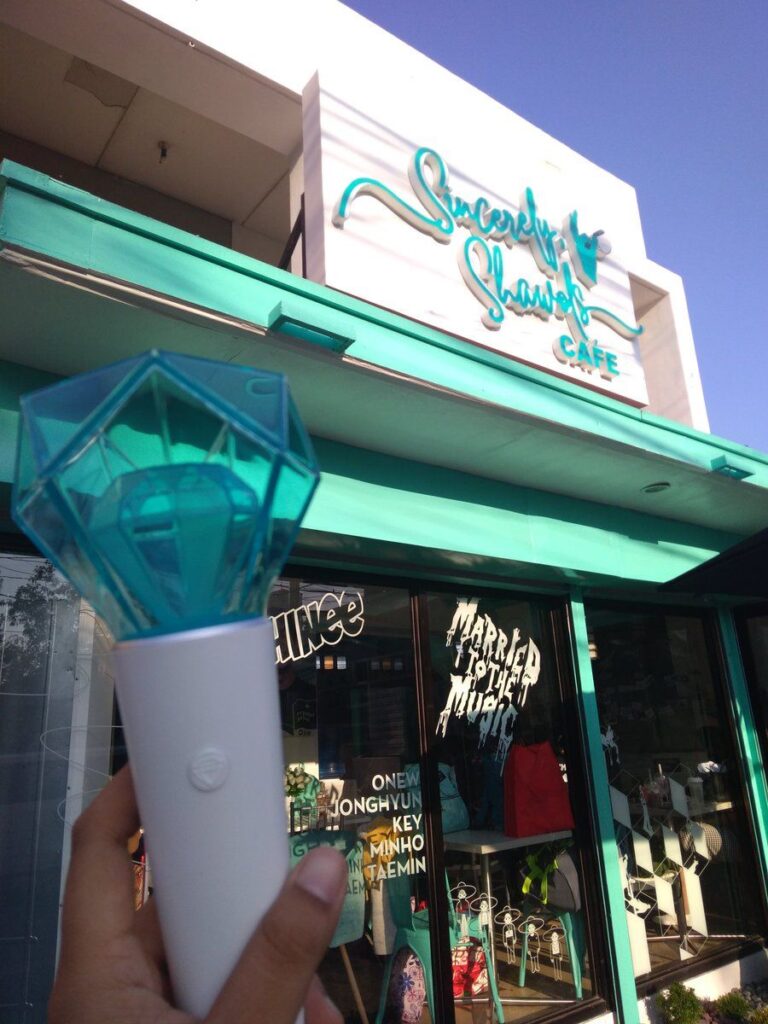 "Noona, neomu yeppeo…" Napakanta ko 'no? That line in the debut song of SHINee would certainly create a tug in the hearts of every SHAWOL out there. And if you are a SHAWOL, you may want to try out and visit this SHINee-themed cafe located in Cavite! Yes, you read that right — there is such a place like that here in our country! Sincerely, Shawols Cafe is the first SHINee-inspired cafe in the Philippines.
All the titas of K-pop or those that have been listening to K-pop for a long time will also know how SHINee stood out not only for their great talents and stage presence, but also for their unique fashion. If you're new to K-pop, SHINee is the group that made hits like "Replay," "Ring Ding Dong," "Sherlock," and "Stand by Me" (one of the most popular OSTs of Boy Over Flowers — hello there, Kdrama fans!)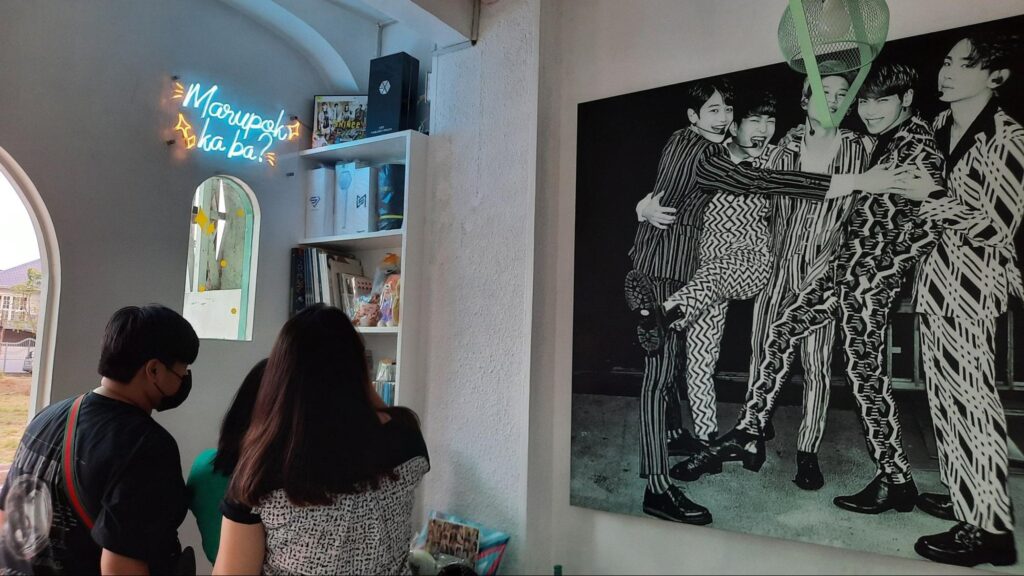 You can easily spot the cafe, especially if you're a fan since the exterior is painted with pearl aqua — which is their official fandom color. When you enter, you'll be delighted to see that the place bursts of so much SHINee feels as there are standees and photos of the 5 boys on the wall. You can also find various merchandise, banners, and CDs that will make your SHAWOL heart kilig.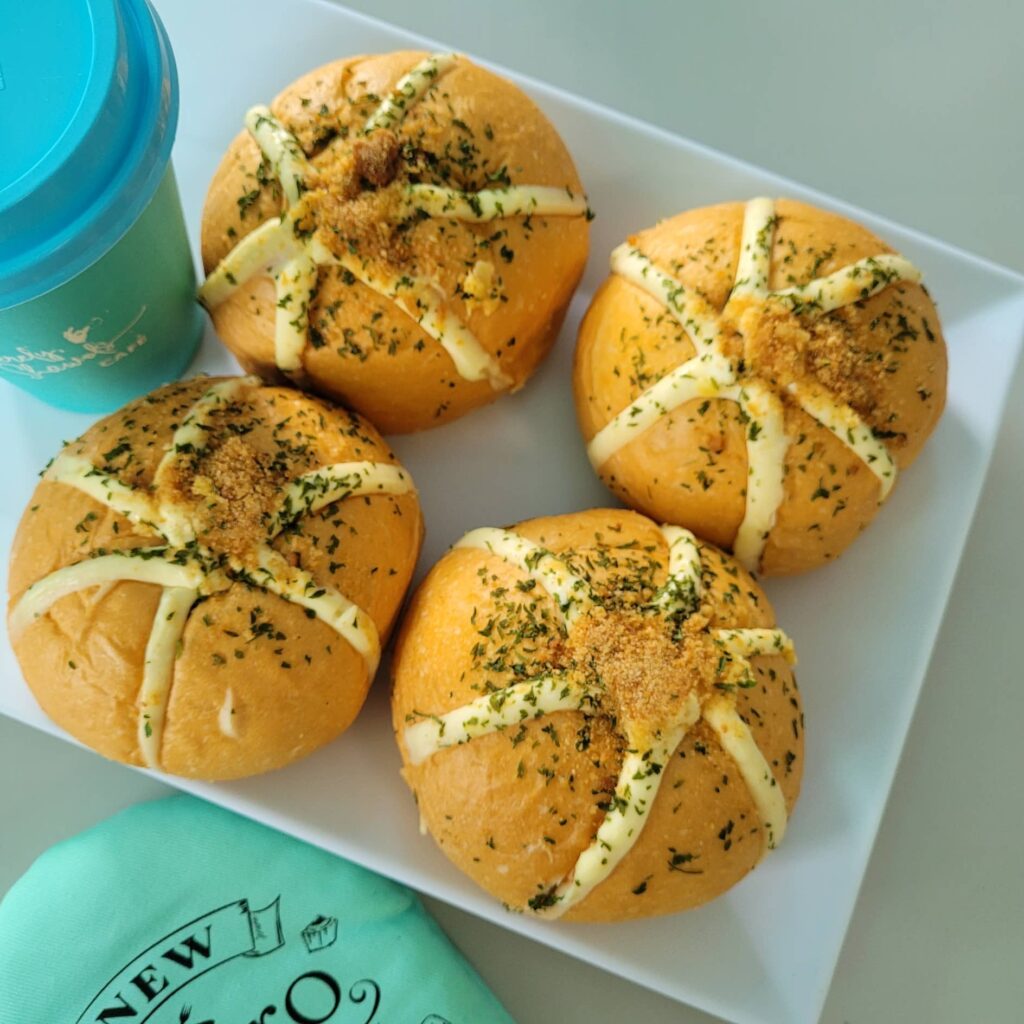 Another great part about Sincerely, Shawols Cafe is that they are not limited to the usual desserts, coffees, and teas because they also serve homemade pizza, milktea, frappe and Korean food such as different kinds of ramyeon, Korean corn dog, kimbap, tteokbokki, and more for every K-food enthusiasts to fill their bellies with.
Location: 14 Carnation St, Bacoor, Cavite
Opening hours: Monday to Sunday, 8:00 AM – 5:00 PM
Available for: Dine in, take-out, delivery
3. Purple 7 Cafe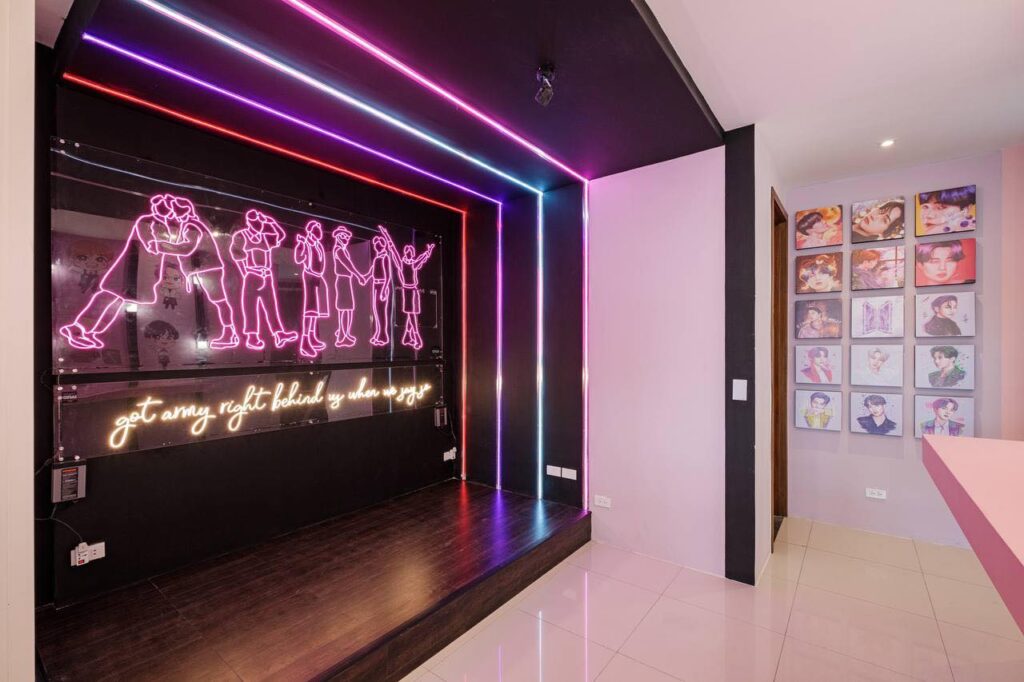 BTS has taken the world by storm and is no doubt, one of the most popular K-pop groups today. That's why, for Filipino ARMYs, a place like Purple 7 Cafe being situated in a very accessible area like Tomas Morato would be so convenient. Although there are other BTS-themed cafes around the metro, Purple 7 Cafe is one of the most popular ones since it undoubtedly exhibits so much of what every ARMY would enjoy looking at. It's filled with purple and pastel interiors combined with neon lights mostly in purple, which is totally Instagrammable. On top of that, you can feast your eyes on standees of your BTS bias and happily take a photo with them if you want. It's just essentially what every ARMY would enjoy! Borahae!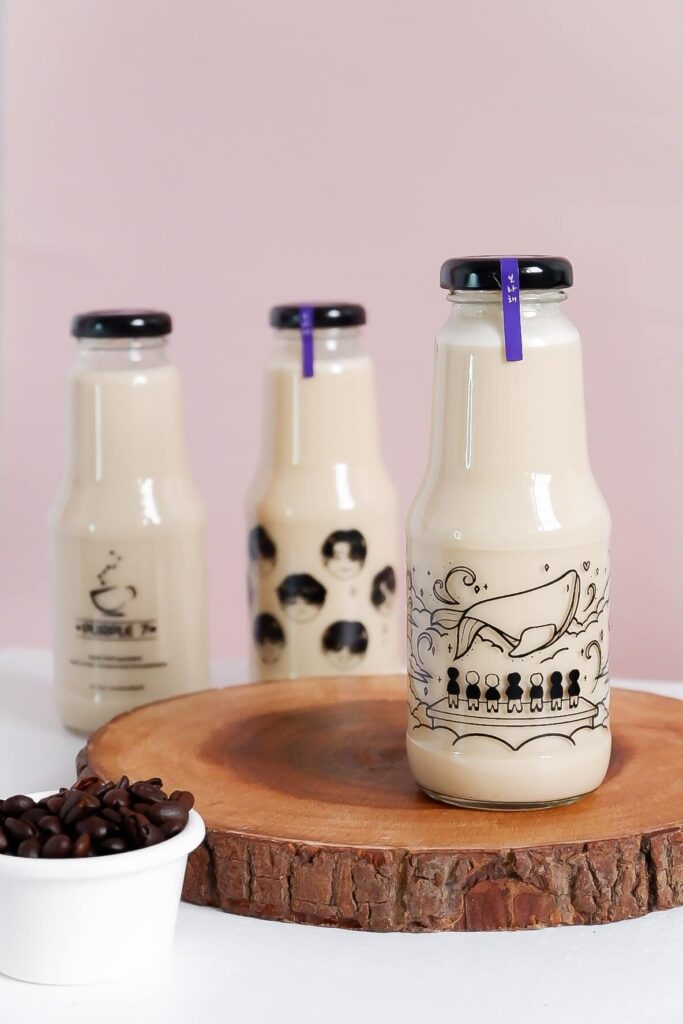 If you're on 'budgetarian' mode with your co-ARMY, Purple 7 Cafe serves pocket-friendly and delectable dishes. They offer a good selection of coffees, fruit teas, bottled drinks, pasta, bite-sized cookies, cakes, and garlic buns.
Location: 37 Tomas Morato Ave., Quezon City
Opening hours: Closed every Monday
Tuesday to Sunday, 11:00 AM – 7:00 PM
Available for: Dine in, take-out, delivery
4. Haruman Cafe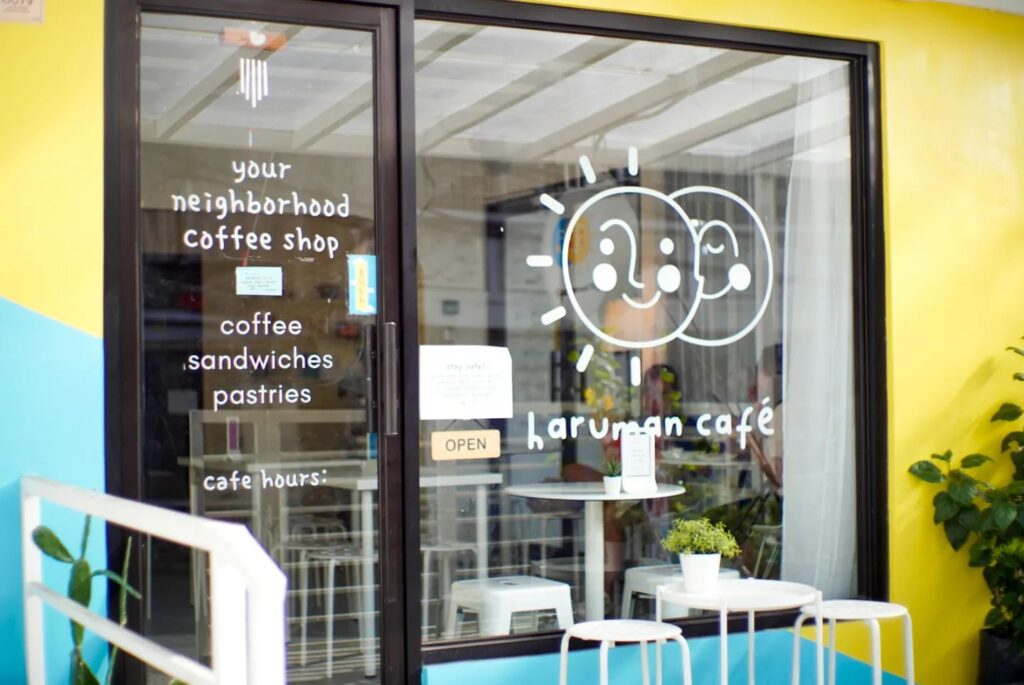 Calling all Filipino ARMYs! Here's another cafe to check out! If you haven't gone to this BTS-inspired cafe that's located in Makati, you should definitely schedule a visit. Haruman Cafe is inspired by BTS' song Just One Day or "haruman" in Korean.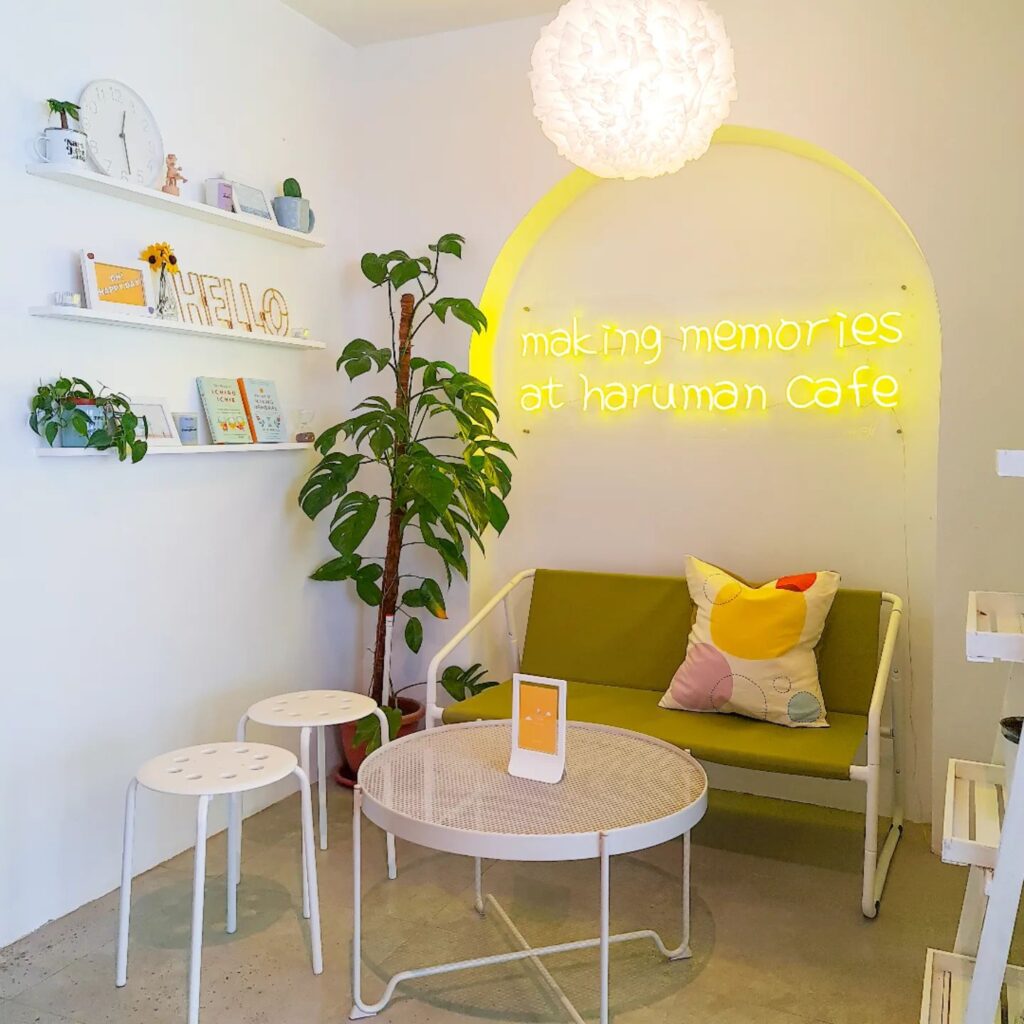 Both the exterior and interior of the cafe shows a friendly, cheerful, and light vibe that can instantly attract people. And if you've watched K-dramas, you'll know that the look and vibe of Haruman Cafe is Korean-inspired — the neat and bright yet minimalistic theme and arrangement. You'll have fun looking at the interiors because it's totally IG-worthy! Oh and did we mention that it's also a pet-friendly place?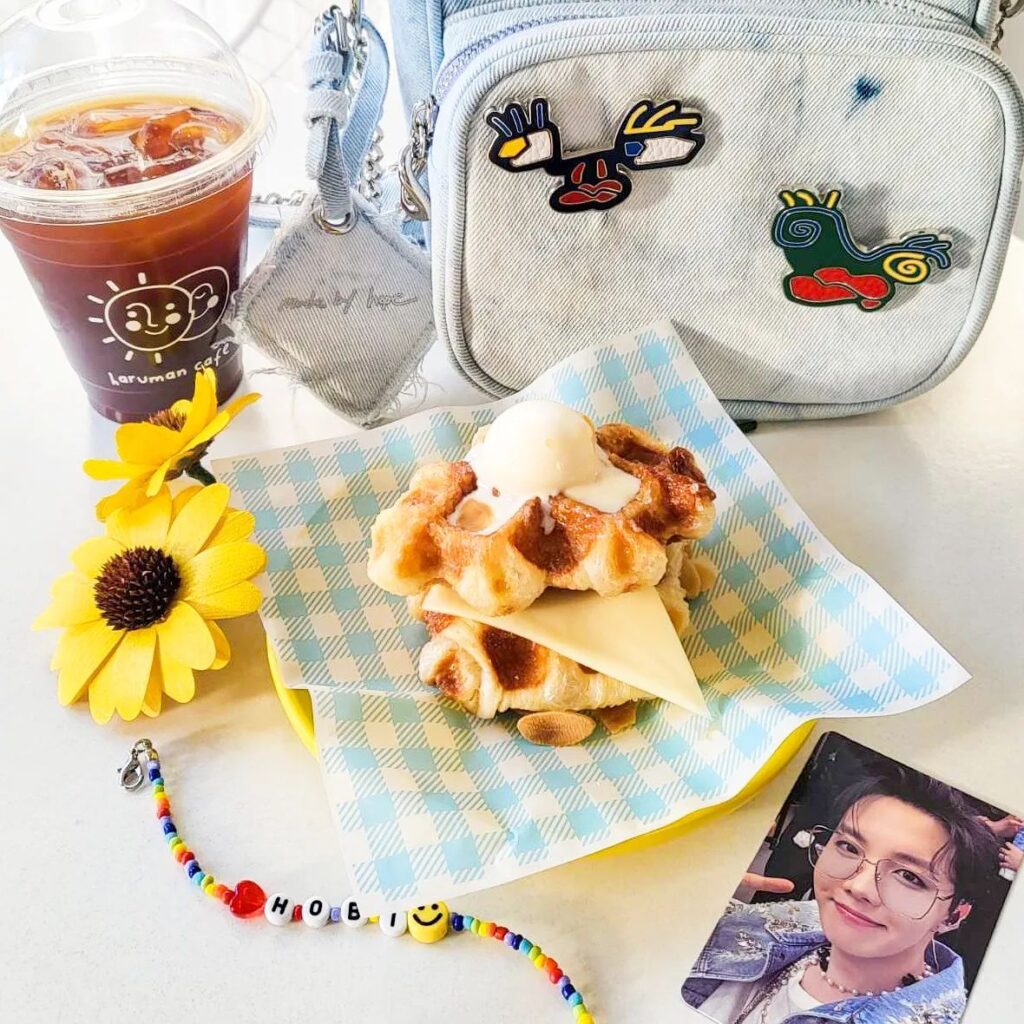 Of course, since it's a cafe, it's impossible not to dine and try out some of the snacks and drinks they offer — and this includes, espresso-based drinks, frappes, signature drinks, sandwiches, pastries, and more.
Location:403 D.V. Laurilla Street, Makati
Opening hours: Monday to Friday, 12:00 PM – 8:00 PM
Saturday, 10:00 AM – 6:00 PM
Closed every Sunday
Available for: Dine in, take-out
5. Caratreats Cafe by Iris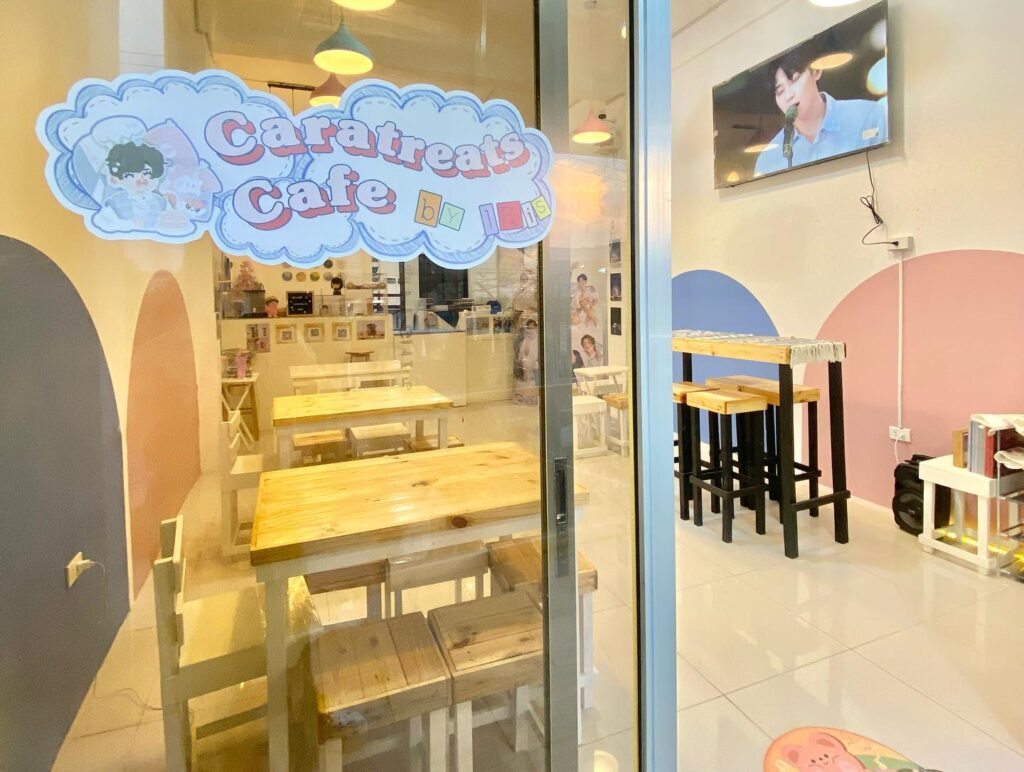 Caratreats Cafe by Iris is the first ever Seventeen-inspired cafe in the Philippines that's based in Cavite. CARAT, which is the official fandom name of the group, was taken from the idea that the fans help Seventeen shine — hence, the name "Caratreats." Perfectly witty we would say!
For K-pop rookies, Seventeen has 13 members. Yes, 13! And they all function well with their talents and fine visuals mixed in one group. Seventeen is famous for their hit single "Pretty U" and some other popular songs include "Don't Wanna Cry" and "Very Nice." They are also known for being a self-producing idol group since they mostly take part in the production and composition of their choreography and discography.
As you step inside the cafe, you'll be welcomed by warm pastel-colored walls along with music videos and live performances of Seventeen playing all throughout your stay in the cafe, making every CARATs' heart beat with excitement. It's a small and simple cafe, yet it makes an impact mostly for all the Filipino CARATs.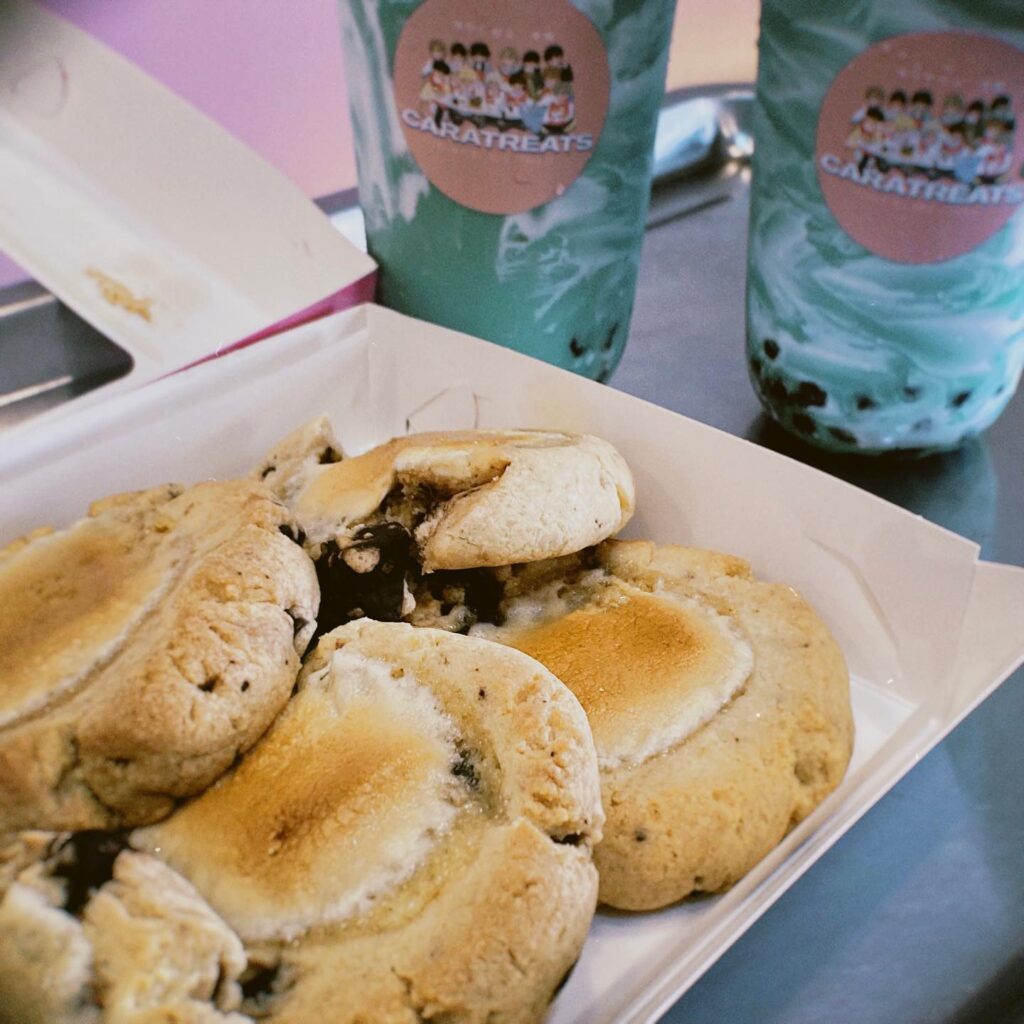 If you're a fan yourself, you would enjoy looking at the menu and ordering since it's heavily influenced by the Seventeen members — with the sizes of the pastas and kimchi fried rice being based on the names of some of the members (Won for Wonwoo, Coup for S.Coups, and Sol for Choi Han Sol or popularly known as Vernon). They offer a good variety of food and drinks such as pizzas, pasta, set rice meals, milkteas, and desserts, including cakes, cookies, brownies, and hotteok (Korean sweet pancakes).
Location: Millenium Building, Sampaloc, Cavite
Opening hours: Monday to Sunday, 10:00 AM – 7:00 PM
Available for: Dine in, take-out
6. Moon Cafe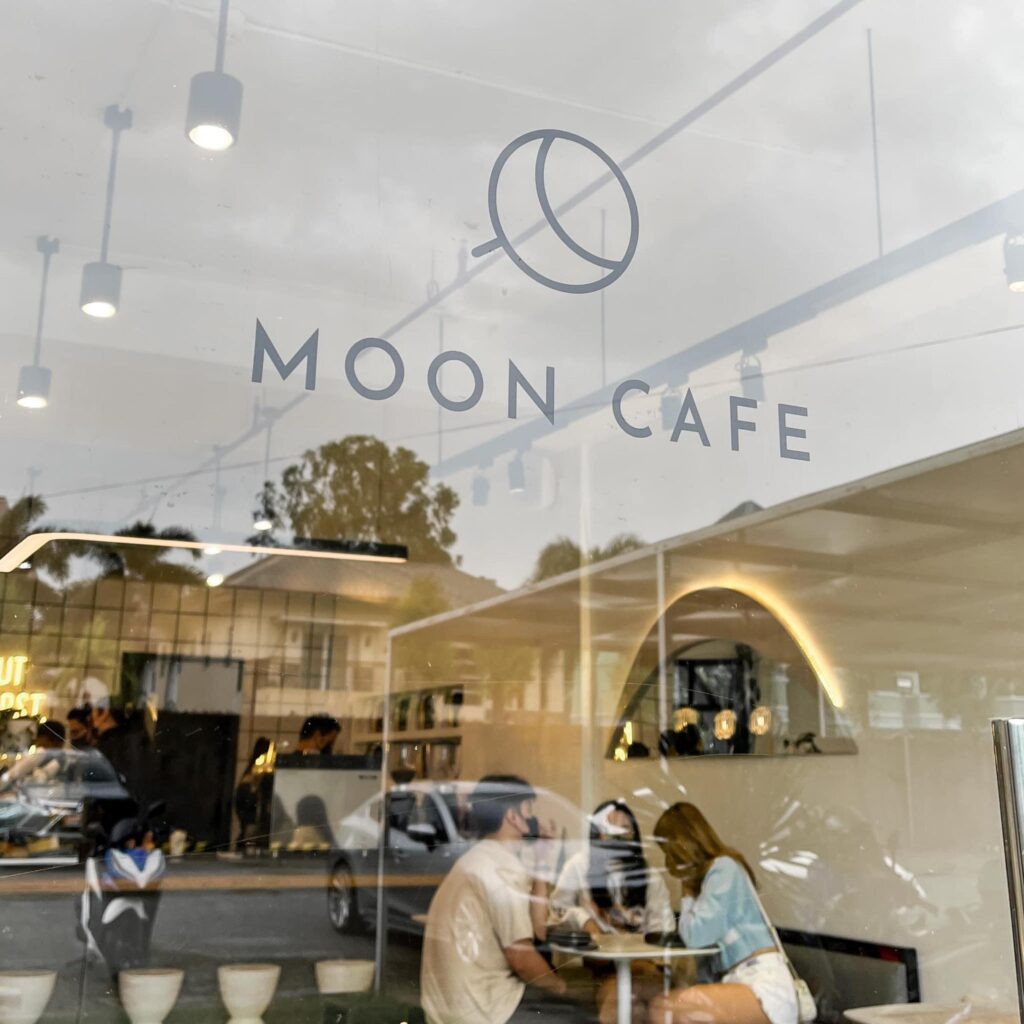 When you head over to Pampanga maybe for a quick day trip, you may want to visit Moon Cafe, which is located on Friendship Highway in Angeles, Pampanga. Compared to other K-pop themed or inspired cafes in the country, Moon Cafe is a bit low-key as it doesn't ooze with so much K-pop feels at first glance — just the right amount of it to get people acquainted with the K-pop culture itself.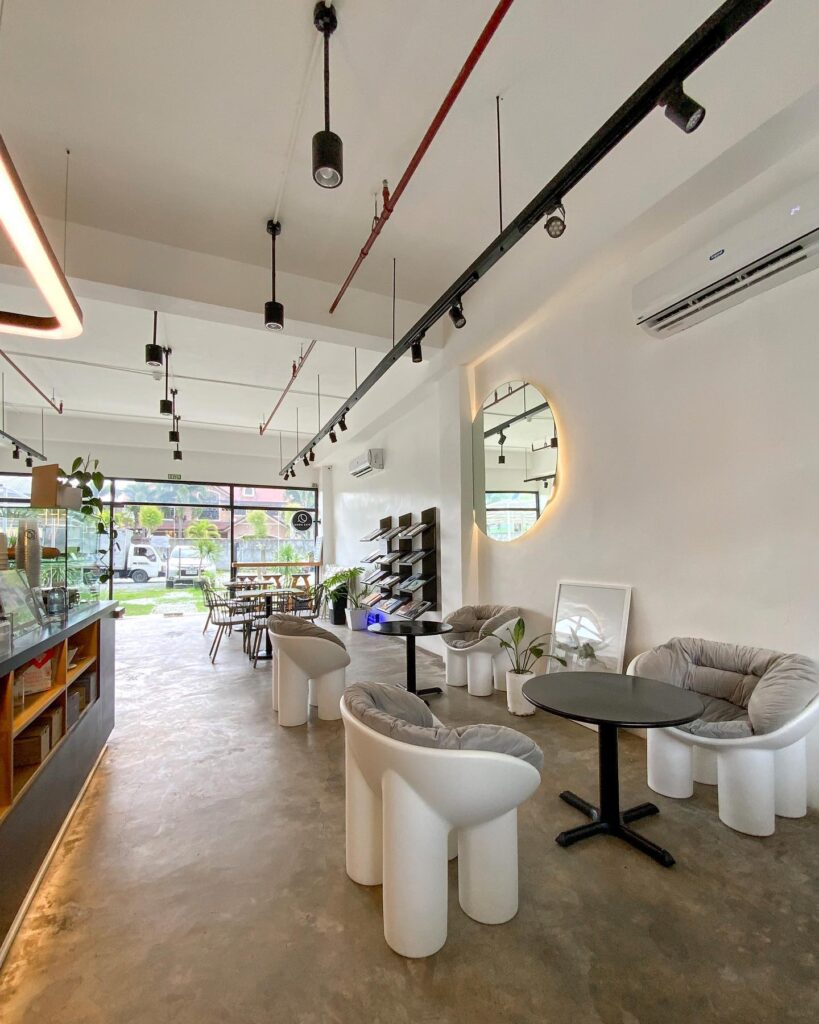 Both K-drama and K-pop lovers will absolutely appreciate the interiors of Moon Cafe because of its neat and minimalistic aesthetics. You can also find magazines on the side with different K-pop idols as the cover and books that you've likely seen on K-dramas.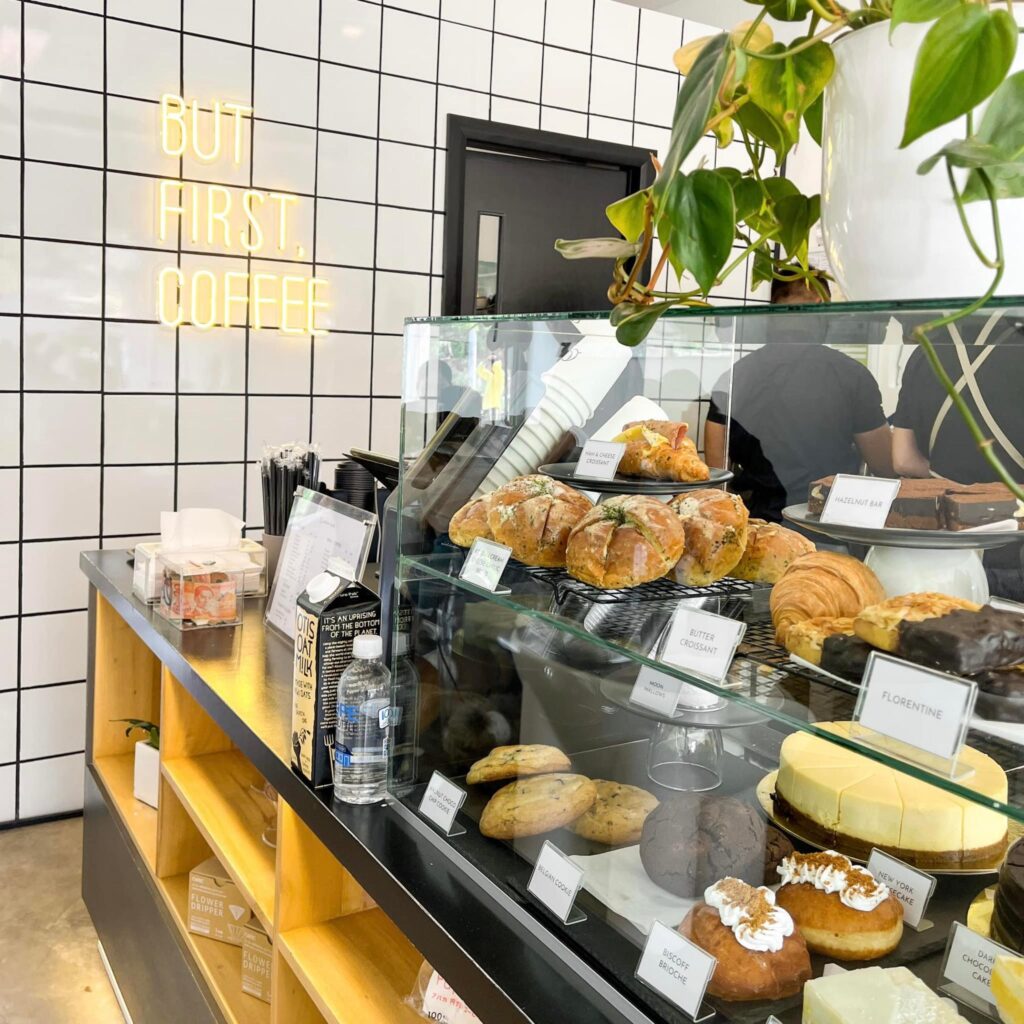 Moon Cafe's menu features cakes, cookies, pastries, pastas, sandwiches, and coffees that will top off the nice experience. You can also bring your pet to join you as they allow pets both inside and outside the cafe.
Location: Unit 107, Omnistellar Building, Fil-Am Friendship Hwy, Angeles, Pampanga
Opening hours: Monday, 12:00 PM – 10:00 PM
Tuesday to Thursday, 10:00 AM – 10:00 PM
Friday to Sunday, 10:00 AM – 11:00 PM
Available for: Dine in, take-out, delivery
7. Kpop Cafe Mnl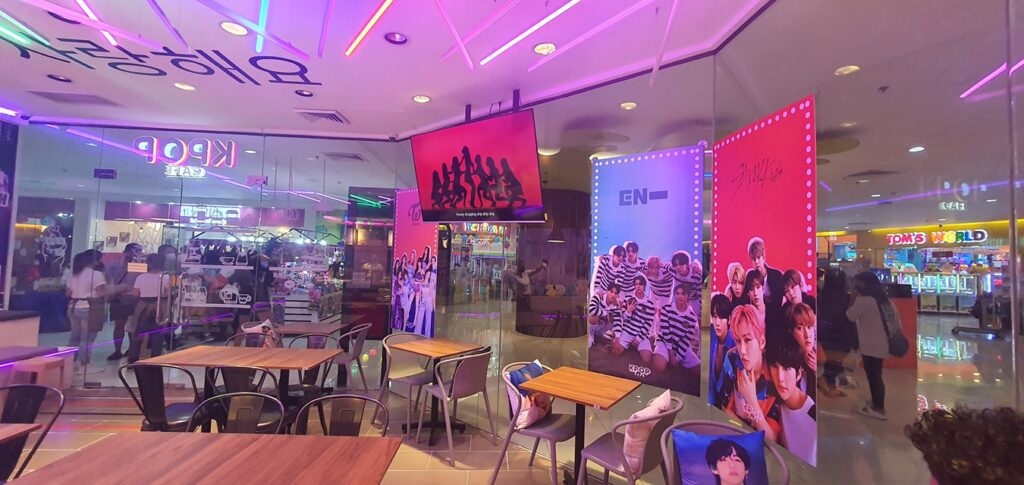 Kpop Cafe Mnl opened its doors mid 2022 and has since called for the attention of K-pop stans. This cafe surely knows how to get K-pop fans excited with its bright interior lights and walls filled with various posters and photos of K-pop idol groups, allowing fans to just be enamored and celebrate their favorite groups.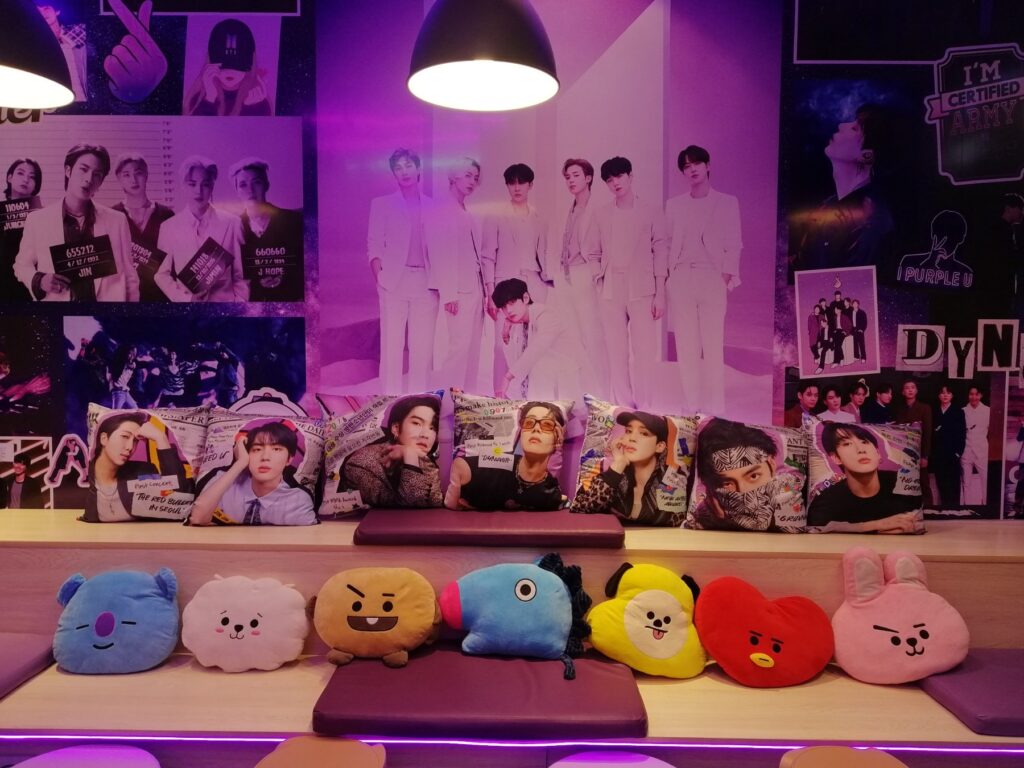 You can enjoy jiving with other K-pop fans as songs and videos play nonstop or take a picture with K-pop plushies. You can even hold mini K-pop events here!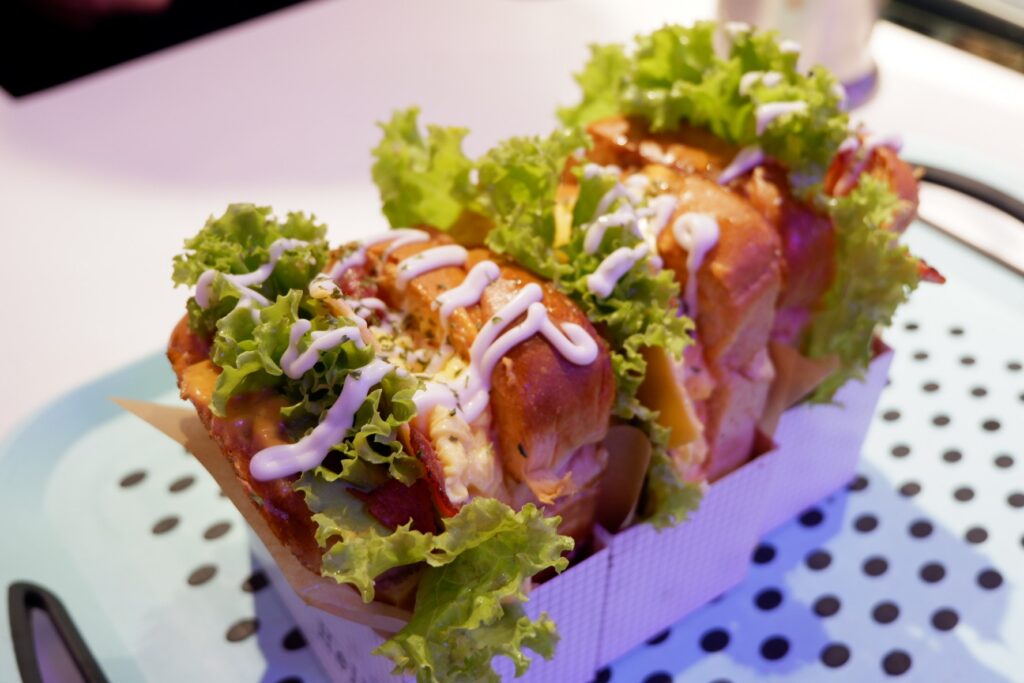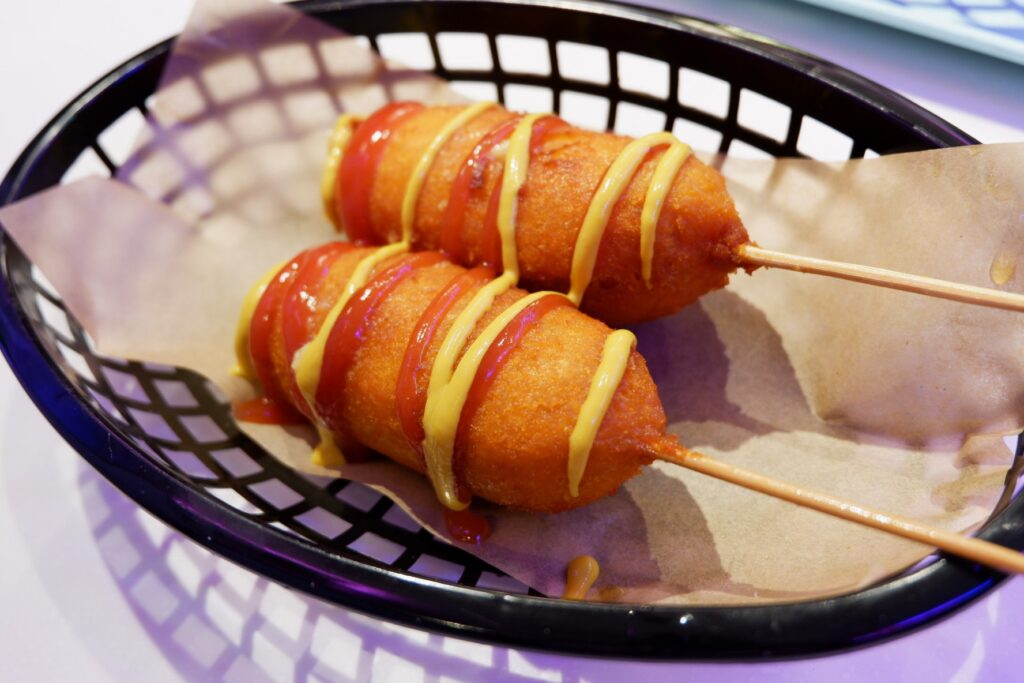 Aside from their eye-catching interiors, Kpop Cafe Mnl also offers a tasty menu to go with the experience. They serve Korean snacks such as corn dog, egg bomb sandwiches, garlic buns, and waffles. For the drinks, they have various frappes, ice blended coffees, fruits sodas, and milk teas.
Location: Ever Gotesco Mall, Commonwealth Avenue 2nd floor, Quezon City
Opening hours: Monday, 10:00 AM – 9:00 PM
Tuesday to Sunday, 9:00 AM – 9:00 PM
Available for: Dine in, take-out
The K-wave has definitely taken the Philippines by storm and it's no surprise to see that more and more K-pop inspired cafes are popping up in different areas and cities in the country. Who knows, maybe a few years from now, you'll see more cafes inspired by your OG favorite K-pop group. So if you're a K-pop fan, you may fancy these cafes because they'll most likely bring out the inner fangirl or fanboy in you.